By Babajide Komolafe
Banks have started deploying Outbound Money Transfer services to ease the stress of sending money from Nigeria to individuals outside the country.
This followed the introduction of the revised guidelines for   International Money Transfer Services by the Central Bank of Nigeria (CBN), which allows provision of   Outbound Money Transfer services in the country. Hitherto, banks could only provide   inbound money transfer services. Under the Inbound money transfer, an individual living abroad can send money to an individual in Nigeria. Hence this is the one most Nigerians are used to.
However, there are also people in the country who need to send money to friends or relatives living abroad. These may either be Nigerians or any of the 10 million foreigners working in Nigeria.
Hence the introduction of Outbound Money Transfer (OMT) services by the CBN. Outbound Money Transfer is person to person international money transfer from Nigeria to countries around the world.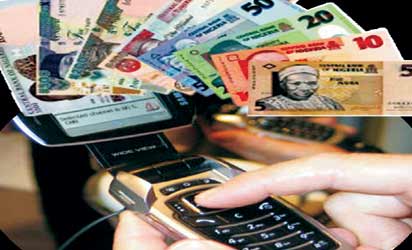 It could be a gift to friends or family living abroad or much needed funds for a travelling child. Thus it is the exact opposite of Inbound Money Transfer, which most Nigerians are familiar with.
According to the CBN guidelines, an individual can send up to $5000 to another individual abroad. However, it cannot be used by a business organisation in Nigeria to send money to another organisation abroad. Also, Outbound Money Transfer service cannot be used to pay school fees of children or wards studying abroad.
According to the CBN guidelines, Outbound Money Transfer services can only be provided by organisations duly licensed by   international money transfer services. Such organisation must either be licensed by the CBN or in its home country to provide such services.
Hence the CBN licensed MoneyGram International and Western Union Money Transfer as International Money Transfer Service Operators (IMTOs) in the country.
However, the IMTSOs can only provide their money transfer services through an agent or network of agents. "An approved money transfer service operator may conduct its business through an agent, in line with the provisions of these guidelines. An agent is a suitable entity engaged by a money transfer service operator to provide money transfer service on its behalf using the agent's premises, staff and technology", said the CBN.
Though most banks already serve as agents to either or both MoneyGram International and Western Union, the agent relationship has been limited to provision of Inbound Money Transfer Services. But with the new guidelines allowing provision of Outbound Money Transfer services, and with the CBN licensing the two international firms to provide this service, they have started signing on some banks as agents for provision of Outbound Money Transfer services.
In August, the CBN, Western Union and FirstBank launched the first Outbound Money Transfer services. Speaking at the launching ceremony, CBN Governor, Mr. Godwin Emefiele said the service is targeted at remittances by individuals to dependants, including children, leaving abroad and for other person-to-person needs. He said that the system would also simplify money transfer process in Nigeria.
He said, "Today, outbound money services is being launched to provide an alternative channel of foreign exchange transfer to serve the needs of small foreign exchange end users.
"Simultaneously, it reduces the foreign exchange sourced from official foreign exchange window in Nigeria and to a large extent, helps to conserve our foreign exchange.
"A prospective customer, who wished to use the service, would only pay the naira equivalent to the money transfer operators for the foreign currency that would be paid to the specified beneficiary abroad. This will end the idea of going to the Bureau de Change or banks to buy foreign currency before transferring money abroad.
"If you need to make payment to your children, brothers and sisters living abroad that need small financial support, all you need to do is to take your cash to any of the 5,000 Western Union outlets in Nigeria. We are working very hard to ensure that the number of outlets increases further from 5,000. We have also agreed with Western Union about the need for them to work with Bureau de Change (BDC) operators that are well structured," he said.
He said that the outbound transfer service would only be conducted by international money transfer service operators, adding that banks and BDCs that met the new CBN requirements would serve as agents for money transfer service. He stated that bank accounts were not required to transfer funds and that transaction points would be within the reach of customers.
"We will allow cash, but going forward, we will discuss with operators of mobile telephones so that those on the mobile payment platform can transfer money from their accounts via western union to anybody abroad. These are some of the efforts we are making because we are embracing cashless transactions," he said.
This was followed by the introduction of Outbound Money Transfer service by MoneyGram. In a statement issued to this effect, the company said,   "The MoneyGram Outbound Service which will re-inforce the well-known MoneyGram "Receive and Send money in 10 minutes" brand promise is expected to lead to greater convenience and ease as customers will be able to access in the majority of MG location, through their partner banks. MoneyGram is offered through respected financial institutions in Nigeria including Ecobank, UBA, First Bank, Access Bank, Sterling Bank, Fidelity Bank, Skye Bank, Keystone Bank, Enterprise Bank, Mainstreet Bank, Diamond Bank and Wema Bank, among others.
Furthermore, speaking at the launch of the "Naija Sends", an Outbound Money Transfer service by MoneyGram and UBA Plc,   Regional Manager, Anglophone West Africa, MoneyGram, Mrs. Kemi Okusanya, said the launch of 'Naija Sends' has further deepened the brand's reach and service in Nigeria.
"Over the last two decades MoneyGram has facilitated over 15 million transactions in Nigeria, enabling safe, convenient and reliable transfer of funds from the Nigeria Diaspora to their loved ones. As Africa's largest economy, with over 10 million migrants, we are glad we are now able to also offer Nigerians the opportunity to send money abroad to their loved ones and for business transactions", Mrs. Okusanya said.
Speaking during the event, UBA's Group Managing Director/Chief Executive, Mr. Phillips Oduoza said the new UBA and MoneyGram outbound money transfer service will boost trade and business between African countries as many Nigerians who do business across Africa, no longer have to move around with cash as they can easily transfer money to their business partners in other African countries or in China, Europe and America to pay for goods and services bought.