*Speaks on his scorecard six years after
*On dwindling oil price: We should not worry if …
By Wale Akinola
For the leaders of the All Progressives Congress (APC), it was time, penultimate Wednesday, to clink glasses in celebration of the sixth anniversary of the APC – led Adams Oshiomhole administration in Edo State.The leaders stormed the Samuel Ogbemudia Stadium, Benin-City where they took turns to eulogise the labour leader – turned governor on the giant strides of his government. At the occasion, Oshiomhole himself regaled the audience with his achievements while setting agenda for the remaining two years of his administration. In an interview afterwards, the governor spoke on his government, the 2015 general elections, among other issues.
Opinions are apparently divided about how your government has fared six years after, although with many people saying it has done well. With two years left in the tenure, how do you describe the journey?
Government is a continuum. So, you can't say you will complete all your projects because the truth is government is always in progress. There are some projects under construction which we hope to complete; there are roads under construction, there are one or two projects which we are hoping to start and I hope to complete them. We have the Central Hospital under construction – we are going to complete, equip and commission it and also sustain some of the social policies that we have in place – sustain our free education that has gone beyond basic education which now includes full secondary SSS1 to SSS3 in addition to the conventional basic education which terminates at JSS 3.
We are also going to sustain the campaign of one-man, one-vote so that the people will have the power to hire and fire their political leaders. Democracy doesn't promise that people will elect angels but it does provide opportunity for the ordinary people to punish or reward those they have elected depending on the evaluation of their scorecard. So, those are the things we are concerned about and I believe, by the special grace of God, we will attain them so that we can finish much stronger than we started.
There is financial crunch in virtually all states of the federation. Presently, allocations from the Federation Account are dwindling, including deductions from the source. How is your government coping with the present economic climate vis-a vis project execution?
Ironically, this has been the case in the past two to three years. Even though oil has been stable at an average of $108 in the last three years, the Federal Government has never been able to fund the Fderation Account in full. For over two years, even the so-called Excess Crude Account that ought to have accrued from the difference between the benchmark used for budget and actual receipt – the excess crude – has been spent and not because it was distributed. There are all kinds of excuses. To my knowledge, we have not yet received in full what was budgeted at $78 dollars over the past one and a half years. So, the budget has never performed. As we speak, the price is inching towards the mark that was used for the budget in the past. If the Federal Government can decisively stop oil theft, pay to the Federation Account all that we earn even at $80 a barrel, we shouldn't be worried. It just means that the excess crude available for people to play with would no longer be available for anyone to play with.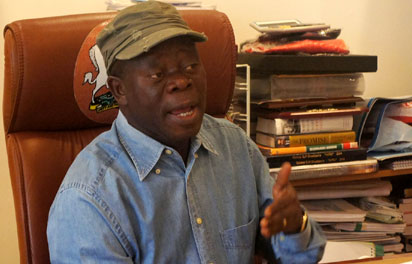 How do you react to the report that the crisis in the Edo House of Assembly was caused by undue interference by the executive. It was said that your government panicked when it realised that the PDP was plotting to win over members of the House to its side.
My problem here is that the media picks stories from the mouth of whoever they choose. When I assumed duties here, we had a House of Assembly that was controlled by the PDP, two-third of it, while the rest was ACN and I worked with them. I didn't panic that I had two third of the members in PDP. So why should I panic when PDP took five to add to the four they had to make nine?
All I need to run the state and to get laws passed by a simple majority is 13 and we have 15; so where is the panic coming from? It is the PDP that was so desperate that what they lost at the polling booth they sought to procure which is a shame. Now, how has it become a crisis? Again, it is a media creation. The media does not choose to educate people about the facts; they report falsehood almost with the same authority with which they report facts. That, to me, is very worrisome – when the media becomes the instrument for disinformation and confusion. I'm not a journalist but I read statements by editors, and they say the role of the fourth estate is to inform, hopefully to inform about the truth, two, to educate those who are not aware and three, to entertain. To inform should be based on facts – for example, The Guardian tells us that conscience is an open wound only truth can cure – which means that the media does not just report, it must also try to report the truth. So, if a House of Assembly suspends three members based on the rule of the House and the members disobey the House because the House of Assembly  chose to follow the rule of law by approaching the court to look into the matter and the court upheld and restrained the members from parading themselves as members until those issues are resolved …. These three members, because they belong to the ruling Federal Government – even though they are in the opposition in Edo State – chose not to obey the court order. They went to the Court of Appeal and the Court of Appeal said 'go and obey the order'. They disobeyed the Court of Appeal order – three members, how is that a problem in a house of 24? And if because they believe they belong to the federal ruling party, therefore they are above the law, if the remaining six now choose not to attend proceedings of the House and the remaining 15 are sitting in a House of 24 members, to me, that is okay.
You can't compel people to work. Even in the Constitution, this situation was envisaged when it was provided that a member of parliament may not come to work every day. They could choose to absent themselves; however, there is certain minimum of days he must attend sitting and if he doesn't, then the sit becomes vacant. So for the House of Assembly members to choose not to sit is expected but that does not lead to crisis. The problem is the PDP members have this complex that we belong to the federal ruling party, therefore we are above the law, and I get surprised when a section of the media reported that there are factions in the House. Can you have a faction in the parliament? You can have tendencies in the parliament not faction. Now, if some people decide to support a particular legislation either for partisan reasons or personal conviction, that is not crisis. In so far as the official parliament is able to sit in a comfortable majority, there is no crisis there.
You wrote to the Presidency about the attack on the legislators' quarters. What feedback did you get?
It is not about me claiming, the media reported generously what happened including the visuals showing bullet holes and so on and forth. It is like writing to the President to inform him about the fact that there is insurgency in different parts of the country. For whatever reason I wrote, I think it was last week that they arrested one of the guys who allegedly supervised the shooting. Even though they charged him, it was not for using arm to kill. They charged him with being in possession of firearms. They didn't charge him with using firearms with intent to kill, they charged him for unlawful possession of fire arm. My question is if the House of Assembly becomes a place where unlawfully possessed gun is displayed … What happened was that firearms including AK47 and pump action rifles were used and the bullet holes and shells were there. They fired at peoples' residence, the doors and the windows. Their intention was clear: to kill even if in the end they didn't succeed in killing. That is attempted murder.
President Jonathan was in Edo recently and threatened that Edo would fall to the PDP. What are your plans to resist the PDP from capturing the state?
Well, the President's choice of words, to me, was regrettable. No part of Nigeria should fall. I will not wish that the President's state, Bayelsa, falls. What we are campaigning for is that the President is defeated through proper votes cast in a transparent election and, if we win that does not mean that Bayelsa has fallen. May Bayelsa never fall and Edo will not fall. I know because he is the commander-in-chief, the words that he chose to employ are of importance to us. So if a commander-in- chief says a particular territory or part of the territory of his country shall fall, it will appear to mean military attack, the way Mubi fell to insurgents. Mubi fell and they captured it. They hoisted their flag and installed a new traditional ruler allegedly. So if the insurgents claimed Mubi had fallen to them – it is a military language.
I hate to believe that the President intend to use the military to forcefully fall Edo and whether he wants to preside over a felled territory. However, this is my own explanation to his choice of words because, as a democrat, he should be talking about making effort to win in any state. That will be legitimate, but not to say Edo will fall. Edo will not fall. It is also suggestive that states that are under the PDP can be said to have fallen. So, when a state is misgoverned and the people are impoverished, well, you might say they have fallen. Edo, if you like, was led by the PDP between 1999 and 2008 until we came on board to rescue and reposition the state. It can't fall again, Edo will stand. In 2011, 95 per cent of people in Edo State voted for the President; this coming election, he will not get five per cent because we have nothing to show for the votes that we captured for him. If we come under armed attack, that will be unfortunate, but we know that the world is no longer what it used to be – when leaders are too strong for their country and they misuse the armed forces to kill people. We have international court so the world is governed by law. I expect that in 2015 what will happen in Nigeria is not a warfare where some will be felled. I expect, and this is an obligation the President owes to Nigeria, that elections are conducted according to the Electoral Act and that every Nigerian that is eligible and qualified to vote is enabled to vote in a conducive environment that will enable them to vote for who he wants and that the vote counts; that is his irreducible minimum responsibility and his language must be seen to recognise that responsibility.
Within our West African neighbours, the ruling parties in Ghana have been defeated twice by the opposition. President Rawlings' party was defeated and, at some other times, his party won. Ghanaians have been able to defeat the ruling party and, in other election, that party has also been defeated by the opposition; that is the logic of democracy. We have had in America, despite reports in the media showing that the economy is improving and about 450,000 jobs created within two months, they went to midterm elections and the American people thought that they will prefer the Republicans and they voted against the ruling Democrats like the PDP in Nigeria. President Obama did not deploy American armed forces to prevent that defeat. Jonathan has to recognise that he has to persuade, he must not capture because he is the commander-in-chief, and if he does, then he will have another kettle of fish. So, I'm shocked by his choice of words. APC will be defeated PDP in Bayelsa and Edo States, these states will not fall to PDP or APC, but we'll defeat them. We have to be wary of our language. The language of our President must not be violent; we mustn't borrow military language in describing democratic issues. Lastly, when the President said Edo will fall, did he produce the particulars of PDP record of performance in Edo as a foundation that led to that conclusion. When he gave N2billon to the PDP states from the national ecology fund which is provided for under the constitution – funds that should be used for ecology whether soil erosion, wind erosion, desertification etc – he gave to PDP states where he lost election in 2011. In Edo State where he won 95 per cent, he did not give us a dime, yet we have written to the Federal Government under PDP, over and over to draw attention to erosion problem in parts of the state which has destroyed schools, homes, farmlands and others – this erosion is the result of the Federal Government negligence because it emerged from the poor divide of the Benin-Asaba road – in the course of dualising it, they created that problem- we have just succeeded in obtaining a World Bank loan and we are going to spend N2.7 billion as a state government to fix that erosion that was caused by the Federal Government. He did not give us a dime but he gave money to some of our neighbouring states which do not have a problem as serious as that. Auchi has protested, even blocked the federal highway to draw the attention of the Federal Government to the menace of the erosion that has consumed many homes and farmlands. Yet that did not attract the attention of the President and I have raised it with him that 'our people voted for you' why should you punish us? Must we be PDP? Do we want one-party state in Nigeria? Some of us who struggled for democracy did not struggle for one-party state because military government is like a one-party state, the party is the military. So the logic of democracy is that you want a multi-party state where people can choose. Edo people voted for the PDP presidency but what are we benefiting? Nothing. Just the resurfacing of Benin-Ofosu Road. For 15 years that is our reward. So, when the President said he will win Edo I was surprised.  We will fight it back because he will lose deposit here.
When you came on board, you vowed to end god-fatherism and the attendant imposition of candidates that goes with it. But six years after, there are reports that your government is making the same mistake of imposing candidates in virtually all the councils. How true is this?
I think you chose to listen to the opposition rather than doing your own independent investigation which is why you are pushing negative questions that flow from the mouth of the PDP. What is the evidence?  Your reporter can find out.
As we speak, in my local government, two of my aides, amongst others, are contesting for the House of Assembly. Unless there is a change, the (primary) election will take place on Monday. I haven't told any of them to step down for the other. Each of them came to me and I told them you better go and campaign to the people, they will choose who they want. So, how can anybody say that? Here in Edo South, many of them working with me are contesting against themselves. If I can't tell you directly to step down, I can do what other governors are doing, and at the federal level, resign. I have not told anybody to step down, all I tell them is 'I'm not going to discourage you but I'm not going to help you out'; let the party choose who they want – and that is why you still have people contesting election in my cabinet which you know.
How do you see the chances of the APC winning the presidency in 2015?
The last time the PDP won, they had 24 million votes. The opposition had 12 million votes or something like that. Part of the 24 million that the President got was from Edo. He is not getting it this time. Part of that 24 million was the two million rigged votes from Rivers. I want to see the amount of armed forces he is going to deploy to rig two million votes in Rivers. I just gave you two isolated examples. In the South-west, he won couple of votes and the south-westerners are asking, what do we have to show for it? I read from your papers that Vanguard can't get to their office because the road is blocked – including ThisDay – because of the port. Who controls the oil industry? Who approves allocation for farm tanks, etc? I don't know how you print your papers now? Are you using the privatised power supply or still running generators? After 15 years of not having power, if it was your son that was trying to acquire a university degree for 15 years and he keeps failing , will you continue to support him? One PDP man told me, 'if your son can't pass after 15 years you tell him, o' boy go and learn work'. PDP has run short of stories. They have no new story to tell again.
Look at the level of unemployment and they are creating distortions that are detrimental to the future of this country. When you take tax payers money and you give it to individual political leaders to be paying to some boys who are considered quote and unquote strong boys whom you hope to use during election; when the state funds thuggery in the name of SURE-P. You are not appropriating funds to the National Directorate of Employment to create jobs, create skills and train people as it used to be – you prefer to appropriate money, and, sadly, through the National Assembly – they give this money to individuals to do what is now called PDP alert.
Should government create such illusion of empowering people with no job description? Next time you see a PDP man, ask him: 'these guys they give SURE-P alert of N10,000 a month what is it for?' It is very wrong to give a young man the impression that you don't need to work, just wait for election day , stay put for now be taking this. When the rainy season is over, what happens to these guys?' So, I think we need rigour to interrogate some of these policies because if it doesn't work for the good of this country, all of us are liable.
In my view, what people voted for in President Jonathan was more for his gentlemanly outlook, his looking innocent. I remember the campaign slogan was 'Fresh Air,' that was his selling point. Edo people bought into that selling points but some people around him have now convinced him that he needs to go though. He needs to instil fear and that is why his language has suddenly changed believing that if the commander-in-chief talks with fear, people will submit and that is why rather than talk of one-man, one-vote, he now says Edo will fall. He also said so in the South-east, I think in Imo State where he said PDP will no longer be this generous. If people want to vote to remain in the dark, if that is the wish of the majority of Nigerians, we'll have to accept, but I will be surprised when the real question comes -when the real APC presidential candidate emerges. I believe in terms of the specific, the specifics on the economy, unemployment , incoherent industrial policies, that 15 years down the road, we are still importing petroleum products, we are still debating how much we use to subsidise kerosene. Nigerians who want these to continue can vote for this same old dish. 15 years of PDP, Nigeria is clearly over ripe for change even in the interest of the PDP people. We just need to have a change.