His friend speaks on the life and times of the fallen Ebola victim from his university days to his passing. It's another revealing Saturday Vanguard EXCLUSIVE BY LAJU ARENYEKA
Until a few weeks ago, Dr. Sam Ikechukwu Enemuo was a relatively unknown name. But today, the very mention of his name and everyone is quick to identify him as the doctor who knowingly treated an Ebola patient in a hotel in Port Harcourt, contracted the disease and died of the illness after infecting others he had close contact with. An elderly woman who shared hospital room with him also died of the disease.
Enemou was treating Olu Koye, the ECOWAS official who contracted the disease from Patrick Sawyer, the American-Liberian who brought the disease to Nigeria. Nigeria has never been the same since Mr Sawyer who knew he had the disease wickedly brought it here. Nigerians have been expressing disappointment that Dr. Enemuou knew his patient had Ebola but decided to treat him secretly, endangering his life possibly because of money.
However, Mr. Tochukwu Agha, a Lagos business man who knew Emenuo from their university days vehemently disagrees that his friend who spent more than a decade in the tertiary institution to be a medical doctor would knowingly court death the way he has been portrayed. Tochukwu was Enemou's friend for 23 years and we caught up with him at the National Stadium in Lagos where he plays tennis. In this interview, Tochukwu reveals another side of Emenuo.
How did you become friends with the late doctor?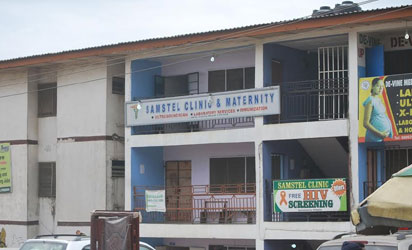 I met the late doctor at the University of Jos in 1992. He was already a student there. I think he got in 1989/1990. He was in his third year studying Laboratory Technology. I was doing my diploma at the time. We met through my older cousin; he and Iyke (Ikechukwu) were friends. After my cousin left school, we became close. He finished studying Labtech before he enrolled again to study medicine at UNIJOS.
So when I finished my degree in 1999, he was still in school studying Medicine because he had this burning passion to be a medical doctor. He finally graduated from medical school in 2001. He was in the higher institution for over a decade; he had his OND from Anambara State Polytechnic, Oko, before coming to UNIJOS to do his BSC, and then MBBS. He did his houseman-ship in Bauchi before going to port Harcourt for his NYSC. After NYSC, he stayed on in Port Harcourt.
What sort of a person was he?
His friends called him Iyke-tall or Lala. He was a very strong willed guy, he was very nice. He had always been an enterprising person; very ambitious, always wanting to succeed, and always wanting to help others.
Olu-Ibukun Koye escaped a quarantine centre in Lagos where he was sick with Ebola and came to Port-Harcourt for treatment. Dr. Enemuo allegedly knew that he had the illness but did not report it and he kept treating him secretly at the hotel in Port-harcourt. Why do you think he did such a thing?
It's unbelievable that Iyke could do such a thing; I have heard a lot of stories. That it was out of greed, but I seriously doubt it. From a close source, one of the doctors that worked with him told me that he never knew the patient. He had never met him before; he did not know him from Adam. It was a staff of the hotel that called him and said that someone at their hotel, a friend, had diarrhea; you know that diarrhea and Ebola have similar symptoms. Iyke usually makes house calls, so it was when the hotel staff called him to come and check on the patient, that was the first time Iyke met Koye.
He had a relationship with the staff before then. He attended to the patient. I don't believe it was about the money; I don't think he knew before hand that the illness was Ebola. He wouldn't have risked his life for money; they couldn't have paid more than N20, 000. This was a big boy that had his own hospital with three doctors working under him. It is a not a small hospital, very well known in Port-Harcourt. I did not get the chance to speak to him about it, but the Iyke I knew would not stoop so low and intentionally endanger his life and the lives of others.
"I think he treated the patient out of the goodness of his heart; just to save the patient. He was a very adventurous guy. Perhaps he was genuinely interested in finding out what the problem was and how he could help. I don't think he knew about the nature of the illness until later. The reason why he did not send the patient to the quarantine centre when he found out, I cannot say. It is just too bad that he is not here to tell us what really happened. Iyke is not the kind of person that would hide such a thing.
People have been calling for Koye to be penalized for escaping quarantine in Lagos and endangering the lives of others? What do you think about this?
Koye is the one who messed up. He was supposed to be quarantined in Lagos but he sneaked out to Port Harcourt. He knew he had the illness, but he knowingly travelled with it and infected others. I think he should be sanctioned. It is very bad. Iyke never knew that guy. It was when he got to Port-Harcourt that he got in contact with Iyke through the hotel staff. Doctors were on strike at that time, so the hotel staffr just kept making calls to find a doctor that could help. Because iyke had his own clinic, they got in touch with him and he agreed to see the patient.
How did you  hear about his passing?
I was not in touch with him during the illness. I did not even know. It was my friends who told me. After his passing, we started making calls to one another. On the news, I heard about a doctor who died in Port-Harcourt, it did not even occur to me that it was my friend. It was when a friend of mine called me and asked me whether I heard about the doctor that died. He said: 'Na Lala o,' because that was what we called Iyke. Initially, I thought it was not Ebola,  that the media was trying to manipulate the whole thing.  But later I heard from reliable sources that it was actually Ebola that killed him.
Are you in touch with his family? Do you know the state of their health?
I was closer to his first wife; his long time school girlfriend, Stella whom he married. They had a pair of twins before they divorced a few years ago. He got married to this his new wife recently; last year I think. I don't really know her well, but I know that they just had a baby about six weeks ago. I know of three children that he had.
When he became ill, why did he not tell the doctor that he had the illness?
I still cannot understand why. It's difficult to say. Who is sure he knew? When we were in school, he would go out of his way to help others, he would counsel students on the best course of action to take when they were going through challenges; he would show new students the ropes, and help aspiring students get admission.
I wish he was alive. I'm sure he would have learned from his mistakes and handled the case differently.
It is really terrible. He just bought a piece of property worth a lot of money. His wife just had a new baby. Why did this have to happen at this time? All I can say is that maybe that is how God wants it. Because I cannot understand why Iyke would die and the person who he contracted the sickness from is alive and well.