By Sola Ogundipe, Chioma Obinna & Gabriel Olawale
LAGOS – It was an outpouring of encomium, yesterday evening as funeral rites for the late Dr Ameyo Stella Adadevoh, the brave and patriotic Lead Consultant physician and endocrinologist at the First Consultants Medical Centre, Obalende, Lagos, kicked off with a Night of Tributes  in her honour.
At the event, a host of well wishers from a wide section of society, including dignitaries as well as representatives of medical profession in the country joined family members, friends, colleagues and associates to eulogise the deceased, describing her death as painful.
All spoke of her as a loving, fearless, committed, tireless and selfless servant in her field of calling, even to death.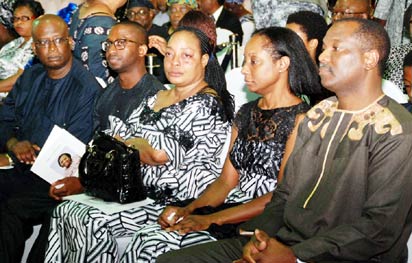 Among the well-wishers  were Senator Oluremi Tinubu, Dr. Bode Koyombi, Dr. Efunbo Osekun,  Dr. Yemi Johnson, Mrs Violet Ketshow, Dr. Mike Abah.
Delivering the sermon, Daniel Ijason, a Catholic priest, described her as a fallen hero to humanity but noted that despite her demise, she was still alive.
According to him, Adadevoh gave her life to save thousands of lives that would have been infected by the deadly Ebola disease if she had released the American-Liberian patient, Mr. Patrick Sawyer.
Also, songs were rendered by Old Queens School, Ibadan for the departed soul, followed by tribute by her son, Bankole Cardoso.
Adadevoh died of EVD after contracting the infection from Mr. Partrick Sawyer, the Liberian-American that imported Ebola into Nigeria.
The late consultant and other staff in the hospital provided care for Sawyer after he was rushed to the hospital, where he died six days.
The role of the deceased in resisting pressure from Liberian Embassy to allow Sawyer proceed to Calabar for an ECOWAS conference, the reason for which he visited Nigeria, was lauded by those that attended the Night of Tributes.
"It is good to be good, whatever we do today will definitely speak for us. Every family who witnessed the tributes for Adadevoh will definitely get home and ask question: what will they say after I left this world," the cleric noted.
In a tribute, Dr. Yemi Johnson, a colleague of the deceased, recounted: "Ameyo called me that she had Ebola patient in her hospital. I don't know why God chose Ameyo for this. Two years back, when swine flu came to Nigeria, it was Ameyo again and she called to inform me.
"I do wonder why it is always her. Maybe others may not have been able to diagnose it on time, that is why God chose her.
"The question we should ask ourselves is: what are we going to do next? Are we going to let things continue like this? We don't need to lay the blame on government alone because it is our country. We need to help ourselves."
Speaking on the late Ameyo, Rev. Father Paul Kehinde Ijasan of Church of the Assumption, Falomo Parish, said: "She was a hero because laying down one's life for others to live is not something that comes by chance. So, the circumustances surrounding her death is a reflection of her true life, her character.
"The fact that we have people singing and praising today is not accidental. That is what she was while alive.
"So singing praises today is not because of her role on issue of Ebola. She has always been like that. Imagine a situation whereby, maybe, when she discovered that the person was an Ebola patient and ran away. Imagine what would have happened in the country today. But she controlled the situation. Nothing comes by chance.
"She was a woman of noble character, which is lacking in our country today. People should emulate her."
Dr. Bode Karonwi said: "She was academically sound. When we were in medical school, Ameyo was a first class candidate. She was so loving and courageous, a rare human being. In her generation, she was an exemplary human being. She cared about people so much."
Ameyo died on August 19 2014 from the EVD infection contracted from Sawyer.
A memorial service in her honour holds today at Holy Cross Cathedral at 10 am.