By Ishola Balogun & Florence Amagiya
Following our exclusive interview last week with Dennis Akagha who survived the Ebola virus after losing his would-be wife, Justina Ejelonu, to the deadly disease, the young man is still in the news. What is it this time, you may ask?
Even as Dennis has been declared free of EDV, he is still a victim of social stigmatisation.  This has isolated him from the society since the last couple of weeks as people still refuse to socialise with him, making it difficult to get some of his daily needs. But the young man is attracting positive international attention.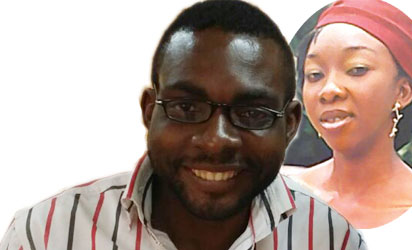 His survival and humaneness displayed while nursing his Ebola stricken spouse impressed many. Now, the international media and some agencies are after him for interviews and social events after he exclusively recounted his moving story to us last Saturday.
Denis was the fiance of Justina Ejelonu, the nurse at First Consultant Hospital in Lagos who contracted the Ebola disease after attending to Patrick Sawyer, the American-Liberian who wickedly brought the disease to Nigeria. Justina was a graduate nurse and was just employed by First Consultant.
She was two months pregnant and her first patient on her first day on duty was Patrick Sawyer. She contracted the disease, suffered miscarriage and died at the quarantine centre in Yaba, Lagos. Denis attending to her while she was sick and even at the centre where she suffered neglect.
He too caught the virus days later but was one of those who survived and he told us his best-selling story last Saturday.
In another chat with Saturday Vanguard this week, Dennis lamented how he is being stigmatised by friends, neighbours and customers adding that living with the social stigma was frustrating.
"I am lonely and bored now, people don't come to me any more. Even  my usual friends before the incidence, are keeping me at arm's length. They don't believe I am free of the virus. I have never been so lonely in life. Living with the social stigma is one terrible thing," Dennis cried.
But he has become a much sought-after man by both international and local media.  According to a close source,  CNN, Al-Jazeera, e-News among others as well as local journalists desirous of getting headlines are after him.
Agencies and donors have also established contacts with Dennis with some of them offering one assistance or the other. Right now, Dennis may be on a journey to a redefined person with some consolation.
As at press time, two international donors have indicated their readiness to support Dennis both financially and morally. According to a close source, the donors will assist him in making the dream of immortalising late Justina come through. Dennis had recently said that he would set up a non-for-profit organisation to immortalise his late fiancee and also to champion the campaign on preventive measures against Ebola virus.
While Dennis battles the emotional plague left by Ebola, Nigerians particularly those who have been following the story rationalised that lack of adequate care by medical personnel on Ebola patients could be one of the reasons why patients run away from the isolation centers.
Joseph Adebambo, a Lagos-based dentist called on medical personnel to rise up to the challenge to save lives. "After reading the story in your paper (Saturday Vanguard) I was close to tears. I want to believe Justina could have survived the crisis if there was adequate care. To me, it seemed medical personnel did not have enough protective measures in going any extra-mile to do what they are supposed to do," Adebambo said.
Kennie said:
This brave and compassionate young man's account of what goes on inside the Yaba Ebola treatment facility seems to be the only independent assessment of the condition inside there. Before now, all the stories about the "great efforts" towards containing EVD are all coming from Federal and LASG officials. The story gave an insight to what is going on in the treatment center."
Grace Notibe reacted thus: "She passed through this mess in spite of millions of naira (FG announced N1.9b) claimed to have been earmarked and praises are being heaped on GEJ, FG, Onyebuchi, Fashola and LASG for taking care of Ebola victims. There is God ooo"
"A touching story. Thank God for His mercies, your life was spared and I believe God has a purpose for that. I praise God for you," another reader said.
Joris Bronen in his comment posted online said:
"May God be praised, nothing can change our faith. God comes first in our life. The death of his wife-to-be shows how careless Nigeria doctors always act. They don't attend to patients promptly. The American survived because they gave proper care to the Ebola patient.
Our leaders can travel to Germany, France, UK, USA for medical attention with the Citizen's tax's but can not provide good healthcare system for Nigerians."
Kola Ayegbayo said:
"Oh! my brother, I can't even finish reading the story. I was shocked. May her gentle soul rest in peace."
Chinwendu Grace
God of Grace is at work.  May the soul of Justina rest in peace, Amen. I wonder why Nigerians and West Africans are not calling for those deceitful men of God to lay their hands on Ebola patients.