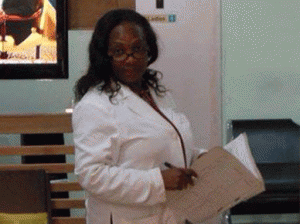 Dr. Ameyo Adadevoh
By Dr Franklin Nnaemeka Ngwu
Before the Ebola crisis, I never heard of Dr Ameyo Adadevoh (The Consultant Physician and Endocrinologist at First Consultant Hospital). However with her tragic death at the hands of Ebola, I have heard and read more about her. From close family friends who had the opportunity and privilege of knowing her, she was a good person and very committed to her duty and country. Given the way she stopped Patrick Sawyer from leaving the hospital upon discovery that he had Ebola, her good-heartedness, patriotism and desire to protect humanity are unquestionable. Most unfortunately and sad, she died from her genuine efforts to protect us Nigerians.  
As I grief and reflect upon her death, some questions occupy my mind.  Why did she respond to Dr Ada immediately she was called, why was it First Consultant Hospital that Patrick Sawyer was admitted, Why did she not run away and why was she even interested and insisted in stopping him even with pressures to release him from some quarters. Was her action a good one and if it is, why did God allow her die and on the contrary, saved Dr Ada , Dr Brantly (the American) and few others.
While I don't have answers to some of these questions, I am sure of the wide consensus that she really saved us (Nigerians) from a terrible Ebola crisis. If we all agree that her actions were purely altruistic, we should in the same unison ensure that we sustain such rare humane behaviours. It will be the best way to appreciate her and ensure that her soul rests in perfect peace. But the question is how we can do it. There have been suggestions that the government should immortalise her through actions like bestowing a national honour on her posthumously.
While all the suggestions have their merits, I think that what is missing is how we (Nigerians) can clearly show gratitude and effectively participate in immortalising her.
The beneficiaries of her actions are we Nigerians and not the Nigerian government. Even though the government is a representative of the people, it might not be able to do everything especially with budgetary constraints. There is therefore need for us to actively participate in her most deserved immortalisation due to its sustainable societal benefits. If over N50 billion can be raised for the victims of Boko Haram on the invitation of Mr President, I am optimistic that over N5billion can be raised on our own invitation as Nigerians.
In assessing our social problems, I am always concerned with our reactive approach instead of a proactive one. There is an urgent need to start a proactive approach to complement the present reactive one and this is where we (Nigerians) come in.
As Ebola presents immense risks to us as individuals and society, there should be an uncommon unison in fighting it through a proactive search for its cure. And this cure has to be locally (African) sought and discovered.  While over $40million has been raised through Ice Bucket Challenge to support the search for the cure of Amyotrophic Lateral Sclerosis (ALS), the question is how we can raise about N5billion (for a start) to search for the cure of Ebola and possibly other African diseases. Waiting for the developed countries to do it for us will be self-defeating. They already have so many global problems ranging from terrorism to Middle East and from Ukraine to their respective domestic problems.
Moreover, as the search for Ebola cure is not commercially viable, their pharmaceutical companies do not really have the priority need to lead in this search. They can only support but we have to lead because it is our problem.
Interestingly, few suggestions with local and natural origin such as Bitter Kola and Nano Silver have been made. For a start, Bitter Kola should be our own 'Ice Bucket Challenge' to raise about N5 billion for Ebola research. I therefore most patriotically call on all men and women, old and young Nigerians of good-will and heart to help raise money for the Ebola research.
While contributions from Aliko Dangote, Tony Elumelu, Atedo Peterside and others are immensely commendable, I think that it might be helpful to give the donations a kind of formality and vitality through the 'Bitter Kolanut challenge'. It is simple and healthy.
It will require using at least N2000 to buy and chew 'Two Bitter Kolanuts' publicly with a desert of a glass of water and then nominate somebody to pick up the challenge. In a situation where the person nominated is unable to take the challenge (chew and properly swallow the two bitter kolanuts with a glass of water), a token donation of N5000 (minimum) will be an acceptable redemption. With limited disposable income usual with teachers, I am happy to start the challenge with a donation of N10, 000 for two bitter kolanuts.  
As the initiator of the challenge, I ask for the permission to nominate about 12 Nigerians to help jumpstart the challenge. They Include Tony Elumelu, Dr Oby Ezekwesili, Pastor Enoch Adeboye, Dr. Alex Otti, P Square (Peter & Paul), Stephen Keshi, Alhaji Adamu Muazu, Prof. Maurice Iwu, Alhaji Lai Mohammed, Dr Joe Odumakin, Archbishop Adewale Martins and Omotola Jalade.
I equally encourage people with good public credibility like Tony Elumelu, Jim Ovia and Atedo Peterside to create an account where the money can be paid into and subsequently create a committee that will manage the funds. In collaboration with Nigerian Institute of Medical Research, University of Lagos and University of Nigeria Nsukka are equally nominated to champion the research with the centres named after Dr Adadevoh and Co.
These Universities are nominated because Prof. Iwu who started the Bitter Kola research is in UNN and Lagos is currently the Ebola Centre in Nigeria. For this effort to succeed, the Media organisations must support it with unequalled commitment and altruism. I deeply implore them to do so. Dr Ada and other miraculous survivors and First Consultant Hospital should be effectively supported to comprehensively survive. As they have survived the Ebola virus, all hands must be on deck to ensure that they do not die from post Ebola consequences.
With the hopeful discovery of Ebola cure, other Patrick Sawyers will not be able to cause the death of our Dr Adadevoh and Co. This should be kind of 'thank you' we should say to her and her team and their souls will rest in perfect peace.
Adieu Dr Adadevoh and Co!
Dr Franklin Nnaemeka Ngwu is a Lecturer in a UK University.