CHIOMA GABRIEL
America has good roads, not because America is rich, but America is rich because it has good roads—J.F. Kennedy
THE beginning: The story was once told of a Nigerian engineer who attempted suicide after nine years of joblessness. He thought ending it all would be a short-cut out of the misery that life had given him on a platter.  But his story was contrary to that of many Nigerians who were failures at home but on travelling overseas, became champions in other countries.
Life in Nigeria has been a mix of daunting challenges and boundless opportunities. Yet with the seeming boundless opportunities, the country suffers. This has projected a bizzare image of Nigeria as a country with capital flight, capital sink and capital stagnancy.
But since 1999, at the onset of our democratic experiment, the country has made efforts to lay a foundation for economic growth and development. Nigeria is Africa's largest economy and a major player in the global economy. But her huge infrastructure deficit has constrained economic growth and development, thus inhibiting her ability to improve the quality of life as envisaged by her governments at several levels. Nigeria's infrastructure is in a deplorable state and the nation's infrastructural needs are evident for all to see.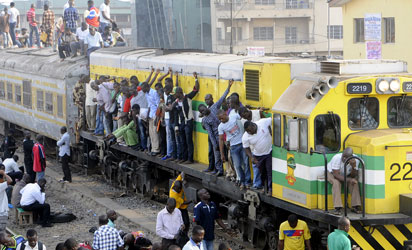 As the most populous black nation on planet earth, Nigeria sets a great vision to be among the top 20 economies in the world by 2020 with a minimum GDP of $900 billion and a per capita income of no less than $4000 per annum.
Extensive infrastructure
Nigeria can boast of extensive infrastructure of roads, railroads, airports, and communication networks. The road system is the most important element in the country's transportation network, carrying about 95 percent of all the nation's goods and passengers. But currently, many of the roads are in disrepair because of poor maintenance and years of heavy traffic.
Nigeria's road system was started in the early 1900s under British colonial rule essentially as a feeder network for newly completed railroads. Two trunk roads running from Lagos (southwest) and Port Harcourt (southeast) to Kano (north central) were built. These were followed by the construction of several east-west roads, two north and two south of the natural division created by the Niger and Benue Rivers. The major purpose was to transport goods from the interior to the coast for export.
After her independence in 1960, expansion of the road system to facilitate access to state capitals and large towns became one of the major areas of government investment. In 1978, an expressway was constructed from Lagos to Ibadan.
Later, a branch of the Lagos-Ibadan expressway was extended to Benin City. By 1980, another express-way connected Port Harcourt to Enugu.
Similar express-ways connected major cities and commercial centres in the north. Thus, by 1990, Nigeria had 108,000 kilometres (67,112 miles) of roads. Of this total, 30,000 kilometres (18,642 miles) were paved, 25,000 kilometres (15,535 miles) were gravel, and 53,000 kilometres (32,935 miles) were unimproved earth.
But much of the road system is in disrepair and barely useable. Massive traffic jams are very common in the large cities. There are also long delays in the movement of goods. Highway accidents and deaths are frequent, and number more than 30,000 and 8,000, respectively. Most developed nations in the world jump-started their economies by accelerating their infrastructure and building on it; examples being those of  India and the United States of America.
The late President J.F. Kennedy of USA once stated that "America has good roads, not because America is rich, but America is rich because it has good roads." The crux of this matter is that a country cannot be rich without good infrastructure.
All the great civilizations attained greatness only through the entrenchment of adequate and sustainable infrastructure.
The World Bank estimates that every one per cent of government funds spent on infrastructure leads to an equivalent of one per cent increase in Gross Domestic Product, GDP, which invariably means that there is a correlation between any meaningful inputs in infrastructure development which reflects on economic growth, indices, hence the value of infrastructure cannot be underplayed.
Infrastructure development has in recent times assumed a central importance in Nigeria's fight to attain social and economic stability. The federal government and all state governments are using infrastructure as the focal point of their administrations and policy enactments. Infrastructure generally has to do with the fixed provision of tangible assets on which other intangibles can be built on. Not limited in scope, it involves the provision of Housing, Power (electricity), Transport, Education, Communication, and Technology.
The challenges involved cut across political, economic, social, technology, legal, environmental and safety issues. Poor political stability, policy formulation and politics of the project environment both within and without are problems the country is contending with in her infrastructural development. Equally, the country is dealing with issues of poverty, inflation, insecurity; cultural difference and poor technological environment to be used for the execution of projects.
With a land mass of 9,110,000 square kilometres of land and over 150,000 million people, Nigeria has a total road network of 193,200 km. This comprises  34,123km federal roads, 30,500 km state roads and 129,577 km local government roads. Unfortunately, over 70 per cent of the federal roads are in bad state of repair. In the area of housing, Nigeria requires about 17 million housing units and N60 trillion to meet its housing needs.
Economic returns
Over the years, corruption not only raise the price of infrastructure but also reduces the quality of, and economic returns from, infrastructure investment. The corruption in Nigeria is very high and unbearable for effective infrastructural development. The country's poor unemployment rate is aggravated by poor infrastructure. Poor infrastructure is the main reason Nigeria's economy is not growing and the only way out of the economic doldrums is conscious massive investment in infrastructure by all levels of government in the country. Apart from providing paying jobs for the teaming Nigerian youth, effective infrastructure development will integrate the country into the benefits associated with the fast shrinking global system. The reality of Nigeria's unemployment rate is that the problem has been aggravated by poor infrastructural development. If infrastructure were proportionally developed, we won't be having an embarrassing situation in Nigeria. Lack of infrastructure affects every aspect of life.
The challenges of infrastructure development in Nigeria are many.  The demand surpasses the supply and finance that will stimulate rapid provision is not there. Due to wide gap between provision and needs, the leadership classes are in arrears in all sectors. The political situation is not encouraging to foreign investors. Governments do not set the priority right in infrastructure development. Projects are supposed to meet objectives, but in most cases, projects embarked upon are white elephant projects. Good governance will be the only antidote that can bridge the wide gap. Good governance promotes accountability, reduces corruption and therefore minimises resource wastage through inefficiency. Good governance also ensures stability (economic and political) and reduces the level of risk associated with large and lumpy infrastructure investments. This in turn facilitates the mobilisation of both public and private sector financing resources that are critical for infrastructure development.
The country has a big land mass that makes it possible to spread out. Connecting the people of Nigeria with roads, national grid and potable water will be tasking. The local content of production of goods and services must be increased to reduce production cost. Corruption level in Nigeria is too high and allows incompetent hands to handle contracts. Professionals are not allowed to handle projects due to corruption. The cost of governance and recurrent expenditure are so high leaving little for capital expenditure.
Nigeria can boast of a network of railroads which provide Nigeria's second means of transportation. The rail system consists of 3,500 kilometres (2,175 miles) route of 1.067 meters (3.5 feet) but the Nigerian rail system is gradually phasing out despite attempts by governments at states and federal level to bring it back to life. Some of the new rail projects are abandoned while attempts to refurbish old ones are done half-haphazardly. In this write-up, Vanguard examines the improvements that government is making in its bid to refurbish the railway system.
Back to the basics: In June, the Nigerian Railway Corporation, NRC, announced  the purchase of two air-conditioned Diesel Multiple Units and six 68 seater air-conditioned passengers coaches for its operations. The railway equipment was launched in Lagos by President Goodluck Jonathan on special invitation by the Corporation's Chairman, Alhaji Bamanga Tukur, who was appointed January this year. At the Lagos launch, Tukur said the new development in the Nigerian railway system was a manifestation of the fulfillment of President Jonathan's Transformation Agenda in the transportation sector.
He said that better days awaited the railway sector, especially with developmental initiative already being crafted for the sector by the management. Not quite long after, the Federal Government commenced  the remodelling of existing railway stations across the country through Public Private Partnership (PPP) initiative.
Senator Idris Umar, Minister of Transport said the Federal Ministry of Transportation is focused on its mandate in respect of the country's railway system. He noted that the first phase of the railway stations project was remodeled and redeveloped to connect, Ebute-Metta in Lagos, to Ilorin, Kaduna, Kano, Port Harcourt, Enugu, Jos and Gombe.
Umar said,"Following the lifting of the embargo on rent and lease of Nigerian Railway Corporation's land and landed properties, the redevelopment of the Nigerian railway stations through Public Private Partnership is being processed. Transaction advisers have been commissioned to drive the process for private sector participation".
Private sector participation
The Federal Executive Council had also approved the establishment of six Inland Deep Ports under the PPP arrangement while the federal government gave its approval of Lekki port even as the other five namely Ibaka, Agge, Olokola, Badagry, and Ogidigbe/Escravos deep seaports were being processed. The six dry ports approved included Isiala-Ngwa in Abia State; Ibadan, Kano, Haipang in Jos, Funtua in Katsina and Maiduguri.
The Federal government according to the minister is working seriously to build new seaports in the country because the ports are overstretched particularly in Lagos where 60 percent of the cargoes are being handled. Refurbishing of railways has also created employment for many Nigerians. Late last year, no fewer than 6,000 applicants applied for 295 vacancies  at the headquarters of the North Western District of the Nigerian Railway Corporation, NRC, Minna in Niger State.
Also last year, the Subsidy Reinvestment and Empowerment Programme, SURE–P, said it had so far spent more than N30 billion on rehabilitation and construction of railways across the country.
According to the SURE-P Convener, Railway Sub-Committee, Mr Chike Okogwu, "We have spent over N30 billion on railways since inception of SURE-P and the N30 billion is for the railway projects all over Nigeria. We have the modernisation project from Edo-Abuja and to Kaduna, which is a new line and standard gauge line. We have done the rehabilitation of the Eastern line which is divided into three contracts – Port Harcourt to Makurdi; and from Makurdi through Jos, Kafanchan and others."
Maintenance of tracks
The SURE-P converner said the Bauchi to Gombe and to Maiduguri is being worked on  while the Western rail line was at about 90 per cent stage before the intervention of the committee. He added, "The Edo-Kaduna line with materials on site had reached 55 per centd completion. For the Eastern line, we can say that we are at 48 per cent completion stage."
Okogwu expressed the hope that none of the projects would run beyond August 2014. He said, "From Lagos to Kano, all the communities along the corridor will require their indigenes who are residents in the communities to maintain the tracks, the coaches and the train stations along the corridors."
Between 2011-2012, the Nigerian Railway Corporation's Mass Transit Train Service from Minna to Kaduna generated between N500, 000 and N550, 000 per trip, according to its Public Relation Officer, North Western District, Mr Sheriff Razaq. "From the beginning of  2011, our Mass Transit train makes between N500,000 and N550,000 per trip from Minna to Kaduna".
The corporation, he stated charged N320 per passenger per trip, while each coach carried between 300 and 350 passengers. Ten coaches were involved in each trip conveying between 3,000 and 5,000 passengers, depending on the patronage.
Skeletal services on the route began in June 20, 2011 and about N40, 000 was realised during the first trip while the second and third trips raked in N84,000 and N200,000, respectively.