By Wale Akinola
Allen Onyema, a lawyer, is the founder/Chairman of Foundation for Ethnic Harmony in Nigeria (FEHN), a non-governmental organization in the vanguard of promoting non-violence.  A product of  University of Ibadan, Onyeama has level-three certification in non-violence education  from the University of Rhode Island Centre for Non-violence and Peace Studies, Rhode Island, USA.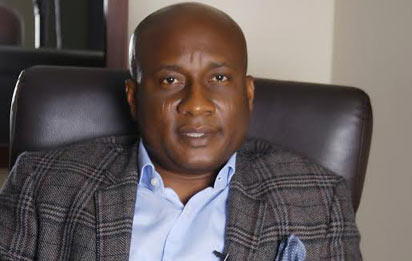 In this interview, he speaks on his airline  project geared at creating jobs on a massive scale as well as engendering national unity. Excerpts:
You recently invested in aviation. Can you shed light on this new business outfit?
First and foremost, I am fulfilling the promise I made to God  in 2003 that I would not only give him one percent  of my gross earnings for evangelism but would also create massive jobs for if only he would come to my aid in my businesses. I knelt down and cried to him while I made the vow.
I challenged God and he answered me. That money (one percent) is never my money, it is God's. I have an account in one of the banks referred to as God's account. It is used for evangelism only. I have built and helped churches all over the country from this fund. It is never used for my sake. I have helped other religious bodies from there too. So floating Air Peace is a promise I made to God towards creating massive employment for nation.
I have been a peaceful person from birth. For several years now, I have been spending so much of what God Almighty put at my disposal pursuing peace ideals from different angles. Floating Air Peace airline is part of the greater desire in me to help foster unity and peace in my nation. All my companies have everything to do with peace because I am into peace building. Everything about me is peace, that is why I named it Air Peace because I want to use this airline to open up my country. Again, the peace of the flying public is our goal. Their peace of mind over there in the sky is our goal. Our mission statement is to be one of the best and to provide unparalleled commercial scheduled flights and even chartered flights for Nigerians and the flying world.
When is the airline taking off and what arrangement has been made for effective take-off?
You know that aviation is highly regulated. You have to follow the rules, you have to prove to the authorities that you are ready. I mean you have to prove to the Nigerian Civil Aviation Authority (NCAA) that you are ready. They have to audit you and they have to make sure that you are fit to fly. We are getting there, we are getting very close. We are at the last stage. We have five phases but we are on the fourth phase now.
The fifth phase is the certification itself and we are on the fourth phase now, which is flight demonstration. We have already started flight demonstration. You have to demonstrate to the NCAA for 50 hours, you are not carrying passengers but only their personnel, showing them what you are capable of doing when you start operations. We have come a long way, it is over a year now.
Do you have aircraft on ground already?
We have Boeing 737-500 and Dornier 328 jets.
What is the take-off of the airline going to look like?
You know normally we have to start with local flights. Everybody is scrambling for Abuja and Port-Harcourt, but we want to use this airline to open up this country. Kebbi must be able to go to Kano. Kano must be able to go to Enugu direct. Yola must link up with Sokoto and Kano directly. Abuja must link up with Makurdi and so does Lagos. Asaba should be able to reach PH directly and PH, Asaba.
Benin should also go to PH and Abuja directly. Smaller airports shall be accessed with our Dornier  jets. Warri to PH and PH to Warri must be done. PH should be able to fly to Calabar and vice versa. This design will not only open up the country for more economic activities, but would create massive employment opportunities for the teeming unemployed population of Nigeria both directly and indirectly. This is my desire, this is my conviction. We want to bring peace and unity to Nigeria  because all I know in my life is about peace building.
So I want to use this airline to promote peace the more in this country in several other ways. One, my recruitment policy does not understand ethnicity, neither does it understand religion. I am an Ibo man but a Yoruba man is my director of flight operations, a Yoruba man is my director of safety, a Yoruba man is my IT manager, an Ibo man is quality manager, an Ibo man is my director for maintenance and engineering, a Niger Delta man is the chief pilot and a northerner is my chief accountant. I have contacted the President of Arewa Transformation and Empowerment Initiative(ATEI), Alhaji Mohammed Danjuma, to send me a shortlist of prospective employees of northern origin for all  northern operations and even for the southern end too. This has been compiled already by ATEI and sent.
So, you have people from all over Nigeria and people, who are working in Air Peace will tell you that our recruitment policy is so transparent. And I make sure I am around, nobody asks you where you are coming from. All we want to know is your fitness for the job. We take people from all over the country to give that sense of belonging. I don't have to populate my airline with Ibo people just because I am an Ibo man. I want to give others a sense of belonging because I did not make my money from the Ibos alone. In a multi-cultural setting like Nigeria, we must celebrate those things that bind us together and relegate those differences of ours to the background.
We don't allow it to control our lives. So this airline's recruitment policy is very broad, it promotes rare broad nationalism as against ethnic nationalism. So, Air Peace promotes broad nationalism. Again, as I said earlier, we want to open up the country. There are plans to go to Makurdi, there are plans to use our Dornier jet to fly to Kebbi, there are plans for us to do Kano/Sokoto, there are plans for us to do Kano/Makurdi, there are plans for us to do Asaba/PortHarcourt, Benin/PortHarcourt, Warri/Port-Harcourt; Taraba might have a small runway, we want to go to there.
If they have any small runway, our Dornier jet is very powerful, it has short runway capability. We want to go to Gombe, not just Abuja/Gombe alone, there are people from Gombe, who may want to go to Sokoto.   We want to open up places, we want to go to places that other operators are not venturing to go to. This pioneering initiative will boost the economy of this country. The moment you start opening up the entire nation, it will help business, it will breed unity.
Is that the way you want to be different from other operators?
No.  Another area where we want to be different from other operators is safety. We have zero tolerance for unsafe practices in Air Peace and that is why we make sure that our aircraft are well maintained. We bought our Donier  jets from Europe, we bought our Boeing  jets from America and we make sure in conducting the tests and maintenance of our aircraft,  everything was employed to make sure we had the best. You can imagine, our aircraft  flew for 18 hours from United States to Nigeria, no snag, no defect and that is unusual. Besides that, Nigeria should start to ask questions from the airlines, who maintains your fleet? It is all about maintenance.
In America, they use 60-year old planes, no issues, it is all about maintenance. For us, we brought in BCT Aviation Maintanance Company from United Kingdom.   They are a major maintenance organization in the UK and  provide  these services to several major airlines of the world. Just as one of our competitors  is using Germans, we are using the British and they are here 24/7, maintaining these planes. If they do not sign any aircraft for operation every morning, that aircraft does not go into the sky.
So, they must certify every aircraft before it goes into the sky every morning. Those are the things we want to do and again, we want motivated staff.
One thing we have noticed in Nigeria is that most of the airlines' staff are always grumbling because of non-payment of  salary. We want to motivate our staff. I will run this airline the way I run my other businesses.
My staff in all my businesses take my business as their own. AIR PEACE SHALL BE SHARING PROFIT WITH STAFF !   I am going to run the South West Airline of America model. AirPeace will be declaring periodic bonuses as long as we are making it to trickle down. Every staff will see the airline as his own and protect it. This ensures safety more than anything.
What motivated you to invest in aviation?
I think I am one of those people, who are public spirit-driven. What that means is that I think of how to help. How do I help the unemployed and how do I help my country? I am not being boastful but  my track record speaks about that disposition for me. If you look at the things I have done in the past and I am still doing, you will discover that I am an example of one of those who asked themselves, what can I do for my country?
I remember in 2003, I asked myself this question, how do I arrest the incidence of ethnicity, incidence of violence in my country, especially in the Niger Delta and the North? To this end, I decided to do it myself.   I ran round the 36 states of Nigeria and did this thing solely on my own, I was not thinking of getting money. There was a time I discovered that I was spending a lot of my resources on seeking peace and doing peace building and most of my businesses were suffering.
At a time also, I asked myself, how do I help in restoring peace in the Niger Delta? And that led me to go to University of Rhode Island in United States, I contacted the King's Centre in Atlanta, I contacted Dr. Bernard Lafayette (Jnr.) and I asked him to come down to train my staff. We expended several millions in doing this, I funded them solely. In 2004, after the training, I went into the trenches, bringing people out and training them, transforming them. That is a good example of what can I do for my country?
It was later Shell noticed that there was this man, who has a foundation, Foundation for Ethnic Harmony in Nigeria, that I was doing a lot all over the country and they contacted me to help in training and transforming youths from their host communities. And from then, there was no stopping me, Chevron saw what we were doing and keyed into my programme; in fact, the international community noticed me before the Federal Government of Nigeria noticed me and, before you know it, there was non-violence education everywhere. I introduced non-violence education into Nigeria for the first time. We also transformed the Niger Delta militants. I have paid my dues. I answered what motivated me earlier here.
How do you assess the transformation agenda of Jonathan's administration in the aviation industry?
This administration has performed excellently in the aviation industry. The government of Goodluck Ebele Jonathan has done what no other government has done in this country in promoting the well-being of the aviation industry.