By NDAHI MARAMA, MAIDUGURI
Suspected Boko Haram gunmen may have consolidated their capture of Gwoza town in Borno State, after last Wednesday's attacks on houses, a police station, the local government secretariat complex and the emir's palace in the town.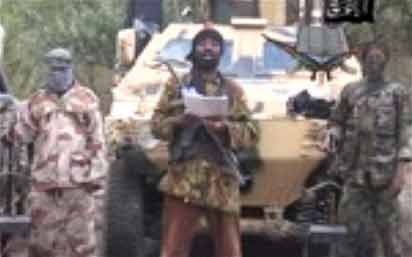 This came as Borno State Police Command, yesterday, banned public demonstration anchored on the security situation in the state under emergency rule.
The ban, according to a press statement from the Command's Public Relations Officer, DSP Gideon Jubrin, followed the attempted demonstration of Gwoza people to the Government House, Maiduguri over the Gwoza attacks.
Hodo Vurho, a resident who fled to Maiduguri, yesterday, said that following the missing of the emir of Gwoza, Alhaji Mohammed Idrissa Timta, during the attack, the Boko Haram black flags had been hoisted at the torched palace and three other locations in the town, including three villages on Bama-Gwoza road.
"When the insurgents struck last Wednesday, some of us fled, while others were shot dead, but I was able to flee by climbing the hill, and then descend to take a footpath that leads to Maiduguri to tell you what is happening in Gwoza," Vurho said.
"After torching our emir's palace and several houses, including the council secretariat complex, the insurgents separated women and children, from the male adults by shooting and slaughtering them at sight. In that dangerous situation, we had to flee for safety. Later, one of my neighbours called me to say Gwoza had been taken over by Boko Haram gunmen."
On whether there were soldiers in Gwoza, Vurho said: "On Wednesday when we were attacked along with the emir, some soldiers fled to take cover along the main road to Mubi and Bama. But the following morning, Thursday, we heard that the gunmen were freely moving with their rifles, along with some women and children, as human shields, in case the soldiers may come to repel the insurgents from Gwoza town."
Subscribe for latest Videos