Says Oresanya, LAWMA boss
BY OLASUNKANMI AKONI
As Lagos State Waste Management Authority, LAWMA, battles to rid Lagos of garbage and other unwanted materials in spite of daunting challenges,  refuse generation in the megacity has risen from 10,000 to 12,000 metric tonnes per  day.
Managing Director of LAWMA, Mr. Ola Oresanya who disclosed this attributed the increase to the cosmopolitan nature of the state with its attendant population explosion of over 22 million in a relatively small land mass, which he said is tantamount to a population of four countries, put together in West Africa.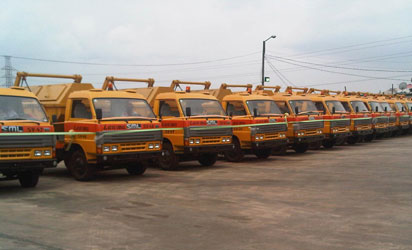 According to Oresanya, LAWMA evacuates at least 12,000 tonnes of refuse daily against 10,000 earlier being generated.
He said that given the cosmopolitan nature of Lagos State, it was expected that large volumes of waste would be generated by the people regularly.
Rapid population growth, coupled with unbridled urban pollution, is among the many health and sanitation challenges facing the city.
Oresanya who expressed determination of the state government in rising up to the occasion of ensuring filth free Lagos, identified unwholesome attitude of most of the residents as well as indiscriminate dumping of refuse as a major challenge to the agency in recent times.
He  stated, In Lagos we generate daily average of about 12,000 metric tones and you know what 1,000 tonnes looks like; 1,000 tonnes will fill 100 trailers.
Lagosians still have this bad habit of throwing wastes from their cars and still dumping wastes in unauthorised areas. Though the habit is reducing but it  s a major one and we are addressing it while we will continue to appeal to them, (residents) through sensitization and moral suasion.
Oresanya added that due to the efficiency recorded in refuse management, the agency was making efforts to absolve through licensing, more Private Sector Participation (PSP) operators to improve the current capacity of waste collection and disposal and improved service delivery.
While stating that the PSP operators have been agitating for the upward review of charges, the agency has not approved any increase in service charged by the operators, saying any operator that is charging above the normal approved charges should be reported to LAWMA.
He disclosed that a number of PSP operators found wanting in the discharge of their duties had been sanctioned appropriately. However, the sanction is a corrective rather than punitive measure.
Currently, PSP operators charged N500 per flat and N200 per shop on a monthly basis for waste collection.
He therefore, enjoined anyone not satisfied with any of the operators or who wishes to pass other information to reach the agency through the following toll free lines: 5577 and 07080601020.
Effect of Apapa gridlock on LAWMA activities
Worried by the recent traffic gridlock experienced in Apapa Wharf and environs, LAWMA, has raised alarm on the negative impact on its operations in the area in recent weeks and therefore decided to shift its operations in the areas to night time.
LAWMA said the measure became necessary following thorough assessment of the situation, having observed that PSP trucks found it difficult to access the areas in the execution of their duties.
Oresanya, stated; For this reason, management of LAWMA decided that waste collection and disposal services in Apapa, Wharf and its environs will be carried out by the assigned PSPs at night until further notice.
The agency has established various programmes to consolidate on the job of waste management in the state, and these include the introduction of additional mini-trucks to cater for the needs of inner communities in the state, establishment of safety corps marshals for road sweepers, involving the youths in business of waste management and lots of others.
Despite the current unpleasant traffic situation, the authority is giving the total assurance that it will not relent in its resolve to deliver efficient waste management services to the people of Lagos no matter the circumstance.
Meanwhile, the organization implored all to desist from patronizing cart-pushers or any form of indiscriminate dumping of refuse on major highways and drainage canals.