By NKIRUKA NNOROM
Not less than N74.855 billion will be lost by investors in the Nigerian capital market when the Nigerian Stock Exchange, NSE, finally delists about 21 quoted companies from its Daily Official List in the next two months.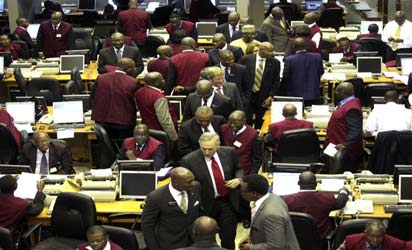 If all the 21 companies are finally delisted, they will bring the total number of companies delisted from the NSE due to regulatory action to 38 in four years (2010 – 2014), and would have resulted in massive depletion in the market capitalisation.
Meanwhile, shareholders of the companies marked for delisting have kicked against the move, saying that non-submission of quarterly or yearly financial accounts by quoted companies could be a ploy by those that want to exit the market to force the NSE to delist them on its own, thereby escaping the rigours of delisting process, which they claim is cumbersome.
Delisting announced, cost to investors
The Exchange had late last month revealed plans to delist 21 companies that are performing below its post-listing rules requirements.
While some of the companies are being delisted for failing to file their quarterly and annual financial reports and accounts with the NSE, some others will face the same fate for failing to regularise their listing status with the Exchange after being given time to do so.
The companies being delisted for non-rendition of their financial account include UTC Plc, FNT Cocoa Processing Plc, G. Cappa Plc, Big Treat Plc, Mtech Plc, Daar Communications Plc, Starcomms Plc, Nigeria Wire and Cable Plc and West Africa Glass Industry Plc.
Others are IPWA Plc, Rokana Industry Plc, Afroil Plc, Adswitch Plc, Pinnacle Point Group Plc, Goldlink Insurance Plc and Investment and Allied Insurance Plc.
Those being delisted for not regularising their listing status include Jos International Breweries Plc, Golden Guinea Plc, Capital Oil Plc, Nigeria Sewing machine Plc and Stockvis Plc.
As at the date of publication of the intension to delist the companies on June 23, 2014, FTN Cocoa listed on agriculture sector under crop production sub-sector contributes N1.100 billion to the NSE's market capitalisation, which means that investors will lose as much to its delisting.
The delisting of G Cappa, a construction/real estate company listed under building structure/completion sub-sector, will also wipe N1.808 billion from investors' wealth.
Delisting of another construction/real estate company, listed under real estate development sector – Pinnacle Point Group Plc – will wipe N33.341 billion from the market capitalisation; Golden Guinea Plc, listed in consumer goods sector under beverages—brewers/distillers sub-sector will cost investors N193.234 million, while Jos international Breweries, another consumer goods listed company's delisting will deplete investors' wealth by N1.523 billion.
The delisting of Big Treat plc, listed in the consumer goods sector, under food product sub-sector, will on its own deplete investors' wealth by N1 billion, while UTC, another food products listed entity will wipe N666.02 million from the market capitalisation.
From the financial services sector under Insurance Carriers, Brokers and Services sub-sector where Goldlink Insurance and Investment and Allied Assurance will be delisted, investors will lose combined N16.411 billion.
For planned delisting of MTech Technology, ICT- Electronic Communications Services, investors will as well lose N4.52 billion, while N3.544 billion will be wiped out of the capitalisation for Starcomms' delisting.
Investors will also lose N257.07 million as a result of proposed delisting of IPWA Plc, an industrial goods listed entity, while N900 million will be lost for delisting of Nigeria Wire and Cable Plc, another industrial good company listed under Electronic and Electrical Products sub-sector.
Delisting of West Africa Glass Industry, on the other hand, will cost investors N131.43 million; N882, 000 (Eight hundred and eighty two thousand) will be lost to delisting of Nigeria Sewing Machine Manufacturing Co. Plc; N408.520 (Four hundred and eight thousand, five hundred and twenty naira) will be lost to Stokvis Nig. Plc's delisting; N2.599 billion will be lost to delisting of Afroil Plc, an oil and gas company, while N4 billion will be lost to delisting of Daar Communications, an media/entertainment company.
On the Alternative Securities Market (ASem) equity market platform, a window that allows upstart indigenous firms to access the Nigerian capital market, three companies would be delisted.
Consequently, investors will be losing N30 million if Rokana Industries Plc, a personal/household products manufacturing company is delisted; N203.76 million will be lost to planned delisting of Adswitch, an electronic and electrical products listed entity, while N2.93 billion will be lost to the delisting of Capital Oil Plc, an oil and gas company listed under petroleum and petroleum products distributors' sector.
NSE Explanation
Fielding questions recently from newsmen at the last Capital Market Committee, CMC, meeting in Lagos, the Chief Executive Officer, NSE, Mr. Oscar Onyema, said that the publication only served as warning to those companies that the NSE was ready to uphold its 'continuing listing standard'.
"We do have continuing listing standard and we will continue to enforce it. All we have done is to indicate companies that are going to be delisted. It does not mean that they have been delisted already, but it puts them on notice that we are very serious about this," he said.
"I want to note that a number of shareholders have said that we are not protecting investors by the delisting. In reality, we are protecting investors by making it very clear that you cannot be a listed company and stay for two, three years without providing your financial statement. On what basis are you trading?"
So, that is why we are taking this stand; it is not a new thing; we have been delisting companies. In fact, the life of any Exchange involves listing and delisting as a normal thing. Even the human beings you see come alive and die. So, it is just part of the realities of the capital market," Onyema added.
Also, in the notice announcing the delisting, the Exchange said that the decision was taken pursuant to the provision of the Greenbook, (Listing Rules), specifically Clause 15 of the general undertaking, adding that the action became necessary in order to protect the investing public from trading in securities of entities with no current information on their financial status.
Shareholders kick
Shareholders who spoke to Financial Vanguard on the development said that delisting companies at will has never solved any problem; rather it compounds retail investors' woes as they are usually left to the whims of the companies' managers once they are delisted.
Though they opined that moribund or dead companies should not be allowed to remain listed, they said that such companies could be placed on full suspension long before they are delisted, while the regulators consult on the best way to either revive or help shareholders recoup part of their money.
According to them, the action could send wrong signal about listed companies to foreign investors who might be interested in investing in the market.
Reacting, Mr. Abayomi Obabolujo, President, Avid Shareholders Association, said "The stock exchange cannot be talking from two sides of their mouth. They keep saying that they want to deepen the market by looking for more companies to list and at the same time, they are also quick to delist the existing ones for one reason or the other.
In my opinion, I think that what they should rather do is to look for a better method of making those companies comply. They should rather work with the shareholders and the Securities and Exchange Commission, SEC, to determine what could be done to ensure that those bad management and Board members of non-performing companies are removed so that the companies can still continue to operate.
"What I am saying is that there is need for the Stock Exchange to call an all parties meeting which will provide a broad based discussion. You cannot just sit in your office and say because these companies have not submitted their reports, they will be delisted. No, if you consult the shareholders, you might at the end of the day be able to remove certain people from the Board of Directors of those companies."
"Okay, a company that is not releasing its result when they are listed on the stock exchange when they know that they are being monitored, what do you think they will do when they are no longer listed and are not accountable to anybody," he queried.
Continuing, he said, "The problem I have seen in the market is that there is no rule that says that listed companies must make profit, and what I have seen in Nigerian companies is that whenever they are making losses, they don't what to release their results which is against Nigerian Stock Exchange's listing rules.
"That is why instead of getting them delisted, they can adopt other positive measures. This is important because once companies find out that delisting companies that fail to submit their financial report is the custom of the exchange, whenever they want to leave the market, all they need do is to stop releasing their reports so that they will delist them on their own, thereby leaving no room for court ordered meeting or what have you."
Speaking in the same vein, Ambassador, Olufemi Timothy, National President, Renaissance Shareholders Association of Nigeria, said, "We have told the Nigerian Stock Exchange times without number that they should always put the interest of the minority shareholders at heart before they take such decision.
"Though it may be the last resort for the regulator, still we believe that they should have allowed the investors to decide what happens to companies that failed in their responsibility and post listing requirement. It is not good enough and we are not happy about it."
He reaffirmed Obabolujo's position, saying that once companies are delisted, they are no longer accessible to shareholders, adding that the development douses investors' confidence.
"What happens to our capital investment? Company like Daar Communication has no financial problem; the only problem is that it is finding it difficult to perfect its account which is not enough reason for them to delist it. They only need some adjustment to be able to meet the requirements of the stock exchange."
"While they are in this kind of situation, there is no way they will be able to send report to the stock exchange. This is because if the authorities have not approved the accounts, it cannot be made public," he affirmed.
"The Stock Exchange is not doing enough by delisting them. What they should always do before any company is listed is to enter into agreement with them that if they fail to summit their report within a period of two years or fail to hold Annual General Meeting for a period of two years, the NSE will hold an AGM on their behalf with the minority shareholders," said Godwin Anono, President, Standard Shareholders Association of Nigeria.
He explained that considering the present situation, many of the companies deliberately withhold their reports so that the NSE will get frustrated and delist them, while the companies are reverted to their personal properties.
According to him, no company that has been delisted ever calls for either AGM or EGM or any other meeting of their shareholders.
He regretted that the SEC allows companies to use minority shareholders to raise cheaper funds in the guise of listing on the Exchange, only to abandon them afterwards.