By Luka Binniyat
Amid the tension created by terror attacks in some parts of the North, members  of the Sheikh Ibrahim El-Zakzaky-led Islamist Movement of Nigeria, the Shiites, yesterday, clashed with soldiers in Zaria, Kaduna State. 35 persons were feared dead in the incident.
The incident happened barely three days after twin bomb attacks in Kaduna metropolis, Kaduna State,  targetted a former head of state, Major General Muhammadu Buhari (rtd), and another Sheikh.
The Shiites were on  a procession to celebrate what they called Quds day, as well as demonstrating against military operations against Palestinians in Gaza by Israeli forces.
Eyewitnesses said there was shooting between soldiers and members of the Shiites from late Friday afternoon when the protest started till the early hours of yesterday, resulting in the  arrest and killing of the Islamist sect members.
Sources said, out of the 35 persons killed, three of them were the sons of  El-Zakzaky, adding that many of the sect members arrested by the soldiers were still in a military detention camp.
At press time, the situation around the PZ, Sabon Gari area of Zaria was tense, just as more soldiers were said to have been deployed in the area to curtail more trouble.
Trouble started, according to Sunday Vanguard sources, when the sect members, on approaching a military check- point, were ordered by the soldiers there to take another route in view of the insecurity challenge in Kaduna State. It was said that the Shiite group rebuffed the order and, in the process, a standoff  ensued between the protesters and the soldiers.
This development, according to eyewitnesses, resulted in  soldiers firing warning shots into the air to scare the protesters. The Shiites were said have defied the  shots and surged  forward while throwing stones at the  soldiers.
However, addressing journalists, yesterday, on the incident, El-Zakzaky said, "I am appealing to my followers to be patient and remain calm. After the burial of those killed, we will decide what action to take. I have communicated with the authorities, and they are all claiming not to be aware of the operation. It is my belief that the operation was ordered from Abuja".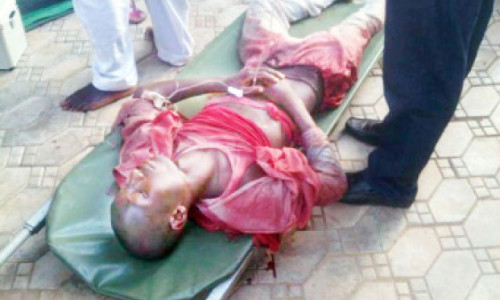 Kaduna State police spokesperson, SP Aminu Lawan, said on phone that the incident had not to do with the police, saying, "I advise you to reach the Nigerian Army if you can."
Meanwhile, the army said, yesterday, it was investigating the incident.
The Director of Army Public Relations, Brig. –Gen. Olajide Laleye, told the News Agency of Nigeria (NAN) by telephone that the investigation would establish what happened.
"However, what is already clear is that Nigerian Army troops did not initiate firing and only acted in self-defence after being fired upon," Laleye said.