BY GBENGA ARIYIBI
ADO EKITI—Police have warned those who may want to foment trouble after the gubernatorial election in Ekiti state to have a rethink, as the head of the team deployed to Ekiti State for the election, Mr Bala Magaji Nassarawa has said that his men and officers are not in a hurry to leave the state.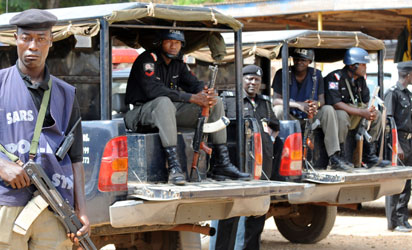 The Inspector General of Police, Mohammed Abubakar deployed 12,000 men and officers of the police to monitor the governorship poll, including six commissioners and three Assistant Inspector General of Police(AIG) to the state.
Speaking in Ado Ekiti yesterday, the Deputy Inspector General of Police , Mr. Bala Magaji, Nasarawa said his men would be still be on ground for post-election duty.
"However, I wish to advise in the interest of the general public, that if any one, group of people or political party has any grievances or objections to the conduct of election, such complaints should be channeled to the appropriate quarters."
The police boss lauded the people of the state for their peaceful conduct and civility during the Saturday's election.
Nasarawa , who promised that the police will repeat the unblemished records in the conduct of Ekiti poll in the August 9 governorship poll in Osun State, said his men would henceforth make it impossible for poll riggers to have a field day during elections.
He said; "May I recall that in the build up to the election, we gave assurances to the good people of Ekiti State, the residents ,electoral stakeholders, election monitoring groups, local and international observers and of course, the entire nation that the police will leave no stone unturned, in ensuring a very credible, peaceful, crisis-free and widely acceptable election in Ekiti.
"As we are mindful of the familiar disruptions and occurrences that generally mar the conduct of similar elections, our proactive approach made it practically impossible for hoodlums or criminals to break the law or violate the electoral process".
The Police Commissioner in charge of the elections, Mr Aduba, reiterated the intention of the Force to curb some reported cases of overzealousness on the side of his men, saying they would be more civil than what was experienced in Ekiti in the future election.
Aduba, pointed out that whoever suffered harassment in the hands of the police during the election should forward such complaint to the police headquarters in Ado Ekiti for proper disciplinary action against concerned officers.