No, women lawyers kick
VICE Chancellor of Adekunle Ajasin University, Akungba-Akoko and Ondo State  delegate to the National Conference, Professor Femi Mimiko, yesterday, canvassed for the removal of fuel subsidy to stem mind-boggling graft in the scheme.
Contributing to the report of the National Conference Committee on Public Finance, he described the subsidy scheme as "a huge infrastructure of corruption in the country."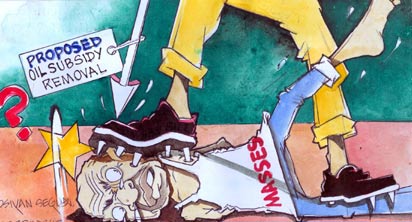 He also suggested that ownership and development of sea ports should be put on the Concurrent List to enable both the Federal and state governments develop and own seaports just as he tasked government to resist external borrowing.
But in her contribution, the leader of Women Lawyers in Nigeria under the aegis of International Federation of Women Lawyer, Mrs. Hauwa Shekarau, said "no to oil subsidy removal."
She supported the recommendation for budget mix of 60 per cent for capital expenses and 40 per cent for recurrent expenses.
"This will help to address the huge infrastructural gap that we are experiencing in the country", the FIDA president stated.
While admitting that the committee did a comprehensive job, Mimiko said there were a number of issues.
"I support removal of fuel subsidy. On this, I find it difficult to understand the argument of those who want subsidy to be sustained. It is evident that fuel subsidy in this country is a huge infrastructure of corruption. I then wonder why those who in one breadth decry corruption would at another, defend or argue for the retention of a clear infrastructure of corruption.
"As things are now, it is evident that the fuel subsidy regime has failed. It does not favour the poor; constraints development of our oil refining capacity; and promotes corruption. It should be removed and the savings put on the proposed social security regime that one of the committees has recommended. Such can also be deployed to support free education at both primary and secondary levels; and a scholarship fund for students of tertiary educational institutions who cannot afford to pay their way through school," he said.