By Rotimi Fasan
THE Chief of Defence Staff, Alex Badeh, only days ago told the world, including the insurgents that have made life impossible for his Commander-in-Chief, Goodluck Jonathan, that the military now knows where the school girls abducted from Chibok about 50 days ago are being held.
And I say in response to that, that President Jonathan now knows the informants of Abubakar Shekau and his infernal armies. At least he can no longer claim to be totally in the dark about the real identity of these individuals or groups without looking foolishly casual about the safety of Nigerians. It is indeed up to him if he chooses to pass up the opportunity to act for once as far as this issue of insurgency is concerned in the manner appropriate for a responsible Commander-in-Chief.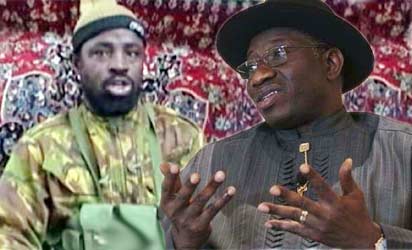 In closing my piece here last week, I had asked what President Jonathan was doing about the enemies in his own government and others who through overt and covert activities have been working to ensure the insurgent beasts in the Northern part of this country keep at least one step ahead of the security agents and the military on their trail.
It didn't look like the security agencies, much less the President, were doing anything about them. But any right thinking person could see from the increased activities of the insurgents; tell from the precision of their attacks for which the government has no meaningful answer that the killer groups have many people working for them. Who these people are is the simple mystery the Jonathan government is yet to solve. In light of Badeh's astounding remark my exact words from last week deserve to be quoted at some length:
''President Jonathan may be averse to going to Chibok, he may be wary of coming face to face with poorly resourced, mutinous soldiers that take arm at their commander- he may not see any reason in his going to Sambisa forest.
But what has he done with those directly under his nose in Abuja or in Borno and environs? Has he taken his eyes off these people believing they are not capable of the mischief they've been linked with? With bombs going off in built-up areas under curfew and emergency rule, is it not reasonable to imagine that the insurgents or their supporters are right in our midst, living in our neighbourhoods, worshipping in the same places and going to the same markets as the rest of us?
Are we to accept that those who killed hundreds of Nigerians, now turned mere statistics, in the market in Jos came straight from Sambisa forest; that the killers that operated in Sabon-Gari, Kano, rode on a bike from Chad or Cameroon? What is Jonathan doing about these people right in our midst? Or is he waiting for his foreign supporters to look for them or leave before he starts asking these questions, in case he remembers at all?
While our military complain of inadequate resources, their commanders draw up a list of unattended grievances, the insurgents increase in strength. What is Jonathan doing about the enemies within?''
There you have it. The President had once claimed in helpless resignation that his government had been infiltrated by sympathisers of the insurgents fighting his administration. It didn't look then like he had any concrete idea of who these moles might be or if he did, what his own response should be. The President should now be experiencing his own satori for in a clear case of Freudian slip or, even, chutzpah people are of their own will saying things to show on whose side they are in the fight against mindless terror. They might be daring the President to act if he can. But will he?
Or should we be charitable and put Badeh's statement as were others in similar vein by highly placed persons in government down to inexperience in security matters? Are we to conclude that the topmost military man in the government of President Jonathan has no idea of what should or should not be said on security issues?
Before him Kashim Shettima, governor of the insurgent-ravaged Borno State had made exactly the same claim as Badeh about knowing where the school girls are being held. The question then to ask is: What are these individuals doing about the knowledge or the intelligence in their possession; why have they not gone to claim the foolishly irresponsible multimillion naira prize the Nigeria Police promised anyone with information on the insurgents?
If the insurgents have many informants, who are those gathering intelligence for government? What's their role in this fight? If Shettima's blather could be excused on ground of inexperience on military or security issues (a clear failing for a so-called chief security officer of a state as our governors are proclaimed here!), should we also ascribe Badeh's comment to inexperience? What about Chris Olukolade's repeat and support of Badeh's claim?
When Jonathan goes weak at the knees on the idea of visiting Chibok and we put it down to his inexperience in military matters as if he was being called upon to join our ground troops in their operations, what should one make of his attempt to be compared to Barack Obama as government adverts try to do? Obama made his fourth trip to see US troops in Afghanistan days ago. Was that because he trained as a soldier?
It has never ceased to astound me how highly placed government officials and their spokespersons would go on air providing blow by blow accounts of sensitive military or police operations in an obvious bid to impress ordinary Nigerians. They provide forensic evidence on media, including details of phone logs from telecom companies in explaining how criminal gangs or kidnappers were busted! Is it any surprise that some of these companies have been soft targets of these outlaw elements? Does a professional military or constabulary behave like this?
Just hours before he retired into the secret location where he with others monitored American seals' operation that killed Osama Bin Ladin, Barack Obama was at a dinner with the press. He didn't give the slightest hint of the operation in the offing. The world only knew of it but after Bin Ladin had been killed and buried at an undisclosed location at sea. To this day and in spite of claims and counter-claims by one or two persons claiming to have fired the shot that took out Osama, there has not been a single official statement by Pentagon or any state official on the controversy beyond Obama's initial broadcast to the world. Some reports even have it that Obama himself does not know who fired the killer shot. That was how secret the operation was.