By Dapo Akinrefon
Governor-elect Mr Ayodele Fayose has promised to work with Governor Kayode Fayemi and Mr Opeyemi Bamidele to develop Ekiti State.
Addressing newsmen in Ado-Ekiti, Mr Fayose said though he emerged winner of the contest, there was no winner or loser in the governorship elections.
He said "To Governor Kayode Fayemi, my brother Opeyemi Bamidele and others that we contested together, that have conceded and accepted me as their governor, I want to thank them. I want to assure them that I will work with all of them. The government belongs to all of us.
Four years is a very short time in the life of any administration, I want to let them know that it will be four years of all of us in government. There is no winner, no loser."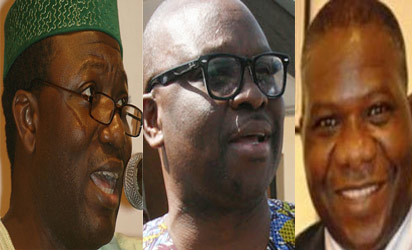 He added that "Governor Fayemi has called me to concede defeat and I will see him tomorrow, hopefully for us to let the public know that we are together, irrespective of our past. Ekiti belongs to all of us because a governor has only got a term and tenure but Ekiti will remain forever. I salute Fayemi's courage for accepting me and his readiness to allow peace and love reign in our state. I am assuring you that this is Ayo Fayose, who is older, wiser and ready to work with everybody."