Nigerian officials were very uncomfortable yesterday with the news of a possible sell-out of the all-important match between Iran and Bosnia Hezergovina.
Bosnia are yet to come to terms with losing 1-0 to Nigeria after Osaze Odemwingie flicked in a cross provided by Emmanuel Emeinke. Many observers believed that Emenike had fouled Bosnian defender before bulldozing himself to give the cross that led to Osaze's goal. Before then, Edin Dzeko scored a goal which was disallowed by the New Zealand referee but replays showed that he was not in an offside position.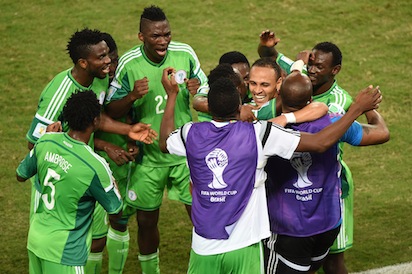 With a controversial offside call disallowing a goal by striker Edin Dzeko, Bosnia-Herzegovina fell to Nigeria 1-0 in a Group F matchup. The loss eliminated Bosnia-Herzegovina from contention in its first-ever trip to the World Cup.
"Today we should have won this game. The referee was shameful. We are going home, we are sad because of that but this referee should be going home too. He changed the result and he changed the game. That's why we lost." , Dzeko said.
Thereafter, a picture of goalkeeper Vincent Enyeama hugging the referee after the match went viral as comments suggested that the referee was celebrating Nigeria's victory.
All these have heightened fears that Bosnia could compromise with today's match against Iran to punish Nigeria. ''We're looking up to FIFA and want them to monitor the match between Iran and Bosnia. Everything is possible", a Nigerian official complained yesterday. If Iran beat Bosnia and Argentina beat Nigeria, the Iranians would sail through to the second round. The fears are palpable.