By EBELE ORAKPO
"It's going to two months and the government has not found the abducted Chibok girls. In saner climes, President Jonathan would have resigned. He simply cannot do the job of governing us," said Lucky, a commuter in the CMS-bound bus.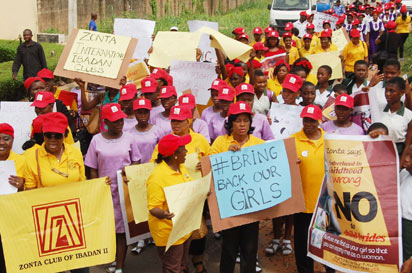 "Resign in Africa? If you were the one would you resign? In fact, even if you are willing to resign, your family and relations will curse you and many will see you as a big fool," said Gbenga.
"Jonathan's supporters just support him blindly. It's pitiable! For crying out loud, there is no leader on the surface of the earth that is not criticised, so why must GEJ's be different? Let him just bring back our girls," said Lucky.
"I am getting tired of the whole thing. There's so much politics surrounding the abduction of the girls," said Angela.
Asked Lucky: "What do you mean? So you don't believe that the girls are missing? That's so sad!"
"Please get me right. I did not say they are not missing. I am simply saying that it has been politicised. Politicians are using it to score cheap political points which I think no rational human being should do. For God's sake, lives are involved here," said Angela, exasperated.
"Then bring them back. That is all we are asking," insisted Lucky.
"You know what annoys me? We are all talks and no action. If we mean business, why can't we mobilise and march to Sambisa forest and chase those idiots out? We will not try it because we no get liver," said Gbenga.
"So what are the soldiers and Police paid to do? It's their job," retorted Lucky.
"Then we should shut up and allow them do their job. If you feel they are not doing it well, suggest alternatives please," said Angela.
"Senator Babafemi Ojodu says he is going to lead senators to back the protesters because the police banned protests in Abuja. That is a good move but they are needed in Borno and not in Abuja; so he should lead them to Borno State," said Mercy.
"But why would the Police ban legitimate protests? The government needs to be pushed to sit up," said Lucky.
Replied Gbenga: "Because it's dangerous. Even a goat will see that small gatherings are targets of the Boko guys now. We are not just security-conscious. What if they are bombed? What if Boko Haram guys hijack the protests? They should take all these into consideration.
"When 9/11 happened in the US, did the Democrats blame the Republicans? Didn't all Americans rally round and fought a common enemy? What are we talking about? Let's come together and proffer solutions," said Angela.
Said Mercy: "Come to think of it, isn't it funny that some people are crying more than the bereaved? Is it not expected that women in the North-East and North-Central should have been leading these protests but it's like they have accepted it as their fate. At least if a woman is accused of killing her husband and she is seen going about her normal business, people will believe that she killed the man. So, to be on the safe side, even if she did not feel like crying, she should endeavour to shed some tears, even if it's crocodile tears, so that people will begin to doubt her detractors. You know some people find it difficult to shed tears even though they are grieving."
"But these are poor helpless women who cannot reach those in authority," argued Lucky.
"Don't they have village heads, local government chairmen and co? They can protest at that level while the big guys protest in the cities. That's my opinion anyway," said Mercy.