Police have beefed up security  around government facilities and some major gateways into Port Harcourt. This may be to fortify the capital city of oil-rich Rivers State against any attack by insurgents.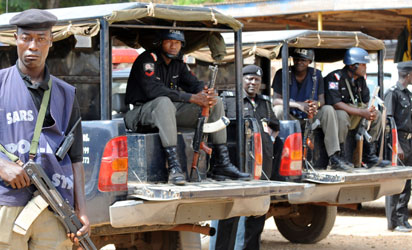 To this end, Police counter-terrorism squad now subject motorists driving into the magnificent secretariat complex to a "stop and search operation".
Some motorists were asked last week to alight from their vehicles for thorough search. A gigantic anti-bomb scanning facility has been installed by the side of the entrance leading to the entry gate of the secretariat. Some Policemen with ferocious dogs presently stand guard there.
The exit gate of the complex is also heavily policed as staff of the secretariat coming through the pedestrian lane of the back gate area are thoroughly scanned and occasionally frisked for any life threatening object.
There are about four stop and search points mounted by heavily armed anti- riot policemen before the popular Choba bridge that connects the state capital with the west end of the state when coming from Bayelsa, Delta, Edo and Lagos states.
Visitors that have not been cleared by those they want to come and see inside Government House, Port Harcourt are no longer allowed to wait inside the security room at the official gate of the Government House. They are told politely to go to about 100 metres away from the gate to ask the person they came to see to call security men on duty to clear them. So no hanging around the gate. There is also a security scanner at the gate that scans every vehicle cleared to drive into the Government House.
At the Police headquarters on Moscow road, the security situation is also very tight. Except for vehicles belonging to Police officers and top government functionaries visiting the station, all other vehicles are made to park on the median of Moscow Road,
The state House of Assembly that has been under lock and key for about nine months is also heavily policed. There is an amoured personnel carrier, APC, in front of the exit and entry gate to the Assembly complex with fierce looking policemen all over the place.
The state Police Commissioner, Mr Tunde Ogunsakin also promised to provide adequate security in courts in the state for judicial workers. Mr Ogunsakin who met with striking workers of the Judiciary recently assured that security men would also be deployed to residence of Judges.
It would be recalled that the state High courts in Ahoada East and Okehi, Etche local government areas had been attacked with explosives by suspected hoodlums.
The Ahoada High court had been attacked twice with the most recent being about a month ago.