BY ONOCHIE ANIBEZE
Clemens Westerhof, arguably, Nigeria's best ever foreign coach, arrived the country Wednesday night and continued to speak on Nigeria's chances at the 2014 World Cup.
He spoke on the qualities of Stephen Keshi, Eagles current coach who captained the Eagles of his era, the players Nigeria could parade in Brazil and predicted a good outing for Nigeria at the World Cup.
He said that he was proud of the job Keshi is doing with Nigeria, adding that he expected nothing less going by the leadership qualities Keshi displayed as captain of the Eagles.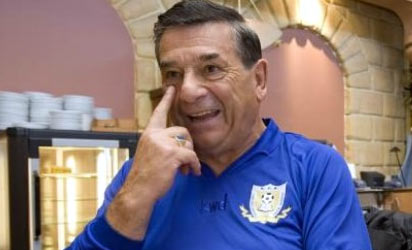 On the players he said that they could surprise the world and repeatedly mentioned a "terrific player in Spain"among others. Asked if the player he meant was Ike Uche, he screamed 'yes'. He has watched a couple of games Uche has played this season and said that the Villareal striker has been in great shape.
Westerhof was disappointed when he was told why Keshi may be reluctant to invite Ike Uche to camp.
Uche was reportedly said to have continuously campaigned against Keshi's tactical approach and was said to have even complained to senior authorities about this during the last Nations Cup. Incidentally, Uche played badly during the Nations Cup. He played as support striker but was said to have bluntly refused to fall deep to mark in the games that he played. And Keshi, apparently feeling that it was unwise to invite a player who did not believe in his approach, left him out during the qualifying games for the World Cup. He was scared of sabotage and has repeatedly said that team spirit mattered so much that he would make it a strong consideration for the invitation of players to the World Cup camp.
"It is bad if Uche behaved like that. If a player did that to me off he goes, I tell you. But sometimes a coach is a father to the whole team."
Westerhof said that Nigeria had the potential to reach the semifinal of the World Cup if "they make good selection and prepare the team very well."
He is in town with a Dutch television crew doing a documentary on Nigerian football in his era and how he was able to earn Nigeria number a 5th place in fifa ranking. Tomorrow will be special as he marks his birthday in Lagos. Keshi, Aloy Agu, Austin Eguavoen are among those who will gather in Ikeja to wish him well when Hotel Diplomat hosts him to celebrate his birthday.