The rush by delegates to attend the marriage ceremony of a daughter of President Goodluck Jonathan raised unease among some delegates who frowned that conferees abandoned national issues for socializing.
About half of the delegates abandoned proceedings Thursday to enable them travel to attend the wedding coming up, Saturday, March 5, 2014 in Bayelsa State.
When the conference chairman, Justice Idris Kutigi called for contributions to the debate of the President's speech, many of the delegates were not around as their seats were empty.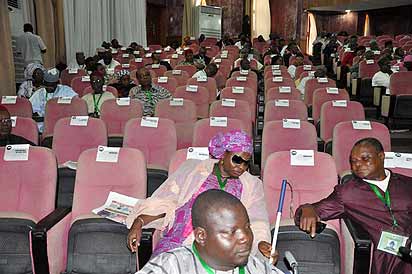 The immediate past Minister of Education, Prof. Ruqayyatu Ahmed Rufai (Jigawa) and former Head of Service, Engr. Ebele Okeke were among those who took permission to speak ahead of their scheduled slots to enable them go ahead for the ceremony.
Their requests were, however, granted by Justice Kutigi.
Some of the delegates, however, expressed concern over development, as they argued that those delegates failed to realise the importance of the national conference because they were not expected to trivialise a state call for a wedding ceremony.
Mr Ebuchukwu Ezike, representing the Civil  Liberties Organisation, CLO noted that Nigerians were watching and expecting positive reports from the conference,  just as he said  it was unfortunate that delegates were not taking it seriously.
He warned that if serious action was not taken, it may jeopardise the success of the conference, adding, "if delegates continue like this, Nigerians would not take the conference serious. Delegates have the option of turning the nomination down ab initio if it would affect their personal business or political activities, but it was clear that the money attracted some of the delegates. Now they realised that the amount publicised was not what they were being given, they have become disinterested in the whole exercise."
Oritsejafor meets Christian delegates
The President, Christian Association of Nigeria, CAN, Pastor Ayo Oritsejafor is to host all Christian delegates to the National Conference.
The welcome reception which is slated for Sunday, April 6th at 6 pm will hold at the National Christian Centre, Abuja.
The invitation issued by the CAN president obtained by Vanguard read thus: "Calvary greetings to you in Jesus Name. On behalf of the Christian Association of Nigeria, I congratulate you on your well deserved appointment as a delegate to the National Conference out together by the Federal Government of Nigeria.
" We see your appointment as a delegate to this National Conference at this critical time of our nation's history  as a act of God and for a positive purpose."
Subscribe for latest Videos