By Onochie Anibeze
Clemens Westerhof has been dreaming lately. And from far away Holland, his home, the man who turned Nigeria's football around spoke of his dreams yesterday in a telephone chat.
"I sleep and in the middle of the night I wake up. They ask me what is the matter and Isay I have just dreamt of Nigeria doing well in the World Cup in Brazil."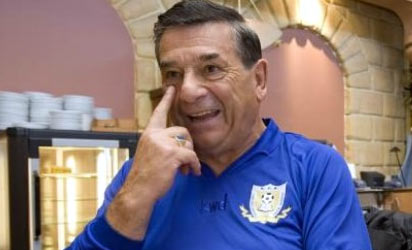 Stephen Keshi, the Eagles coach was captain of Nigeria when Westerhof was the manager. Nigeria placed 5th in the FIFA ranking after USA '94 World Cup which followed the Nations Cup victory in Tunisia. A television house is doing a documentary on what transformed Nigeria's football and has invited Westerhof to Nigeria this April to speak on how he did it. Interestingly, May 3 is Westerhof's birthday and he will be in Nigeria to celebrate it.
"Westerhof could make you play like Pele," Keshi said of the Dutch in his media chat last week.
The Dutch was known for inspiring players and high discipline. And these virtues, he said, Keshi must imbibe in the current team for them to excel in Brazil.
Westerhof commended Keshi, advised on selection and said "Nigeria can be among the last four in the World Cup and the time for this is now. I dream that this is Nigeria's time and I want Keshi to make the team a family so that they can play for each other on and off the field, make discipline high so that nobody loses his head, make good preparation and select well. If it goes like this, Nigeria will be among the last four, I tell you."
He watched Nigeria's friendly match against Mexico in Atlanta and said this of the Eagles:
"You have fantastic goalkeepers. And I tell you, Nigeria have many players in Europe. Not all of them are known to Nigerians but there are many good ones. Keshi can do better than I did. He should. And he can. Nigeria can be among the last four.
You have many good players but they are silent. Ike Uche is good but he must be a team player. And the boy in Newcastle (Shola Ameobi) can be made strong and made to play behind the central attacker. Emenike is strong. You must have a strong left footer like Amunike or Friday Elaho. You can make the players very fit, very strong and Oyibo is in trouble, I tell you. Then you ensure there's strong discipline. I dream every time about Nigeria.
The time for Nigeria is now and I know that Keshi can do it. At Tunisia '94 I told the government the cup is coming to Nigeria. And in Tunisia the foreign media came and I told them the cup is ours. I allowed the players to take a stroll and the media came to me and said what have you done to your players. They are very confident and already walking like champions.
I told them I made them believe so and that the cup is ours. Keshi must do same in Brazil. When we reached the final I called Amuneke and told him, listen, you will be the joker tomorrow. Are you ready to play? He said "yes, coach, I play with my heart out.
I told him you play tomorrow but don't tell anybody yet. The final was his first match and he scored the two goals that gave us the cup. Sometimes you surprise everybody. How is the Federation President?I wish Nigeria well in Brazil."