*'How banking reform set Nigeria back by 20 years'
By Omoh Gabriel, Business Editor
Professor Pat Utomi is an economist and a politician. He co-founded the Lagos Business School, now Pan African University.  In this interview, Utomi speaks on the on-going National Conference and the economy among other issues.
One of the biggest issues in the country today is the National Conference.  We have optimists concerning the conference. We also have pessimists. There are those who are neither here nor there. Where do you stand?
I have made it part of business to keep challenging us about what our consciousness should be. In recent times, we have begun to focus on two sets of activities to deal with this matter. The first has to do with the hope that was raised that a national dialogue could result in a certain understanding of what has kept us back and how we could look at the future so that we could make the progress that is deservedly ours given the endowment of our country.
In that regard, I was the convener of the National Summit Group which began the formal canvassing for National Conference. But I am deeply sad at what came to be known as the National Conference. It's a tragedy for Nigeria that we ended up with how the body was constituted.
It is incapable of engaging the future; it is talk on the past and the personal quarrels of yesterday. It lacks the capacity, in terms of many of the people who are there and in terms of their endowment not because they are good or bad people, to engage the future. And so, many people are now dismissing the conference as a waste of good time, good money and all kinds of motives are now being imputed on how it was constituted, why it was constituted, and all of that.
That's far from what we had in mind, I think there's an obsession, given the place many of the members are coming from, with perhaps issues of structure and power completely oriented by several decades of primordial politics, the politics of sharing.  So how do we share better, how do we share more effectively?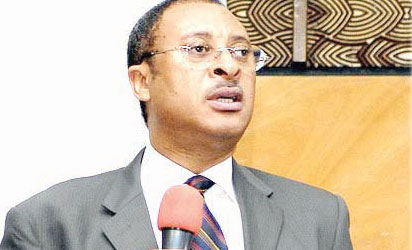 Whereas I think the biggest things that challenge Nigeria today are the issues of national character, rethinking the vision of ourselves, our values and indignity, corruption. Structure matters but, in the opinion of some of us, it comes a very distant place compared to some of the things that hold Nigeria down and we are going to end up with this obsession of sharing power and all of that with a dead document.
Interestingly, in the last two weeks, I have received calls from people who try to hold some of us accountable for pushing for this conference. And we are actually in deep consultations with professional bodies, even with some ethnic nationality groups, especially with the youth groups because young people were significantly marginalized in the process of constituting a group to look at the future. And these are very smart young people. People think when you say youth groups; you're talking about 'area boys', that's not what youth groups are. Indeed if there's anything anybody understands about this economy, the new growth in this economy is significantly driven by those who are about 30 years old without us being aware of it.
In other words, nothing good is  likely to come out of the conference.
When you exclude that kind of people from discussing the future; then you don't understand the future that is coming. And this is what this conference has fundamentally done and so we are in consultation with all these groups. There just might be an alternative National Conference that can engage the problems of Nigeria.
I have always thought of Delta as the new UAE where, literally, you can create a Dubai, an Abu Dhabi and all of that. Yet it remains ravished with poverty in the midst of so much. Of course, there have been talks on 'Delta Beyond Oil', that oil can bring savings that can help to advance other sectors the way Dubai is.
I am particularity pained because I have been a part of a process of looking at Delta's prospects.
Former Governor James Ibori constituted a think-tank on Delta State development chaired by Deacon Gamaliel Onosode. I was a part of that think-tank; we marked Delta State. For those who might have followed my writings on matters of political economy, factor endowment, driven value change into global market, those are the basics to grow Nigeria. That is, mark the endowment of Nigeria at the national level. And this has been well marked in all the works of the Delta think-tank on Vision 2025.
But I don't see change principally being developed to create the opportunity for growth. And so we talk so much, whether in the civil society or in government, but the problem is how do we walk our talks; what can we do to begin to translate our public or private resources, because there are so many things you can do even with private resources? Let us look at the example of the Second Niger Bridge.
Any time somebody wants to run for election, he will promise to build the bridge. But what is the big deal about a bridge across the Niger? (Governor) Fashola (of Lagos State) built one from Ikoyi to Lekki that is not shorter than the Niger Bridge. We can have three new bridges across the Niger built by the private sector and they will be profitable. I frequently cross from Onitsha to Asaba which is now a nightmare, there are people who live in Asaba and are actually working in Onitsha. So it is like crossing a creek bridge from Onitsha to Asaba with only one bridge. And yet we play football with something which simple creative application of the mind can solve.
I can guarantee anybody who wants to try me that three Niger bridges are easy to formulate and execute.
Look at the Australian bank which has become the greatest financier of infrastructure in the world, how they built that expertise; we have the money; the will and all we need to do to show we are serious, trust worthy and will follow laws. This is why a National Conference is not just about how many states and federating units do we have or whether we adopt a British type Westminster parliamentary model or the presidential system; it is national character that can make it easy for an Australian bank to think of coming to build a bridge across the Niger knowing that it will not have the problem of a governor coming it two years' time to say 'I cancel the deal' which is what happens routinely in our country.
What kind of conference would you have loved to see?
The conference should be building national consensus, talking about acceptable norms. To return to Delta, a couple of weeks ago I talked about this movement for a new Delta; I said that one of the easiest ways to characterize a new Delta is a programme that I called 'Aregbe Times 20'. What does 'Aregbe Times 20' mean? There was a lot of talk on how many pupils/students were in school in Osun State because they get free lunch. You can give breakfast and lunch in a state like Delta and not encounter any challenge finding the resources to execute it. If any progress must take place, there are two things government must do: education and healthcare. People who are well and educated will create their future. And so when you look at what (Governor) Aregbesola is doing, you will see it translate, in few years, into a different kind of Osun State. It is not by accident that today we keep talking about the advantage that the South-west has because of Chief Awolowo's policy on education in the 50s.
I don't want to talk about how much I have tried to push these issues privately with people who have been in the leadership in Delta State over the couples of years, that it is not a big deal; you stimulate the agricultural economy of the state by simply collaborating with farmers who will provide the food that will feed the children to attract more children to school; and then ensure that you give them the best possible education and training and retraining for teachers by using remote teaching possibilities that technology made possible to ensure that the best education get to kids across the state. You can also create this competitive economy where you can create a new city not far from Bomadi that will grow not like Abuja; if I have my may, I will bomb Abuja out of existence because it is a major part of Nigeria's problem.
That point I am making is that, nearly 39 per cent of the federal revenue goes to Abuja. North-east takes1.6 per cent of the revenue and you are talking about Boko Haram, why will it not happen? South-east of Nigeria 2 point something per cent; so why won't you have kidnapping in there?
A federal administrative capital does not grow the way Abuja has grown. It is because of the huge channeling of resources into Abuja for the comfort of the administrative elite that you are creating exactly those conditions that Robert Capland talked about in his anticipation of the West Africa of the future.
But if, organically, you take somewhere around Bomadi and create a base on its factor endowment, the hydro carbon value chain that goes into the global economy; go to another part of Delta like Koko and take an agro allied endowment, say rubber. You create an industry for it through which you generate employment and you take the resources available there into the global economy, invest in all the skills of people getting practical skills through vocational skill and all of that by working within that industrial park. You go to somewhere around Iseluku, create another city that is also based on factor endowment on agriculture into global value chain, you will find Abu Dhabi and Dubai emerge organically.
Any serious minded person can create a full employment economy in a state like Delta. The whole essence of the Bretton Wood institutions after World War Two was to attain a full employment status for the global economy.
Our failure
Leaders of the free world got together and said, 'Let us create institutions that will ensure that we are not exporting problems from one economy into another and not exporting inflation and that trade continues to flow'. The thinking gave birth to the IMF, the World Bank and of course their subsidiaries.
And so the idea of a full economy is not a utopian idea. Delta State has the endowment to ensure that everybody, over 21, who has no job is immediately put to work, paid some stipend and, where he or she has no re skill, be programmed and deskilled within a short period of time and then you can create an economy that can become a driver for the growth of the rest of Nigerians.
Our failure as a people is to say  why can't we get our society to do this that is possible? It is something that all of us will be judged one day. And this is the trouble that I have put myself to in the last two years at different levels. And, sometimes, some people think I am crazy, but I am looking at how I will be judged.
My hope is that this movement for a new Delta State will bring in people from all sides of the divide, political, ethnic and wherever, because the strength of Delta is in its diversity. And that through this movement, we can put a game plan in place that is clear. I have an inclination that is left of the political center. In terms of political affiliation, I am a member of APC and I say it very clearly that I am a part of the making of the APC manifesto which is people-centered, and the ideal is that if you take that kind of people-centered approach, you will renew this country and the coming anarchy may be averted. But not to have that kind of leadership orientation, we will thoroughly experience the anarchy that Capland said is coming to Africa.
After Capland finished his analysis, he said that a point where there is a significant convergence of this malfunction and cleavages is a city in Nigeria call Jos. My friend, who was a security chief at a time, when I gave him the book to read, finished reading on a certain Saturday morning, called and said, "I want to find this man called Robert Capland". Of course Capland is not a magician, he is not a prophet; he is just an intelligent person who inclined himself with a particular trend he saw in a part of the world the way he did and predicted  what we are now experiencing. I am sad that many Nigerians have not come into the light that we are in a major war.
More people die in Nigeria everyday than in Syria, than those that die in major civil wars of the world and we talk about war in Syria but think we just have a small problem in Nigeria; what we have in Nigeria is not a small problem because Nigeria is at war, a major war. And if we don't rise to intervene on the side of the poor, it will consume us all.
The economy is still down despite the efforts of government to revive it.  How do we get it right?
Property right constitutes a major part of the constitutional arrangement that makes an economy advance. Now, until the people have a philosophical understanding of what property right means, that country is going to work very hard to make major progress.
For a long time, I was in a position to be called and I still get called by people who want to invest in Nigeria. Before IBM decided to re-enter Nigeria, I spent time with their executives around the world. As the discussion went on, on whether they will be coming to Nigeria with any significant strength, I was contacted from London, Washington and all of the calls I received were laced with skepticism about the system and I kept on persuading them on why they couldn't afford not to be in Nigeria.
Scared
People are scared about Nigeria because there is impunity, and property rights are not certain. Later IBM decided to come into Nigeria, and also GE. So many came to me and said if they have any trade dispute in court, they will never get a resolution. On the basis of this, their thinking is, 'I would rather go to a place where the challenges of doing business are lower and there is a higher certainty'. Because of this, I wrote a book in 1988, entitled: 'Managing uncertainty; competition and strategy in emerging economies'. Because of the issues of institutions and economic performance, properties rights are so fundamental and that is why people don't understand when some of us raise some fundamental issues.
Infringement
For instance, when this banking thing came, it was a grievous infringement on people's property rights. And what did the media do? They were cheering, saying "catch those thieves" but Vanguard was exceptional because it was the paper that projected the plan and that it was a conspiracy to do what was done in the banking industry.
This famous reform has set Nigeria back by 20 years, I assure you. Peoples' banks were stolen to their face. But we celebrated the deception and created one more reason people should not invest in Nigeria because property rights are violated. A Peruvian economist wrote this book on the mystery of capital and the essence of his thesis is that the problem between the rich and the poor is that the poor has assets but it is dead capital, not fundable and not translatable into capital.
Subscribe for latest Videos