By JOSEPHINE IGBINOVIA
A veteran chartered accountant, Ms.Titilayo Ramatu Ojeifo is the President of Soroptimist International of Lagos Mainland, an international organisation comprising professional women who have dedicated their lives to promoting women and girls worldwide. She's also National Treasurer, Soroptimist International of Nigeria. Until 2013, this amiable gem was General Manager, Industrial Equipment Division, R.T Briscoe Nigeria Plc. In this interview, Titi who's just turned fifty last month recounts her life experiences and reveals why giving succor to the poor is her  second nature.
Do you feel any sense of fulfillment being 50?
Not in the sense that everything I dreamed of has happened. I feel fulfilled that in spite of all that has happened in my life, God is still in control. So, I'm very happy.
What are some of the dreams you had that you think have not come to pass?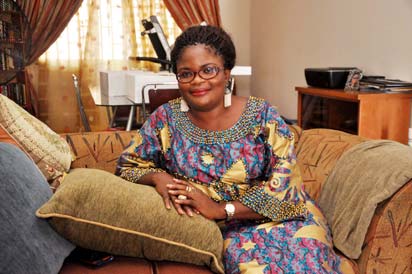 There are so many things I would have loved. For instance, I attended a friend's daughter's wedding and I would have loved that to be happening to me. Though I do not have my own biological child, I know I have many whose weddings I will be attending. In spite of that, I have children who are not biologically related to me, but whose lives I'm touching.
You're touching them through what platform?
I'm touching them through Soroptimist and other personal voluntary activities.
Aside Soroptimist, are you involved in any other charity organization?
I actually try to positively touch the lives of people in any area of influence I find myself, as well as in church.
Being a staunch Catholic, could that be through the Society of St Vincent de Paul?
No. I'm the marriage counseling coordinator for my parish. So, I meet with a lot of young people. For me, that's very fulfilling because they will go on to have families; and you know the focus of the Catholic Church is on family. We want to see families grow and also watch the domestic church become more vibrant. And through the domestic church, evangelism.
You had so many people at your birthday party…
(Cuts in)Yet, I'm not an extrovert. But you know something, if you're there for people, they will be there for you. When you're ready to give yourself out for people, they will give themselves out for you. I never used to do that. In the past, when people would come to me for help, I would just give them the money they needed, just so they would go. But one day, my conscience pricked me and opened up my eyes to the fact that the thing about giving is the motive. My motive was wrong though that person may have been happy about the money. Now, I learn to listen because sometimes, money is not all that is needed to solve problems. It may be that you have to go visit, talk, or so. Giving oneself or people coming into your space is a lot more than money.
Can you tell us about your growing up days?
I grew up in a GRA in Kaduna because my dad was in the civil service. Life there was very quiet as most of our neighbours were whites. I guess that's why I love trees, books and music.
What about your educational and professional background?
I have a B.Sc in Accountancy, an 11-year-old MBA from the Lagos Business School and I'm a chartered accountant. I've also done courses in different parts of the world. Right now, I'm in the process of setting up my own business. Like you know, I've just left R.T Briscoe Nigeria Plc. I've since then rested for a while in England but I'm back in Nigeria now. Actually, I'm really putting a lot of time into Soroptimist activities presently. The theme for this Soroptimist year is 'Inspiring Action, Transforming Lives' while our focus is to empower and enable women and girls. So, I'm working closely with our school, the Soroptimist International School of Lagos Mainland in Lawanson, to address adult illiteracy. In the area of healthcare, we're conducting medical screening for both men and women and sponsoring treatments for breast cancer and many more, where necessary.
What's the greatest lesson life has taught you?
I will say two. The first one is: No matter what hand life deals with you with, get up and face life again. The second is: You'll always meet people who will not be nice, but try not to be bitter about them. Take it in your stride because things will not always be the way you want them. I planned having a beautiful home as a young girl but things didn't turn out so; my husband is late now and my only child died years ago.
Any plan to remarry?
I don't know. I'm a Catholic and I embrace life without trying to shy away from it. So, if there is a good man, I think I will remarry.
You look so happy despite the loss of an only child; what gives you joy?
It is faith in God. Sometimes, I question God though, but I've however accepted that life is about good and bad. So, I've learnt to embrace life no matter what. I think we should just depend on God always for faith, good friends and resources to overcome difficult times.