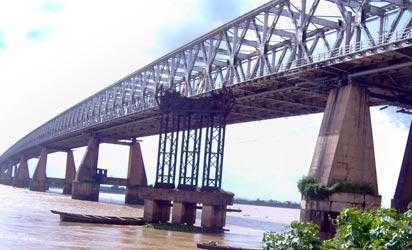 President Goodluck Jonathan said on Tuesday in Abuja that he would do the "real ground-breaking" ceremony for the second Niger Bridge in Anambra on March 10.
The president said this on Tuesday when he received a delegation of Anambra people led by Obi of Onitsha, Igwe Alfred Achebe, and Gov. Peter Obi.
The delegation, which also included the governor-elect of the state, Willie Obiano, was on a thank-you and solidarity visit to the president.
Jonathan said that the launch of the construction work on the bridge was in keeping with his promise to the people of Anambra,
He explained that he could have launched the project long ago with fanfare but government must show commitment to its execution.
He said that with proper planning and funding now put in place, he was ready to start the project in earnest.
"The Minister of Works has briefed me that they have done a lot of mobilisation; we are coming to do real ground breaking ceremony of the second Niger Bridge and other projects," he said.
It will be recalled that the president had, during a recent visit to the state, pledged to launch the construction of the bridge before Obi leaves office on March 17.
He commended Obi for maintaining a cordial relationship with the Federal Government.
He also used the opportunity to admonish other elected officials and politicians to focus on developing their states rather than make a past-time of attacking and abusing the president.
"A number of politicians feel that the best thing to do is to be abusing Mr. President, abusing the Federal Government and so on.
"You are elected to develop your state and I think the best thing is to have good relationship with the centre; whether you have a pin or you do not have but one day it will come.
"Wearing boxing gloves, jumping into the boxing ring to face Mr. President does not help the development of any state."
The president specifically commended Obi for his people-oriented programmes and for managing an opposition-controlled state assembly without a crisis.
He pledged to give his successor, Willie Obiano, equal support to help him succeed.
The president also promised to retain Obi in the Federal Government's Economic Management Team even after he leaves office as state governor.
Earlier, Obi had said that it would be difficult for a state governor to make meaningful impact without the support of the Federal Government.
He specifically thanked the president for the support given to his state.
"I have been governor under three presidents and I know the difference.
"Anambra state is your home and we are committed to supporting you and your government," he said.(NAN)