By Luka Binniyat, Peter Duru & Ndahi Marama
Barely four days after suspected Fulani herdsmen struck in Benue State killing 37, three villages in Kaduna State, yesterday, suffered another attack, allegedly by Fulani herdsmen in which about 200 were feared dead.
The attacked villages in Kaura Local Government Area of Kaduna State were reportedly razed.
The fresh attack came just as explosions rocked Maiduguri, Borno State capital, the scene of Friday's assault by insurgents that claimed scores of lives, yesterday.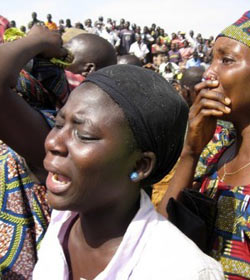 Also, yesterday, Tse Ortom – Adorogo in Guma Local Government Area of Benue State, home town of the Minister of State for Trade and Investment and Supervising Minister of Aviation, Dr Samuel Ortom, was reportedly sacked by suspected Fulani herdsmen.
'Firing into homes'
The Kaduna villages in which about 200 were reportedly killed were identified as Sankwai, Tekum and Unguwarr Gata  inhabited  by native Moroa people in Manchok chiefdom, about 250km south of Kaduna metropolis, the capital of Kaduna State.
Kaduna State  police spokesman, DSP Aminu Lawan, who confirmed the attack, said  he could not   ascertain the  casualty figure, saying detectives had been  sent to the affected villages to verify the situation of things.
According to Gideon Bughu, 45, from Sankwai village, some gunmen first came on Friday night and attacked the village. He said the gunmen numbered over 50. Some  gunmen, he stated,  later came, yesterday,  around 4am, and attacked  the other villages.
"They fired into homes", he told  Sunday Vanguard on phone.   "As women and children scampered to escape, they were shot  and later cut with machetes. They they set our homes on fire. If you stayed inside, you were burnt. If you run out, they shoot at you. The men stayed inside, so most of those burnt were  men. But the villagers  managed  to kill some of the Fulani men, some of whom wore army uniform", he said.
"I escaped but  I  have bullet wounds as I speak. I am at an  hospital somewhere in Jos.
"I am told that about 45 people in my village were burnt. And 30 shot and cut with machetes."
Investigation by Sunday Vanguard showed that similar attacks were carried out in Tekum and Unguwar Gata. In  Unguwar Gata, sources put deaths figure at  between 75 and 80 while, in Tekum, those who died were said to be between 60 and 70 with scores injured.
"There is not one house standing in Tekum and Ungwan Gata now", a   source said. It was gathered that corpses  littered   the bush in the villages while smoke could  be seen billowing into the air there  at the time of  this report.
Kaduna State police spokesman, Lawan, in a telephone chat, said: "I have been briefed by the District Police Officer in Manchok that three villages in that  axis were attacked  with a number of casualtiy and some homes burnt. But I cannot tell you the number of casualty now. We have sent detectives to the place to ascertain what happenned. We have also sent troops who are now combing the surrounding hills for the murderers. We also gathered that the villagers were able to kill some of the invaders."
Insurgents regroup
In Borno State, the 24-hour curfew imposed on Maiduguri and environs following the deadly clash between  terrorists and military who foiled an attack on Giwa Barracks, on Friday, was, yesterday, relaxed. The curfew relaxation came with multiple explosions in the state capital.
The explosions  caused pandemonium among residents,   as it was alleged that insurgents regrouped and launched attacks on barracks in the town which led to a  gun battle with security forces.
An eye witness at  Giwa Barracks  told our correspondent that "the multiple explosions and sporadic gunshots have forced many residents around the area to flee so that they would  not be caught  in the crossfire".
Efforts to speak to the state police commissioner,   Mr. LAWAL TANKO, proved abortive as calls to his phone were not answered.
Meanwhile, Borno State government, yesterday, relaxed the curfew imposed on Maiduguri, following the attack on the state capital by suspected members of Boko Haram on Friday.
The curfew on the city now starts from 9pm and ends 6am daily.
The new time was communicated in a statement signed by the Secretary to the State Government (SSG), Ambassador Baba Ahmad Jidda.
100 houses razed
In the Benue attack, yesterday, 100 houses and huts were razed  in the villages less than 45 kilometers from Awe local government area of Nasarawa State. The Trade Minister, Ortom, who led  top government functionaries and associates to Gbajimba to sympathize and donate relief materials to displaced victims, discovered that his country home had been razed by the attackers with his kinsmen fleeing to safety.
The minister  fought back tears as he inspected the communities, describing the assault  as "an act of terrorism and carnage."
Military make gains
A statement issued by Director, Defence Information/co-ordinator,  Major-General AC Olukolade, reads:
Troops have captured a massive armoury with arms and ammunition dump of the terrorists sited in one of the camps that fell yesterday night in the ongoing counter terrorists operations. The large quantities of weapons recovered in the raid are still being evacuated from the scene of the night raid where several terrorists died. Similar operations took place in coordination with the troops of Multi-National Joint Task Force in the raids in other camps located in the outskirts of Duguri, Polkime, Malafatori and other locations around the fringes of Lake Chad.
Substantial money in different currencies and denominations were also recovered from the camps. A total of seven terrorists were captured in the operation during which altogether a soldier died while five were wounded.
*Update on the Foiled Attack on Giwa Barracks*
In another development, troops conducting cordon and search for remnants of the daring terrorists who attacked Giwa Barracks in Maiduguri yesterday, had an encounter with some of the surviving terrorists in the general area of Kayamla and Alu Dam in the outskirts of Maiduguri this morning. More of the terrorists have been killed and arrested in the ongoing encounters.
Those captured in the encounter are providing useful information towards the discovery of other hide outs of the daring terrorists. It has been revealed that the terrorists are now desperate to either free or kill the ones being detained, with a view to avenging or preventing further revelations about their operations and hide outs as this has been frustrating their plans lately. More bodies of fleeing terrorists have been discovered along the routes of their escape. Troops morale and fighting spirit have been further boosted by the outcome of the operations so far. Meanwhile, cordon and search as well as patrols and pursuit by air and land is continuing in the entire mission area of Borno, Yobe and Adamawa States.