— Theresa Edem, fast-rising Nollywood actress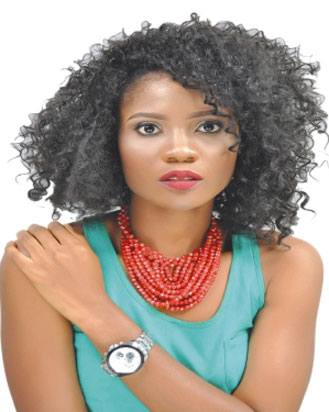 Beneath her suave  looks and splendid stature is a talent    slowing gathering storm in Nollywood. Theresa Edem is building for herself a personality that will no doubt, someday, become a brand, that can only get better. 
But if rookies are green, not Theresa, who speaks with passion and opens her heart to  Kehinde Ajose on her journey as an actress, how far she can go in a movie role and the one thing people hardly know about her.
BY KEHINDE AJOSE
I have always been someone with acting abilities for as long as I could remember. From  being a member of the drama club in my primary school to being a member of the drama department in church and finally the big screen.
Besides, my hobbies have been related to acting too; telling stories, writing, reading novels, singing and so on. My career actually began at Royal Arts Academy, Lagos. It's been a demanding journey, but I'm grateful for it all the same.
I hold a B.Tech in Animal Science, from Federal University of Technology Owerri and then a certificate in acting from Royal Arts Academy.
Acting has always been part of me from childhood. Though there are a few careers I admired growing up, I've always wanted to be in the entertainment field, specifically the movie industry.
I pay more attention to who I am inside, than outside. The qualities that add value to other people are more inside than otherwise.
Well, though I have done  movies, featured in some exciting commercials, TV series, and radio drama, most of which have not yet been released. I think that "After the Proposal" is really very remarkable; it has put me in the limelight and has bagged nominations and we are keeping our fingers crossed that it will bag more nominations and wins too. The best of me is still on the way.
On the international scene, I admire Johnny Depp, Meryl Streep, Kate Blanchett, Tyler Perry and of course, I absolutely admire Lupita Nyong'O she gives me hope, but in Nollywood, I must say that I'm inspired by Emem Isong ,Uduak Ogumanam Isong ,Uche Jumbo Genevieve Nnaji, Omotola Ekehinde,Mercy Johnson ,Desmond Elliot, Kunle Afolayan and some others. I might also add that from Ghana, Shirley Frimpong- Manso inspires me too.
I believe in professionalism. Having said that, I would go to great lengths to bring truth and depth to my character. I won't stop being better at my craft, but I also believe in my personal convictions. So I'd never go beyond certain limits I consider "too far". I'll always recommend a Godly, hard working, gentleman as a model for the menfolk.
I don't live a covert life. Anything about me that people don't understand, they only need to ask and I'll be glad to explain. However, I reserve the right to keep certain aspects confidential. But one of the few things people don't know about me is that  I cry at weddings because the emotions are too great for me to hide. I get all mushy when vows are being exchanged. I try to keep it discreet and all but it all always gets the better of me.