By Onochie Anibeze
On Monday night, Pa John Ojidoh passed on in his home town, Ilah in Delta. He was 88.
Pa Ojidoh would be remembered for many things. First, he was a devout Catholic. Secondly, he was a wonderful man, humorous, warm and friendly.
He lived sports. He was at home with any topic in sports. He knew the rules and techniques so well that he coached in athletics and football. He officiated in both sports and ended up a sports administrator who also wrote for Vanguard among other commentaries. During the last Nations Cup in January, he called to analyse the games. He was already bedridden but football could not put him down. He called Stephen Keshi his son.
In memory of this great man I publish the concluding part of my column on the reception Governor Emmanuel Uduaghan held for the Eagles in Asaba, which was spiced by my contact with Pa Ojidoh few days earlier. Read the piece published on March 7, 2013.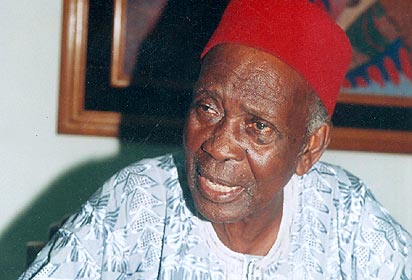 … When Uduaghan stood to speak, he first reacted to the points Oganwu made. Oganwu is from Ilah in Oshimili North Local Government Area of Delta State. Uduaghan recalled that Austin Ofokwu that Oganwu remembered hailed from Ilah. He also mentioned Pa John Ojidoh, a veteran sports administrator who at his young age coached in track and field and football before becoming an officiating official in athletics and a referee in football.
''Pa Ojidoh may not be strong now otherwise he would have been here today," Uduaghan said of the 86 year veteran, who still finds time to comment on sports matters. Ojidoh was reacting to developments during the Nations Cup. On January 16, few days to Nigeria's first match at the Nations Cup, I visited Ojidoh at his home in Ilah. On a sick bed, he spoke on sports, recalling dates in such a manner that marvelled me. His body may be weak but his brain was still sharp.
It was my first visit to Ilah and when I told him that I liked the town he cut this way: ''It's a peaceful place. The white men, the missionaries came here in 1888, before they got to Asaba. Ilah produced the first black and non- priest (Lay) to be Principal of the famous St. Gregory's College in Obalende, Lagos. His name was Paul Amenechi. His younger brother, Patrick was first Nigerian to obtain First Class Honours in Chemistry at the University of Ibadan. Ilah produced the first West African female Architect in Joy Ugboda, an elder sister of Mrs. Ifeajuna, the wife of Emmanuel Ifeajuna.
Julius Chigbolu set British and Commonwealth High Jump record in 1954 with a jump of 6.94 mark. He was from Ilah. We can go on and on about the people of Ilah. Austin Ofokwu, a one time captain of the Eagles came from here. Stephen Keshi is from here and before Keshi was Mathew Onyema who was Eagles captain in acting capacity. I wish Keshi wins the Nations Cup so that he can be among the greats from Ilah."
And when this happened and Uduaghan was hosting the team he commended the feat from Ilah people and spoke of a possibility of citing a football academy in Ilah. He respects the potentials the town churns out and hopes that there could be more stars from Ilah. That will be commendable. It is a town that has produced stars and ready to continue if the academy comes to town. Oganwu is interested and wishes this to happen.
Litany of mourners
Pa Ojidoh, a great man from Ilah died on Monday evening.
For about two years before he departed he reminded everyone that he was in extra time of life. Many top Nigerian sports authorities have been mourning his death. Amanze Uchegbulam, Nduka Irabor, Sani Toro, Amaju Pinnick, Nwabufo Obienu, Jonathan Ogufere, Paul Bassey, Mitchel Obi etc have used many great words to describe the man from Ilah. Governor Uduaghan said his place in Nigerian sports would be difficult to fill. I agree.
Ojidoh said the following as his last words in that January 16, 2013 interview: "When I die tell Nigerians that I leave a sad man on one aspect; that Emmanuel Ifeajuna, who was the first black African to win gold in the 1958 Commonwealth Games was denied National Honours because he fought on the side of Biafra during the Nigerian civil war. How can Ifeajuna be punished for a war that happened about nine years after his feat in the Vancouver Games in Canada?
He deserves the posthumous award that they have been denying him. And I am sad that Nigeria has done this to a man who sweated and worked so hard to lift the country's name. He jumped 2.03m to win gold. Patrick Etolu jumped 1.99m to win silver and another Nigerian, Nafiu Osagie won bronze with 1.99m. Africans swept the medals in the High Jump and that made us proud. Is Nigeria proud of Ifeajuna's feat? Why have they meted injustice to him? That's the sadness I'll leave this world with."