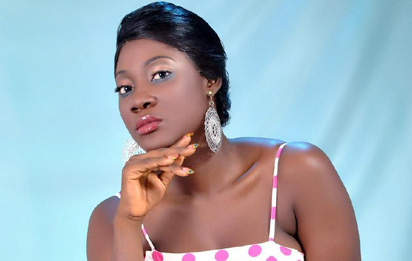 The last may not have been heard in respect of the controversy surrounding the alleged  ban of the star actress, Mercy Johnson last year by the  movie marketers.
It was gathered during the week that the marketers have vowed not to lift the ban until  the actress has  tendered  a letter of apology to them through their  umbrella body, Film and Video Producers and Marketers Association of Nigeria, FVPMAN.
But HVP's findings, however,  revealed that all is not well with the rank and file in the marketers' body since they slammed the ban on the actress for being expensive.
According to a reliable source, while the chairman of the Lagos State chapter of the association, Mr Nobert Ajaegbu granted an interview last year, disowing  the proposed ban of the actress, his aggrieved members who were dissatisfied with his action have refused to pay their dues to the association.
Following this development, Mr. Ajaegbu is said to have changed his position in order to give  peace a chance. He told HVP that he decided to retrace his steps after he found out that  Mercy Johnson actually committed all the things she was accused of.
"It was a case of established indiscipline on the part of Mercy Johnson,"Ajaegbu said. Meanwhile,in a statement made available to HVP, Ajaegbu  who doubles as FVPMAN spokesman, addressed  some of the salient issues surrounding Mercy's  alleged ban.
According to him, "We did not ban Mercy because; we have resolved never to play ourselves god in any one's life.
We only resolved to severe our business relationship with her because she have shown strong disregard to the rules of professional conduct and abuse on the terms of  production contracts."
Ajaegbu said, the ban was a "factor of mixed truth and falsehood."
'The issue in question has no bearing on her fee or charges as widely speculated. It is a function of misconduct, unjust and unfair treatment of film producers.  We are obviously not agitated over what Mercy is being paid because, we pay the bills.
We are strongly agitated because we anticipate that professional justification ought to have been given to the contract to act or perform. We believe that the sanctity of contract ought to have been respected.
The facts as we know before are that some of our members contracted Mercy at a particular scale of charge, when she collected money from higher bidders, she disregarded the contracts at lesser price and to some, she gave stringent and unprofessional conditions.
We had written a letter to her in this regard about a year ago. The letter was a private advice from our union as well as a caution. We thought it wise to first caution her in case it was an unconscious attitude.
Her inconsiderate attitude of disregarding this untold hardship on producers leaves us with no option, than to severe this uncommon relationship.
It is not a ban, but simply a survival strategy. We took our time to investigate these allegations and came to the conclusion that they are not spurious. We did strong internal engagements, disagreements before arriving at the actual prove of facts relating to this issue.
Since the speculation in late October, last year, we had anticipated her to demonstrate some sort of remorse.
What we see is more of blackmail and ridicule. What is said to the world by her publicist was the tale of how we are unable to afford her charges or  portray  our people as envious of what she is being paid."