By Richard Odusanya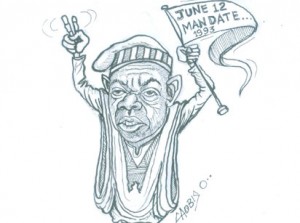 In less than one year from now, Nigerians will elect a new President and members of the Senate and House of Representatives. This is based on the timetable announced recently by the Independent National Electoral Commission (INEC). As expected the various political parties are strategizing and jostling for power and positions. We in LRI are seriously monitoring developments and would play key roles in election observation and civic education campaign.
We hereby urge the Nigerian authorities to provide a level playing field for all contestants. We want INEC to be independent in name and deeds. We want free, fair and credible elections. We want the will of Nigerians to prevail. It is in the light of the above that we are today remembering the Martyr of our democracy, late Chief Moshood Olawale Kashimawo Abiola .
Abiola came from a humble beginning and became very wealthy. He was  a good philanthropist who gave liberally to many Nigerians. On the 12th of June 1993, MKO contested and won the Presidential election on the platform of the Social Democratic Party  SDP. The June 12th election was adjudged by local and international observers to be the freest and fairest election in the annals of Nigerian history.
Importantly in that election Nigerians made bold statements to remain one indivisible entity under God. MKO Abiola won in all the geo political zones. Even in Kano State the home State of his opponent Bashir Tofa, MKO won a landslide victory. More stunning was the fact that MKO who was a Muslim, also had a Muslim in the person of Ambassador Baba Gana Kingibe as running mate.
This did not deter Christians and Muslims and other followers from voting for Muslim/Muslim ticket. So in that election Nigerians buried ethnicity and religious bigotry. Nigerians voted for MKO because they saw him as the best Candidate. Nigerians also buried the South vs North divide, Christians vs Muslims dichotomy and other parochial sentiments. It is unacceptable that some desperate politicians are trying tirelessly to resurrect these negative tendencies that were already buried over two decades ago.
We urge all Nigerians not to be deceived by the antics of these desperate folks. The 2015 elections should not be about North or South, or Christians and Muslims. It should be about issues and track records. We should examine the antecedents of all Candidates before we trust them with our votes. We should vote for the best Candidates based on merits and previous track records.
Nigeria is one indivisible entity, it doesn't matter where the President comes from, what matters is what each candidate has in stock for the nation. Let us replicate the June 12th election by conducting credible elections. We also want to appeal to the federal government to immortalize the Hero of June 12, MKO Abiola. Without his martyrdom there wouldn't be this democracy today.
MKO is the Hero of today's democracy who paid the supreme sacrifice for the democracy we have today. A national Political Institution should be named after him such as the Seat of power or the Parliament. Today, we salute the courage of MKO and the supreme sacrifice he paid. We also want to salute the courage of members of his immediate family who displayed strong determination during the turbulent time.
We want to specially remember MKO's late wife Kudirat Abiola who also paid the supreme sacrifice for this noble cause. We will never forget them. Let's immortalize them by conducting free and fair elections where Candidates emerge winners based on merit, not based on parochial and sectional sentiments. RIP MKO
ODUSANYA, is the Executive Chairman of Leadership Rescue Initiative (LRI)