…Encourages production of LPG cylinders
BY KUNLE KALEJAYE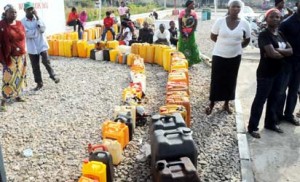 Major Oil Marketers Association of Nigeria, MOMAN, has urged the Federal Government to deregulate the kerosene sector, as a matter of permanent policy.
The Executive Secretary, MOMAN, Mr. Obafemi Olawore, in chat with Vanguard, said there is a lack of clarity on the policy surrounding kerosene, adding that for the Major to come in, there must be clarity.
He said, "Government should deregulate kerosene as a matter of permanent policy and the object of this statement is to clear any doubt in the mind of anybody that kerosene is deregulated so that other players will be able to import.
"When you are talking about kerosene deregulation, nobody is buying it at N50 because there is only one importer that is why there is so much pressure on the price of kerosene. If NNPC imports, MOMAN members import, Independent Marketers import, the price will come down.
"As at today, only NNPC is importing, and they give it to those they feel like giving it to and quote me, no supply of kerosene has been made to any Major marketers at the Apapa facility in the last two and the half years."
Olawore also calls for the use of Liquefied Petroleum Gas, LPG also known as cooking for domestic use.
"We must demystify kerosene and I am choosing my words clearly; "We must demystify kerosene" kerosene is not a product that should carry these mysteries about it.
"How do you demystify kerosene? We must encourage the use of LPG. The world over, LPG is used for domestic cooking not kerosene. It is only in Nigeria and not up to 10 countries in the world that make use of kerosene for domestic cooking. So we should encourage the use of LPG.
"If there is any subsidy that is coming, we should subsidise the production of the cylinders not the product. We should encourage the manufacturers of the cylinders locally. It is a shame that the large plant at Ibadan and Abeokuta are dead, we should encourage them. If we encourage them and they begin production of LPG cylinders, the cash given to them should not be free.
"Government can give them  little or no interest, let's finance them so that they can commence production of cylinders in order for the common man, if there is any, can be able to buy cylinders at affordable price otherwise government should distribute cylinders through LPG Association. Through Major Marketers government can get cylinders to the households in Nigeria and at cheaper rate.
"Is it not a shame that some West African countries that consume more LPG than Nigeria? We are talking about deforestation; can't we check that by encouraging people to use LP Gas? We are talking about the same thing every time like commission enquiries, probes, committees talking about LPG and no movement, all is talk!! No movement.
"So my point is that, deregulate kerosene, encourage the use of LPG by supporting the local manufactures of cylinders (Standard Cylinders) and when you are giving them finance, it should not be free but should be at a very low interest rate or no interest at all so that they can come up and start production over a period of time, then you can leave them on their own.
"Let the use of gas penetrate even the villages, let the establishment of LPG plants touch ever y part of Nigeria, let there be plant where in my village where somebody will carry the cylinder without travelling more than two kilometer to get to a plant, refill his cylinder and come back home, spending at least between N50 and N100 for transportation.
"If you do these, the forest will be green because nobody will cut down trees for firewood and when the trees are there, we will have more oxygen to breath, the oxygen we get from the plant is fresh that is why you see people in the villages looking healthier and fresh than those of us in the city because there are trees everywhere," he said.