By Simon Ebegbulem, Benin-City
Senator Spanner Okpozo is a Second Republic senator and Niger Delta leader who does not need much introduction. In this interview, Okpozo goes down memory lane, speaking on the pre-independence and post-independence days. He also gives a perspective on the proposed National Dialogue and life as a politician. Excerpts:
Today, we have several challenges such as kidnapping, corruption, terrorism among others. Can you tell us how the nation was while you were growing up.  Was it this turbulent?
What was most paramount then was agriculture; from the colonial era down to independence, every household was looking forward to what it could get from its farms. No much attention was paid to government involvement. Those days, the first establishment was local government and those councils were not set up to sustain the local communities. They were set up for administrative purposes. We had local police, there was no army in any local government except at the national level because we were under British rulership which recruited only few soldiers who were just there to defend the center. The police were only there to maintain law and order and they were very few. Like when I grew up in Benin, we had local policemen, so also in my village in Isoko. They will arrest and take you to customary court for trial but they were not involved in going to houses to extort people. There was discipline. And because we had local policemen, crime was very rare because they will also know a criminal. But Nigeria, from 1960 to 1963, after fighting for independence, went for national police, what we have today as Nigeria Police Force. The leaders felt that their experiences with some African nations may lead to break down of law and order, there may be inter-tribal wars, wars between nations, and on that basis, they enlarged the Nigerian Army. Then we had Azikiwe, Sadauna of Sokoto, Awolowo, these people were running the nation very well. But things started changing in Nigeria due to the intervention of the military in our politics. There were coups and counter coups and the people were suffering, the economy was being destroyed and poverty started. When the civilian government came in 1999, things were not too good because there was corruption everywhere. Obasanjo's administration was better than that of Babangida in terms of corruption. Corruption was embedded in every nook and cranny of Nigeria during the administration of Babangida. Yar Adua came and tried to do his best but he died in office. Then Jonathan came now, there is still massive corruption in the country.
Family
In our days, families were very large because then there was no restriction on the number of children one could have or how many wives one had to marry. Then if you marry many it means you have a large farmland and if you marry one you will be incapable of producing enough to take care of your family. The only problem we had then was education. Education was really poor then because government was not spending money on education until Awolowo came and brought free education and people started pushing their children to school. It was much more pronounced during the time of Awolowo, he did a lot in the West and that was why you find out that Yoruba are educationally better than most ethnic groups. That is why the first broadcasting house came from that area, Western Nigeria Broadcasting Corporation, it was from cocoa money that they built it. But the North was relatively poor due to the size of the area and the resources that were available. In the East, there was less concentration on education even though Zik was there. But what is significant those days was that local government councils were there to keep the environment neat. They were self-sustaining, they were not there to collect money from the Federal Government for development purposes. Local resources were available, they were not in charge of schools until Awolowo came to say that local governments should be spending some fraction of their money on primary schools.
Home training
Whether you are a man or a woman you must have basic home training. In our days, marriage was not open to everybody, it was by mutual knowledge. If you were a man, you must know the home where you wanted to marry from very well, the same thing applied to the woman. In my case, I was a good servant to my in-laws because in our days it was difficult for people to come from the riverine area. My wife lived in the riverine area with her parents. Besides, my wife's mother was a close friend of my mother. So when my mother died, her friend, that is my wife's mother, said 'this boy must marry my daughter'. I will go to the bank of River Nun to wait for my wife who must have trekked for almost six or seven hours before getting to that place. Then I will use my bicycle and hire more bicycles to go and pick them and take them to our village in Ozoro. This was during Christmas time because they always came to our area once a year. And I was doing all that not knowing that she will be my wife. We never discussed the issue of being together because we were already a family before we got married. It was when I concluded my education and was working that my father called me and said, 'your mother is dead now, you need to get a wife'. Incidentally, when I got home, my wife's parents visited us and my mother in-law has always liked me, she took me like her son due to her closeness to my mother. So one day I decided that since my mother and her mother were very close, it is better for me to marry this woman. That was how we became husband and wife. We did not go to any corner to discuss marriage. The parents were totally in agreement that that relationship has to be kept and we kept it up till now. Today, if I tell my wife to sit down, she will sit down or she will say 'I will not sit down, I have something to tell you'. We have that understanding. My in-laws and my parents were very close and that is also how we operate today. Any of my children who puts to bed, my wife must go there and stay for a while. So we have good families then, marriages were not contracted by air. Nowadays people look at women's pictures and fix marriages, such marriages don't last because they were not genuinely contracted. These days you see girls flaunting themselves, they bear children without control. Some of them become pregnant without knowing who impregnated them because they have met a lot of men. In our days it was not so. You cannot sleep with a woman until you get married to her. Parents must go and perform the necessary marriage rites. The family of the woman and that of the man must investigate the type of person their son or daughter is getting married to. But today things have changed, it is unfortunate and that is why you see a lot of divorces and family crisis.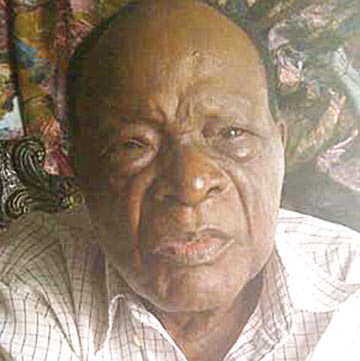 Joining politics
After I finished secondary school and took my education to a level, I applied to the civil service and the Civil Service Commission directed the Ministry of Health to do recruitment of some of us who were eligible. I succeeded, that was the time of Chief Dennis Osadebey, in 1964. I served mostly in the Ministry of Health, I worked in Sapele, Isoko,Ughelli and Benin. This house that we are in is where I started running my family. I retired from the service when they said if you have served for 13 years you should retire. I seized the opportunity to retire and went into private business. I was doing very well working with construction companies. There were a lot of young men and women from my place that needed jobs and the company that we brought was run by some Greek. They were doing jobs in Bayelsa, and the old Bendel State. When the time of election came and because of the way I was able to assist my people by giving many of them jobs in the construction company and other areas, when politics started in 1977-1979, our people came from home to call me. I did not apply to be a politician; they said that in appreciation of what I did for our people, they will vote for me. So I went home, there was NPN and UPN, and then I asked my people which of the parties we should join. But of course I pointed out that Awolowo's UPN built schools and gave our people free education. We all agreed to join UPN and we went for election and my opponent lost woefully. That is how I went to the then Bendel State House of Assembly. I performed very well in the House and the members elected me Deputy Speaker. Our salary then was about N3,000 or N4,000 and for us that was a big money. We were given quarters to stay but I rejected mine because I already had my building in Benin. We were there until the army came in 1984. In 1992, my people including the Ijaw, Itsekiri and Isoko, because I was very popular amongst them, all agreed that I should go to the Senate. In that election my opponent lost woefully too. Those years when I was in politics, I used to visit my people every Friday, asking about their welfare and what they wanted me to do. My house then was like a house of the Isoko people and I cherished them because they were patriotic and that is why when this new generation comes and talk about politics, I always laugh at them because they don't know what it means to be a politician. It means service to the people but they think it is service to make money. I was paid N5, 000 per month with some allowances and car when I was in the Senate. When I was made the Chairman Senate Committee on Environment, I was given a car, so I gave my friend, who was a judge in those days, Azinke, my own because he had none. So I was in the Senate without a vehicle other than the one I had before joining the Senate.
It was a Peugeot 505 they gave me and I had another Peugeot 505. I now said 'why should I have two when my brother doesn't have any?' We were not in the Senate for contracts and throughout my stay in the Senate there was no contract, no constituency allowance, no night vigil allowance, no travelling allowance, no girls allowance. We go to the Senate at 9am, leave at 3pm; around 4 we go back for constituency matters and plan agenda for the next day. And sometimes we would stay there till about 1 am; our sleeping period was very short and we didn't ask government to bring money we are travelling by air because we didn't travel by air. We used our vehicles travelling to our constituencies from Abuja and vice versa.  Today, a senator has 4 to 5 vehicles, it is appalling. You do not know what they are doing with their constituency allowances and when they are given contracts, they award the contracts to themselves. Allowances that we had were not more than one million per annum.
We had poor senators during my time
There were some senators who were poor depending on the area they came from but we were working as brothers. We did not struggle for individual wealth, we didn't fight in the Senate because of money, we didn't accuse the executive of stealing because we were very meticulous in looking at what they were doing, so we could correct them. But now when corruption is going on, legislators are part of it because they want money at all costs from the executive and that is why the executive is always escaping fraud charges.
President's decision on the National Confab
To some extent, the President is trying to reform the system, and, to that extent, he has to be congratulated because he is embarking on an experiment but what worries people is that he has done so many experiments without good results. Look back to eight years, how many experiments of this kind have succeeded; they are either abandoned half way or reaching almost to the end before they are abandoned. So the fear of this confab is that they will do it to a level, then the National Assembly will cause confusion by accusing the President one way or the other and that may be the end. However, our people have told the committee set up by the President what they want. The local government should be autonomous. We also have told them that whoever in this country wants to maintain a small entity, allow him to maintain it. Revenue formula must be reviewed. May be the conference would not have been necessary if we had a vibrant National Assembly because you find out that this National Assembly, when we have serious national issues they will say they are going on break.  This is unlike those days, if we had a matter at hand, we will not go on recess until we finish it. President Jonathan knows Nigerians want a change and i believe that is why he decided to set up the committee so that they will go round and feel the pulse of the people.
Jonathan's anti corruption policy
I am not convinced that Jonathan is fighting corruption; if he is serious he has various organs to use to do so. He cannot say he is fighting corruption when those in his government are stealing from left to right without EFCC doing anything. Many ministers under Jonathan are corrupt.  When corrupt men are in your house, how do you check corruption in the house of another person? During Awolowo's time as UPN leader, no governor dared travel abroad. It was the law.  Today, governors don't even travel by road, they are using private jets to fly around and you know how much it costs to travel in private jet.
So until widespread corruption is checked, there will be no stable government. People accused of stealing should be relieved of their duties and put on trial. If it is possible to set up a special tribunal to probe these people, things will be be better for us. How can a minister buy two bullet proof cars with such amount of money?  Are we fighting a war? Yet she is still in this administration; it is shameful.
South-south people and Confab
South-south has its own back ground because what an Edo man wants, a Delta man might not like it; so we are fundamentally different and there will be no unanimity on what we want. In that regard, to say South-south is going to have one decision on all the issues at the confab is not true. However, we are all unanimous when it comes to true federalism which is resource control because we have suffered so much in an attempt to make Nigeria a united nation. But other issues from their background will be different. You cannot impose the will of the Federal Government on the local government. On police,  there will be no united decision because a lot of people want local government police; others will say Federal Government police should stay. On the army, they will agree that there should be one army, there will be one currency and a unanimous decision on external affairs. Most of the things in the exclusive list should go to the concurrent. Let the debate commence but if corrupt men are sent to the debate we will go back to square one.
How delegates should be chosen
The nationalities should agree on what they want; after that they should go to the states and then the center. I am suggesting that every nationality must have two or three representatives. Delegates for the conference must be people with integrity who have distinguished themselves in many endeavours. Every senatorial district should nominate three persons so that the selection of delegates will not be  cumbersome. We suggest that the total number of delegates should be about 450 members.