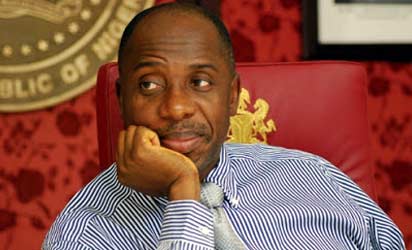 *Governor, Rotimi Amaechi
BY EGUFE YAFUGBORHI
PORT HARCOURT—Factional Speaker of  Rivers State House of Assembly, RVHA, Evans Bipi, has denied reports of plot by him to impeach the state governor, Mr. Rotimi Amaechi.
Echoes of the planned impeachment became louder this week, following media reports that the visit of the First Lady, Dame Patience Goodluck Jonathan, to the state, was to intensify the impeachment process.
In a reaction in Port Harcourt, yesterday, Bipi said he had no reason to instigate  impeachment procedingss against the governor.
He said:  "What has the governor done that would prompt me to plan his impeachment? The only thing I want is for the governor to recognise me as the duly elected Speaker of the House.
"If he recognises that, I will also recognise him as my governor and both of us can continue to work together to move the state to enviable heights."
He explain that Dame Jonathan  had the right to visit her home state, adding that "it is a disservice to the First Lady for anybody to associate her with impeachment of the governor when in reality there is nothing like that."
Bipi, who leads the anti-Amaechi minority in the House, further said he was yet to be served any invitation by Police Command in Rivers State to sign any undertaking to be of good conduct as the Pro-Amaechi lawmakers had done.
He contended that it was important for the House Speaker, Otelemaba Dan Amachree's camp to sign the peace agreement because "they are the real trouble makers.
"Whenever they serve me, I will go with my group and sign the papers for them. I have not been served. Maybe the Police know those who are the real trouble makers."
On the court order barring him from parading himself as Speaker, Bipi argued that the Ahoada court from where the order was obtained, did not have any jurisdiction over the Assembly, adding that he had also not been served with the said order.
He hoped that when  every security matter was settled and the pro-Amaechi lawmakers were ready to abide by the rules of the House, the House would be reconvened.