By Hugo Odiogor, Foreign Affairs Editor
An encounter with Dr. Nelson Mandela months after regaining freedom from South Africa's prison was an opportunity nobody would want to miss.
As a young reporter, it presented an experience worth sharing as Madiba goes to rest with his ancestors in the sacred grounds of Qunu. The encounter comes with the main story and a sub plot. The release came on February 11 1990, a day Nigeria marked by declaring a half working day.
At that time, Nigeria saw the release of Mandela as a major foreign policy achievement and a pointer to the possible demise of the policy of institutionalised racism. For Nigeria, the attainment of this goal was a major accomplishment which saw freedom of Africa from colonial rule and the end of racial discrimination as key pegs of its Afro-centric foreign policy.
It was not long that Mandela announced that he was going to visit Libya to see the country's late controversial leader, Col. Muammer Gaddafi. Libya was one of the countries, like Nigeria, that provided financial and logistics support to combat apartheid.  Mandela's decision to visit Libya and Cuba angered White Hall and White House, but old Nelly was not prepared to accept any attempt by any body or country to mortgage his hard earned freedom.
He shove Britain and US aside and went ahead with his travel plan which was to express gratitude to those countries that supported the effort of his compatriots to wage a battle against the Boers, to regain their human dignity, land, resources and  human rights.  It was a struggle that had lasted for over 70 years and nobody could predict the outcome.
The global picture of South Africa under the white minority regime was that of brutal security forces chasing after women, children with dogs, tear gas fumes, batons, while men were hunted to the ground like animals, beaten, brutalised, maimed, jailed for whatever infraction the apartheid chief priests deemed necessary.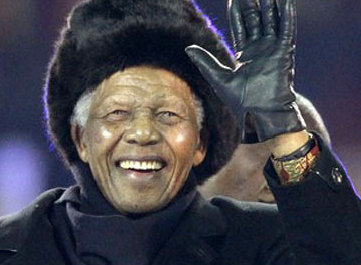 After the trip to Libya, Nigeria was the next destination.
As a foreign affairs reporter, I was assigned to cover the visit at University of Lagos which had proposed to honour Madiba with a doctorate degree, honorari causa. The visit was to be on a Tuesday but the real story for me unfolded on Sunday afternoon when I walked into the newsroom at about 12:35pm. It was the era of fax and telex machines, analogue telephones; communication was not easy and getting to the office early was something no serious reporter could trifle with. Barely five minutes later, a colleague, who is still  at the Guardian, approached me to  exchange  greetings and chat about the impending visit of Madiba. After a brief chat on the subject, the colleague told me that a female member of staff from the advert department had a proposal for me on the visit. But given the time of the day, I considered that aspect of the discussion to be a distraction.
Nevertheless, I decided to hear the advert staffer out. She told me that she had an invitation from a giant soft drink company in Ijora and that a car had been sent to facilitate my movement. She said it had to do with the visit of Mandela and some foreign affairs reporters had also been invited. I told her it was not going to be possible especially as there was no formal invitation card.
My superiors were not aware either, after some hard haggling and resistance, her contact agreed to come along and witness what ever the transaction was all about. It was agreed that the same car must bring us back to office.
As we drove off, I reminded the young lady how she cornered my adverts during the visit of Prince Charles and his late wife, Lady Diana, in March 1990. On arrival at Ijora I was ushered to see the Manager in Charge of Marketing and Corporate Communications.
The manager said his organisation was interested in getting the voice of Madiba explaining his relations with Yvonne Chaka Chaka, who was ruling the airwaves at that time with her brand of music. She was even being used to promote one of the global cola drinks.
The assignment was simple said the Lebanese national as he went on his brief. During the visit of Dr. Mandela, we expect that there will be a world press conference. We know that your paper is influential and will certainly be accredited  to attend. Since you are the person to cover the visit, we feel we could make a deal with you", he said. I asked: "what is the nature of the deal? "
He said: "If you get the opportunity to ask a question, ask him his relation with Yvonne Chaka Chaka."
"Is that all"? I asked.
His eyes brightened up, "Yes".
He said: "We will give you a tape recorder, to record whatever he gives as response, we will pay you handsomely for your effort".
He offered me N50,000 and promised to double it if my mission was successful.
I asked him the purpose of the recording and why should I, as a reporter for a flagship newspaper in the country, get an opportunity to ask Madiba a question at a world press conference and I will ridicule myself with such a question.
I told him: "I will do no such thing". It was final. At this point, my monthly pay was N425.00; the offer was massively tempting but I never gave a thought that I was missing anything.
I requested that the car should take me back to where it brought me and we agreed that the issue should not be raised anywhere. I told him that he had nothing to fear and suggested that he could try other reporters. I went back to work.
The main event came on Tuesday, May 11, 1990, and all roads led to University of Lagos. The auditorium was filled up. It was at about 11.45 when Madiba and his wife then, Winnie, accompanied by the then ANC representative in Nigeria, Dr. George Nene, and other top government and ANC officials walked in. Winnie was the first to raise the black power salute and then Madiba; the crowd erupted. I was at a vantage point, standing on the entrance taken by the eminent visitors, I had a close eye shot regardless of the pushing and shoving going on.
My eyes caught Nene's and he gave a smile, happy to see me cover that event. It was a great experience given all the efforts we had made visiting the ANC office at Obalende and the office of NACAP at Kingsway Road, Ikoyi to get information on the situation in South Africa, as  all the sides in the struggle battled to push forward their propaganda.