By Hugo Odiogor, Foreign Affairs Editor
In international political arena, the burial of heads of state and high profile personalities like Dr. Nelson Mandela often presents an opportunity for funeral diplomacy. Informal and somber as the setting may be, leaders of countries often capitalize on it to mend fences, strengthen ties, or break new grounds after which their envoys are left to do follow-up.
With over 120 world leaders in South Africa for Mandela's burial, the event has made history by attracting the highest number of serving and retired heads of state and government.
It is a roll call of world leaders and the chief mourner, Mr. Jacob Zuma, the President of the Republic of South Africa, would try to be at his best to ensure that the event does not attract any diplomatic crisis.
Mandela's health scare in March and the lull in-between that time and his demise gave the country sufficient time to prepare for the inevitable. Physical, spiritually and psychologically, South Africans, at all levels, were given the opportunity to brace for his demise,
It is not surprising that we are seeing scenes of dancing and jubilation in a country where many people expected the death of Madiba to produce scenes of North Korea's style of mourning. There were shedding of tears from those who knew and appreciated what Madiba did for the country. What else could the old fighter wished from his loving compatriots?
Between Anglo Saxon  Duplicity and Diplomacy
The week long funeral ceremony, which began on Tuesday, presented US President Barack Obama the platform to recount Mandela's legacies and memorials. It is a perfect coincidence that Mandela was released from prison when the Democratic Party was in the White House, with Bill Clinton as president. Equally significant is the fact that he died when another Democratic Party leadership, under Obama, is in control.
Before Clinton, we had seen the Republic Party government of Ronald Reagan strongly opposing the imposition of economic sanctions against the white minority regime in Pretoria.
The Reagan administration introduced the issue of withdrawal of Cuban troops from Angola into the agitation for the release of Mandela. All the gains that were made during the years of Jimmy Carter's Democratic leadership from 1976 to 1980 were frustrated by the Republican Party's 12 years in power as George Bush Senior, who did a single term after the eight years of Reagan, did not advance the cause of dismantling apartheid in South Africa.
Like Mandela, Obama was his nation's first black president. Obama has cited Mandela as his own inspiration for entering politics. Today  we have former US presidents namely, Jimmy Carter, Bill Clinton , George W. Bush,  and the incumbent out there in South Africa for Mandela's funeral.
Zuma made the keynote address before a crowd of over 80,000 at the FNB stadium as millions of people around the world watched live TV broadcast of the Mandela funeral. The stadium, where Mandela delivered his first major speech after his release from prison, can hold some 90,000 people, but that won't be enough to hold the hundreds of thousands clamoring to celebrate his life.
Middle East Politics
Prime Minister Benjamin Netanyahu, who hailed Mandela as "a freedom fighter who rejected violence", did not attend last Tuesday's ceremony in Johannesburg owing to the costs of travel and security. Similarly, aides to Israeli President Shimon Peres, in his 90s, said he had been recovering from flu and doctors asked him not to make the trip.
Mandela and Peres were winners of the Nobel peace prize. This means that the Israeli Prime Minister will not confront the moral issues surrounding his county's occupation policy in the West Bank. On the other hand, as defence minister in the 1970s, Peres was involved in military and trade ties with South Africa's white rulers. Under him, Israel offered to provide the apartheid state with nuclear weapons in 1975.Netanyahu was criticized recently by Israeli media for spending $127,000 to fit a bedroom into the chartered airliner that flew him to London for the funeral of former British Prime Minister Margaret Thatcher.
Palestinian President Mahmoud Abbas is lapping up to the opportunity to challenge global conscience on the Palestinian question. Palestinians hailed South Africa's first black leader as an inspiration in a conflict with what they call Israeli "apartheid".
End of Father Christmas Diplomacy?
For President Goodluck Jonathan, the event in South Africa must tell him that the end has come for Nigeria's Father Christmas diplomacy. Before the release of Mandela in 1990, Nigeria was a member of the frontline states which included some of the countries that shared borders with South Africa.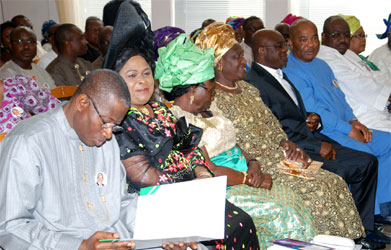 Nigeria provided funds to the liberation movement, trained its human capital, mobilized international opinion to isolate apartheid South Africa in sports and business.
Nigerians donated personal funds to the welfare of South Africans in Diaspora. Nigerian universities offered scholarships to South Africans, while the anti-apartheid struggle was on Nigerian streets and homes, fields of sports, the airwaves, etc. The anti-apartheid campaign was hot but the tragic irony was that it is those countries that encouraged and supported apartheid policies and practices that took the front seats at Mandela's funeral.
What happened at Mandela's death brings to mind the vilification of Gen. Sani Abacha when he pulled Nigeria out of the 1996 African Cup of Nations based on security reports that South Africans had planned to humiliate the Super Eagles during the tournament. A lot of Nigerians, who are not aware of the depth of contempt that South Africans hold Nigerians, disagreed with the general. We have since seen rising cases of xenophobic attacks on Nigerians in South Africa.
We have seen deportation of Nigerians for what South Africans called infractions on yellow fever vaccination. Nigeria's foreign policy managers failed to read the situation well with a view to advising Jonathan properly. The Nigerian leader was not recognized at the funeral orations held at the FNB Stadium.
Jonathan had earlier set up a team of foreign relations experts to find out why South Africans have been growing increasingly hostile to Nigerians.
But to make matters worse, Nigerian foreign policy managers completely forgot that South Africans were not amused that Nigeria stood against the candidate of South Africa for the chair of the AU Commission.
Lagos State Governor Babatunde Fashola was among few Nigerians who rose above the culture of paying tributes to Mandela to reflect on the ingratitude of post-apartheid South Africans. He accused South Africa of paying Nigeria with evil despite the nation's immense support to end apartheid regime in that country. Professor Victor Ariole of Faculty of Modern Languages at the University of Lagos towed the same line when he said, "I remember we took drastic measures against the foreign collaborators of apartheid regime and nationalized their assets."
He added, "What is playing out in Mandela's burial is the same economic interest of the protestant Anglo Saxon group which has been ravaging Africa for its land and resources. We could see that the economic interest of the West is predicated on a vision quite against nature; hence Africa is a battle field.
"The goalpost shifts any time Africa is approaching a scoring point".  The Chinese, the Japanese and the Koreans have joined in the scramble for the land and resources in Africa and all that is playing out in Mandela's funeral. Africa remains the frontier for exploitation of human and material resources.