BY ABDULWAHAB ABDULAH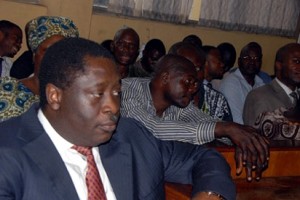 LAGOS — Dr. Wale Babalakin, Chairman of Bi‑Courtney Limited, yesterday, challenged the legality of the criminal offence of fraud bordering on illegal transfer of N4.7 billion preferred against him and four others by the Economic and Financial Crimes Commission, EFCC, before an Ikeja High Court.
Babalakin was expected to be arraigned freshly before Justice Lateef Lawal‑Akapo after his case file was transferred from Justice Adeniyi Onigbanjo, who was handling the case was redeployed to handle commercial cases.
However, when the matter came up, yesterday, Babalakin and those standing trial with him, including Alex Okoh, Stabilini Vision Ltd, Bi‑Courtney Ltd and Renix Nigeria Ltd asked the court to stand down their arraignment based on their pending applications challenging the court's jurisdiction.
The EFCC alleged that Babalakin and his co‑defendants fraudulently assisted former Delta State governor, James Ibori to transfer huge sums of money through various parties to Erin Aviation's account in Mauritius for the purchase of a Challenger Jet aircraft.
When the matter was called the counsel to EFCC, Mr. Rotimi Jacobs (SAN) also expressed disappointment that Babalakin was not in court, while it urged the court to revoke the bail earlier granted him for failing to attend proceedings twice.
He argued that Babalakin's absence in court was a breach of his bail conditions and act of disrespect to the court.
Babalakin's counsel, Mr. Wale Akoni (SAN) urged the court to discountenance Jacob's appeal for revocation of Babalakin's bail, arguing that Babalakin's absence was on the ground of his pending application challenging the charge and jurisdiction of the court.
He said one of the prayers in the said application, which was about to heard by the former trial judge, was that Babalakin's physical appearance be dispensed with pending the determination of the application.
Justice Lawal‑Akapo in his short ruling on the issue, however, said Babalakin ought to be in court, adding that bails were granted to ensure that defendants were in court at a named date irrespective of whatever happened in court.
Just as the judge was giving his ruling, Babalakin walked into the courtroom, the judge then ordered that the matter be recalled to acknowledged his presence. However, he refused to go into the dock, leaving only the 2nd defendant, Mr. Okoh in the dock.