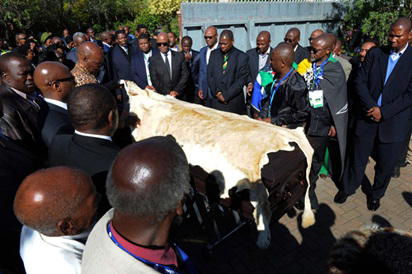 Nelson Mandela's Grandson, Mandla Mandela, (right) watches as local priests drape the casket of late South African former President, Nelson Mandela with a lion skin, as it arrives at the Mandela's residence in Qunu, South Africa.
At the ongoing funeral of South Africa's first democratically elected President, Nelson Mandela, his remains was wrapped in the South African flag, standing atop animal skins at the beginning of the funeral in Mandela's southeastern childhood village of Qunu.
The ceremony was poised to be an eclectic mix of traditional rituals, Christian elements and those of a state funeral.
An ox is slaughtered, the deceased is wrapped in a lion skin and a family elder keeps talking to the body's spirit: The state funeral for South Africa's anti-apartheid icon Nelson Mandela will also include those rituals from the tradition of the Xhosa people, to whom Mandela's Thembu clan belongs.
His body will be buried at noon, "when the sun is at its highest and the shadow at its shortest," Cyril Ramaphosa, deputy leader of the country's ruling party, the African National Congress, said during the ceremony.