By IKENNA ASOMBA
As torrents of tributes continue to pour in for the late former South Africa President, Dr. Nelson Mandela, the late literary icon, Professor Chinua Achebe, extolled Mandela's virtues in his controversial book, "There was a Country, a Personal History of Biafra," describing him as a beacon of justice and hope for the African continent.
In Part Four, pages 257-258 of the book, entitled, "Postscript: The Example of Nelson Mandela", Achebe, however, admonished present and future African leaders to see the life of the anti-apartheid leader as a source of inspiration worth emulating.
Achebe, who wondered why most African leaders are corrupt, power-drunk and sit tight, urged them to bow out of office at the appropriate time, just like Mandela, who, he said, spent 27 years in prison for South Africa, but gave up the presidency, a position he so richly deserved after only four years, making way for another younger patriot in the person of Thabo Mbeki.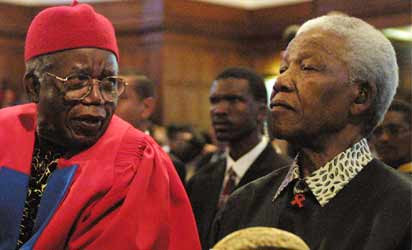 "Not too long ago my attention was caught by a radio news item about Africa. As I had come to expect, it was not good news, and it was not presented with, nor did it deserve, respect. It was something of a joke. This was the announcement of the death of President Eyadema of Togo, whom it described as the longest-serving president in Africa (or maybe the world—I forget which). Then it gave another detail: Eyadema had died from a heart attack even as he was but to be flown to Europe for treatment. And it concluded with the information that Eyadema's son would succeed him as the next president of Togo!", the late celebrated novelist wrote. "If Eyadema stayed that long because he was so good, why was there no hospital in Togo to attend to his condition? Did Eyadema, who had given nothing but bad news to Togo since the 1960s, imagine that the solution to problems created largely by him would be solved by a dynasty of Eyademas? Which reminded me of another First Son: the son of the president of Equatorial Guinea, who was seen around the world on television as he shopped extravagantly in Paris for expensive clothes. Unfortunately, he seemed no less a bum in the suits he was trying on than out of them.
"This event brought me once again face-to-face with Africa's leadership charade. What do African leaders envision for their countries and their people? I wondered yet again. Have they not heard that where there is no vision the people perish? Does the judgment of history on their rule mean anything to them? Do they remember how a man called Mandela, who had spent twenty-seven years in prison for South Africa, gave up the presidency of that country—a position that he so richly deserved—after only four years and made way for another and younger patriot? Why do African leaders choose bad models like Malawian president Kamuzu Banda instead of good ones like Mandela? Have they considered how Zimbabwean president Robert Mugabe has ruined the cause of land distribution by demagoguery and a thirty-year tenancy in power?
"Which makes me wonder whether any of these life presidents consider how Mandela became the beacon of justice and hope on the continent, indeed for the world. For those who do not know, Mandela did not have an easy life. He fought alongside African heroes such as Steve Biko, Walter Sisulu, and Oliver Tambo, among other brave activists, for the liberation of his people from one of the most racist systems the world has ever known. For his efforts, he was sent to prison.
"Most men would have been broken, or consumed by bitterness. But not Mandela. This giant among men walked free that fateful day, on February 11, 1990, after nearly three decades of imprisonment on Robben Island, hands held high, fist in the air. His release was beamed across the planet. The world was pleased, but nowhere as ecstatic as his African brethren around the globe, who saw in Mandela the personification of their highest aspirations and the embodiment of the kind of leadership Africa needs desperately.
"Mandela has delivered magnificently on those dreams. And it is to this great man, lovingly known as Madiba—father of the nation of South Africa, anti-apartheid leader, lawyer, writer, intellectual, humanitarian— that present and future African leaders must all go for sustenance and inspiration."