By Muyiwa Adetiba
A joke went viral in the early days of the GSM which read: 'What is it that starts at the neck, slides through the breasts, caresses the belly button, and moves across the thighs? It's not what you think. It is a seat belt!'
What this simply means is that a phrase or a sentence can have different meanings depending on your state of mind. So those who look at the headline of today's column and think I  am about to regale them of things best forgotten, or who perhaps, want to use the headline as an excuse to reminisce and indulge in their own dark past, are on their own because it is not what they think! I am thinking more professionally at the stories, or more precisely, at the interviews I missed in my career.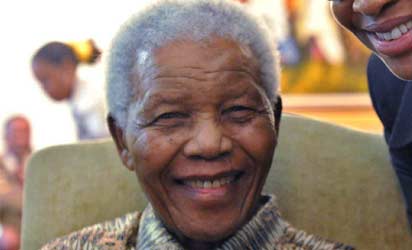 My landing at OliverThamboAirport in South Africa recently, brought memories of my interview with that African nationalist. It also reminded me that I missed interviewing Nelson Mandela who was in prison at the time I met and interviewed his contemporaries. Mandela was indeed, a big one that got away.
This got me thinking of the ones that got away and my mind immediately went to Yasser Arafat, the PLO leader because it was so close. It was in Beirut, Lebanon in the 70s. Contacts were made; the parameters for the interview were outlined. And then it happened. The Lebanese's President's son was killed and my Guardian Angel must have told me to get out of Beirut immediately. It was a narrow escape as the airport was closed less than 24 hour after I fled. It marked the beginning of the destruction of that beautiful city just as it aborted what might have been a beautiful interview.
Another one that got away was Colonel Muammar Khadafy of Libya. The government officials had put me in a hotel and promised the interview would take place within two days. After a week of a tomorrow which never came, but during which I was shown many developmental sites, the interview had to be called off. I got a free board and some green books as compensation. Then there was President Anwar Sadat of Egypt.
I was supposed to meet up with him in Alexandria from Cairo when news came that a BBC crew had flown in to interview him. For reasons that are not too difficult to decipher, he preferred the crew from UK to the reporter from Nigeria, and my interview was aborted. To save face, the officials arranged an interview with Dr Boutrous Ghali their Foreign Minister who later became the UN Secretary General.
At home, a couple of names crop up among the ones that got away. Sir Mobolaji Bank-Anthony, a man whose life of discipline, humility and philanthropy is worthy of emulation, leads the pack. It was entirely in his self effacing character that he turned me down when I approached him saying the time and place were not right. Another one, believe it or not, is Professor Wole Soyinka.
And it was not for want of trying. The first time was back stage after the preview of one of his plays. Another time was at the airport in Germany where he had gone with late Uncle Bola Ige to bring the body of a close friend home. I did not get an outright no on both occasions; but neither did I get a date.
But thinking of the ones that got away brought pleasant thoughts of the ones that got into the net. And they were many. Those that might have been difficult were facilitated by certain persons whose names I should mention for posterity. Mr David Rockefeller was facilitated by Chief Dotun Okubanjo when he was the president of the Nigerian/American Chamber of Commerce. Chief Awolowo was facilitated by Alhaj Lateef Jakande.
Justice Fatai Williams of the 122/3 fame was facilitated by Chief Chris Ogunbanjo while Chief Michael Ani of FEDECO was facilitated by Alhaji Alade Odunewu. I will always remain grateful to these people especially because they had to vouch for me.
Sitting on a shelf and staring at me is one of the most beautiful gifts I have ever received. It is a book by Oriana Falacci, the Italian interviewer which was given to me by the late Tunji Oseni in Geneva. She was one of the best interviewers of her generation. Oriana it was who caused pandemonium when she unveiled herself during an interview with Ayatollah Khomeini.
The book, 'Interview with History' makes me think of compiling some of my interviews to at least let people have a glimpse of an era in the history of Nigeria. I wish I could say things have gotten better since that era. Instead, many of the things we talked about are still with us, only worse. In fact, a certain Dr Ahmadu Ali would be embarrassed to read the interview he granted me after the 'Ali must go saga'.
All in all, I really did meet some interesting people. Like Sir Adetokunbo Ademola, a former Chief Justice of Nigeria who took a ride with me in my Volkswagen beetle. Or Pele, the World's greatest footballer, who lazed at the beach as he talked about the beautiful game.
Or Cindy Breakspear, a former Miss World who didn't appreciate my line of questioning. Or President Julius Nyerere of Tanzania who suddenly declared the interview over because of an unfavourable question. Or Fela who taught me one or two things about life……
If you think by these reminiscences, I am trying to market a book that has not even been compiled, then you have joined me in wishful thinking because all I am trying to do is motivate myself into getting up and doing some serious work. This compilation has been off the shelf long enough. I might even dedicate 'the book' to the ones that got away. Who knows?