By Frankly Speaking
"Every country has the government it deserves", Joseph de Maistre, August 15, 1811.
That we deserve Dr Ebele Jonathan and his Ministers is not in doubt. First, we voted for him in 2011, overwhelmingly, based on promises – mostly now unfulfilled. The "breath of fresh air" was one of those promises. If what we are watching, at the hearings in the National Assembly, turns our stomachs and is malodorous to our noses, blame not Jonathan; blame us. A man cannot act beyond his abilities. For any leader, the most important decisions concern human resource choices. The President's fate, like those of Chief Executive Officers, CEOs, anywhere are determined by the people he invites to top office to assist in executing his programmes.
Unfortunately, it sometimes takes one really bad choice to bring the entire edifice collapsing down on everyone. WATERGATE, which brought down President Nixon of the US, shortly after being elected by the widest margin in history occurred as a result of one officer's stupid mistakes and Nixon's tardiness in distancing himself from the crime. Instead, he collaborated in a cover-up which blew up in their faces. Jonathan, has also got himself being accused of attempts at cover-up. Self-preservation remains the first rule of nature – especially in politics.
Now we come to the Minister of Aviation, about whom I have written in the past questioning her competence and her integrity. As usual, Mr Joel Obi, her spokesman, had sent in a rejoinder, which failed to address the issues raised. Her "brothers" were quick to read tribalism into the queries raised at the time. But, after nineteen years on this same page, and traveling around, in Nigeria, as much as I do, I have developed my own method of gathering information about public officials – without going to sit in their outer offices looking for favours; as Reuben Abati had alleged. I had some reliable information before going to press about the Minister and the "inner caucus" she was creating in every agency. To me, it was clear that it was a matter of time before the schemes blew up in her face and those of her accomplices in the agencies. So, it was no surprise to me when the car scandal was uncovered. It was also not a surprise that President Jonathan had not done what most Presidents would have done – sack or ask the Minister to resign.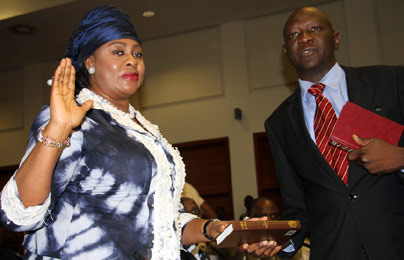 The costs of renovating the airports, for instance, need to be visited – especially the GATT Aviation airport in Lagos which was renovated despite a court order stopping it. One wonders, "why the hurry"?
Finally, the same American friend who told me that African nations are backward because corrupt public officials demonstrate no remorse, even when caught, also said, he had never read, anywhere in the world, so many people defending a corrupt or bad leader, even when it is obvious, as in Africa in general, and Nigeria in particular.
Predictably, some people had been demonstrating against the persecution of "our sister" as if she is the first Minister or public official to be "disrobed" by inquisitive investigators. As more evidence of crimes pile up, we are learning everyday that buying cars was probably the only task taken seriously by Ministry of Aviation agencies.
NCAA devised complex schemes to cover up the crimes; each time adding another layer of illegality. Waivers obtained for Lagos State were used to clear cars meant for the Federal Aviation Ministry's agency; duty waiver and security approval granted for one vehicle were used for yet another; and it is unclear if the National Assembly approved the budget for the cars. Even if NASS did, NCAA officials bought cars and took loans worth N654 million against a budget of N240 million and their defense was that only N130 million had been paid. Is the balance not a liability the Federal government must discharge? That means they were planning to present annual budgets, for cars, to help repay the loans. At least we now know how some Nigerians apply their intelligence in dubious ways.
Of one thing I am sure; this scandal will soon be swept under the carpet and will again be replaced by another one. Another thing of which I am sure is that the scandal will also involve officials and leaders of the PDP in government. Those who "voted for Jonathan and not PDP" can perhaps tell us the difference. Perhaps!
Nigerians, you deserve the insults.