By Ikeddy ISIGUZO, Chairman, Editorial Board
THERE is a time for everything.
For Nigerians, it is time to talk. Ironically, many of those who espoused the position for years that the country could not progress without talking have been caught on the wrong foot – the political side of the talk.
President Goodluck Jonathan has been blamed for many things, deservedly so, in some instances, it is therefore no surprise that he is being castigated for agreeing that we need to talk. The most strident logic for the new aspersions he should endure, for "listening" to the yearning of the people, is that he changed his mind. He had maintained, his professional bashers say, that a National Dialogue was unnecessary.
What is wrong in a man changing his mind, if that could change the fortunes of his nation for the better? Are we no longer ready to talk?   Did the needs for National Dialogue evaporate because Jonathan suggested that the time was now?
There could be more than a million reasons for rejecting the proposal for a National Dialogue: past dialogues that failed, the exercise being a diversion, eyes on 2015 more than the future of Nigeria and possibly the fears of Jonathan getting credit for a political master stroke that his traducers considered outside his ken.
If we want a reason to support the dialogue, the single reason is that it provides the platform to address issues missed in earlier dialogues, or that we considered untouchable. It is a chance that all of us should embrace with a lot of broadmindedness, and purpose.
The shock of this dialogue is the political generosity that runs through it. In case we have forgotten, when Senate President David Bonaventure Alechenu Mark said the National Assembly would support a National Dialogue, many thought he was misquoted. The National Assembly conceding its position is noteworthy.
Comparisons between this dialogue and earlier ones can be misleading. The others, except the Justice Oputa Panel, were mainly for Constitution making or reviews. Oputa Panel examined human rights abuses, it was that restricted.
We are being offered an opportunity to have a profound look at Nigeria, every issue that would finally include the Constitution and its provisions that many blame for the wobbly working of our union. It is an opportunity too great to miss.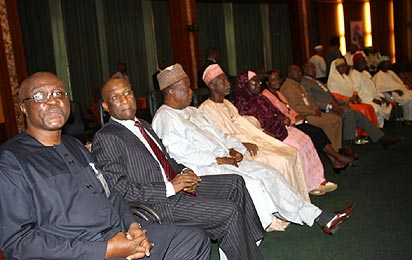 The National Dialogue is more important than what we call it. Our attitude in the presentations that we make would be by far more important than the members of the committees. Our concerns for the future of Nigeria would be juxtaposed against our personal and political interests. The choices we make would be vital to the future of Nigeria.
No part of Nigeria is sufficiently satisfied with Nigeria. We should bring all the worries to the National Dialogue, with suggested solutions. We should make every effort to scale obstacles to our participation in what could begin the utilisation of National Dialogue in resolving issues.
We cannot make much progress if we do not die to conjectures, doubts, fears and speculations, about the National Dialogue. Experience may be a deficit this time. We cannot stop talking because past talks were wasted. We have to keep talking until we hit the note of harmony in our diversity.
Nigeria has been running on strings of emergencies for most of its 53 years. No condemnations, excuses, explanations and recriminations are enough anymore to justify the parlous state of our country.
If there is time for everything, for Nigerians it is time to talk about us, about our fears, about our present, about our future. Patriotic zealots who oppose the National Dialogue could have their alternatives, but they should remember that for years they insisted Nigeria must be discussed.