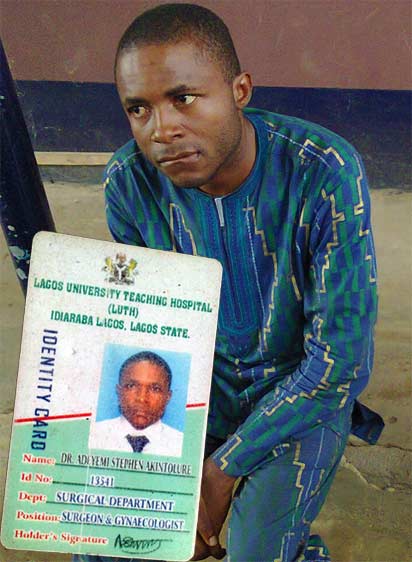 Fake Doctor Akintolure. INSET: Identity
BY Onozure Dania
LAGOS— LagosState Po-lice Command, yesterday, paraded a 40-year-old man, Adeyemi Stephen Akintolure, a suspected fake medical doctor, who claimed to be a staff of Lagos University Teaching Hospital, LUTH, with card No. 13541, identifying him as a surgeon and gynaecologist.
The fake medical doctor was also said to have fraudulently obtained N500,000 from one Joy Umosekhaimhe of 2, Adesanya Close, Ifeko-Gbagada.
Akintolure, who said he uses the wife's car as a mobile clinic, said the money in question was borrowed from Umosekhaimhe, adding "actually, it was not N500,000. It was N260,000 she lent me to use for my brother's ailment."
He said he is from OndoState, studied Marketing at ObafemiAwolowoUniversity, Ife, as a part-time student and graduated in 1997.
According to Akintolure, "I have not treated more than 10 people. I just treat them for malaria and typhoid and I also give injections too because of my experience at RivicHospital at Akure."
When asked how he got the identity card, he said he got it from a business centre and that the computer operator signed it for him.
He said that he charges between N3,000 and N4,000 per patient, adding that his wife was not aware of his trade.
Police Public Relations Officer, Deputy Superintendent of Police Ngozi Braide, said she received a petition at the area H Police Command Headquarters, Ogudu, on July 19, that one Adeyemi Stephen Akintolure obtained N500,000 from one Joy Umosekhaimhe.
Braide said that a letter was written to LUTH on July 23 to authenticate Akintolure claims of being a staff.
She said: "On October 10, LUTH replied that the suspect is not an employee of the hospital and was not issued the identity card.
"In view of the revelation, the suspect confessed that he is not a medical doctor, but has been practising for about four years, using his wife's vehicle as a mobile clinic."
She said his house and vehicle were searched and drugs, injections, syringes and laboratory coat were recovered.