By KINGSLEY OMONOBI, Abuja
Umuahia, Abia State capital, last week, played host to the 9th biennial conference of the Nigerian Army Finance Corps. The conference presented Sunday Vanguard an opportunity to rub minds with Governor Theodore Ahamefule Orji on the crisis rocking his party, the PDP, the challenge posed by kidnapping to security in his state, among other issues. He was blunt on President Goodluck Jonathan controversial bid to run for second term in 2015.
You are known to be a strong supporter of your party. What is happening in the PDP?  And how do you think the crisis in the party at the national level can be resolved?
There is no state in Nigeria right now that is more PDP than Abia State. In the House of Assembly, we have 24 members, and all of them are PDP members. In the Senate, our three senators are PDP members. In the Federal House of Representatives, we have eight representatives, all of them are PDP members. Mr. Governor is PDP. So, which state is more PDP than Abia? And there is nothing like old PDP and new PDP, we have one PDP, PDP has come to stay in Abia. We must make sure we remain one family.
What do you think is responsible for the crisis in the PDP?
PDP is made up of human beings with different ideas. So, we have to accommodate each other. The party is the only true Nigerian or national party. That is why everybody wants to belong to it. It has the capacity to take in everybody and this we shall do after resolving the current family issues confronting us. This is not the first time. And we have always overcome and emerged stronger. Because of the size, vibrancy, ability to deliver and successes, the party is seen as a goldmine and everybody wants to belong which is okay. The umbrella will eventually cover everybody.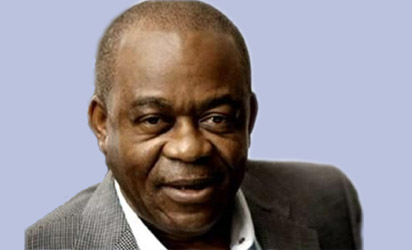 On the contentious issue of presidency in 2015, what is your take? Should the President go for second term?
Is he not entitled to second term? Going by our  Constitution, he has only done one term. I (Governor Theodore Orji) am not hiding my own. I am supporting him and I will continue supporting him. He has the right to go for second term and he must go for it.
After your tenure as governor, what is next? Some people say you might head to the Senate in 2015 as governors ending their second term oftentimes do.
I have a lot that I want to achieve in the remaining two years. I am building a befitting Secretariat for the state; Governor's Lodge and an International Conference Centre.
WHAT motivated you to host the Army Finance Corps to biennial conference considering the former state of insecurity in Abia occasioned by kidnapping and robbery?
We are in a better position now security wise. It was hell in this part of the country. Kidnapping was rampant, people were afraid for their lives, properties were not safe. We were able to resolve the challenge. People are back to their businesses, we are doing our projects, we are progressing and the state is moving economically. That is why I am happy that the army chose Abia to host the conference because they know how the state was before.
So, what they have come here to do is to celebrate with us the victory that we achieved in fighting armed robbery because if the place isn't safe, they will not come. So, their coming is a testimony that Abia is safe and that any person who wants to come here to invest can relax. That Abia is free is the essence of this conference but the general statement as far as we are concerned is to tell the whole world that Abia is now one of the safest states you can think of in terms of investments and businesses.
What was the formula you adopted to make the state safe and free from kidnapping and other crimes?
People continue to ask me this question but you know security issues are not issues you discuss on radio or television because, if I bare my secret, these hooligans will know because most of them are literate and intelligent. You bare your secret, they use it against you and come back. If people come to consult me, I will tell them, but first, you have to be determined to fight crime. Second, you have to bring out all the resources because fighting crime is capital intensive.
What was the role of Operation Jubilee in achieving this and the synergy with the people?
Of-course, if we didn't synergize, we couldn't have achieved anything. Operation Jubilee came and it was very successful. It was successful because the state government cooperated with the security agencies. Don't forget the security agents are human-beings, the police, and the soldiers are human-beings and they need logistic support.
They need equipment and we can't leave it to the federal government alone because this is what concerns both the federal and the states but, primarily, the state is our responsibility. So what we did was to partner with the military. Do you know how many vehicles we have given to the military since they came here? So many, because they have to move into the hinterland and fish out these people. If incentive is not there, they will not be bold to confront the criminals. You can't send a soldier to fight a kidnapper when he has nothing to fight the kidnapper with. So you have to arm him.
How do you sustain the tempo?
Of-course we are doing that. The same magic that we used is what we are using to sustain it because if you don't sustain it, the criminals will regroup and come back and you go back to square one. So, we are sustaining it. We are also using traditional rulers, churches and town unions to tell the people about the evil of kidnapping because those who are doing it are our boys who are here.
They did not come from outside; they know the terrain here or they are encouraged to do it by people who are here. So, if by advocacy we can change the mindset of these boys, they will not be involved. And then we are also doing a lot of youth empowerment programs to make sure that those who are doing something, maybe some of them have families, some of them have responsibilities and they have to cater for their responsibilities and when the legitimate need of catering for their responsibilities are not there, they go through every means of getting money and that is kidnapping, getting quick money.
What we have done within this period is marvelous. We have given employment to 4,500 youths. Even if you don't have a job, at the end of the month, we give you that money so that you use it to cater for yourself. We have given out 234 vehicles to the youths so that they can be self- employed. Another area is farming; we have a farm where we are partnering with a foreign country.
The project gave employment to 500 people. We have other farms in the three senatorial zones. That of the South employed 200 families. Another one employed 100 and the other employed 100. Now we have another estate which was lying fallow which we now brought investors to reactivate. We partnered with them and they employed 1,000 youths.
We also have skill acquisition centres. I made it compulsory for all chairmen of local governments to build a skill acquisition centre. I gave them N60 million each to  do it. There is one also that is being done by the office of the First Lady. After six months, the trainees graduate and you give them some money to establish their businesses: Hair dressing, computer repairs, shoe making, dress making, etc.
We have seen roads, we have seen infrastructure. How did you do it especially with the allocation you are getting?
Abia is not a very rich state, so we cut our coat according to our cloth. The money is not there. If we can employ 1,500 people and we pay up to N500, 000, I will be happy. If I have the resources, I will not buy only 234 vehicles, I will buy more than that. I will buy 1,000 to 2,000 vehicles and give to people. So what we are doing is that, we have to secure our resources because security is key; then infrastructure; our roads, we have to repair them because it is only somebody who is alive that can use the roads. If you are in hospital, sick, you won't think of all these things. So, first and foremost is to make sure that life and properties are secured. When your life is secure and you are healthy, all other things will follow, you can fend for yourself.