By WOLE MOSADOMI
MAKURDI — Posters of the former Attorney General and Minister of Justice of the Federation, Mr. Mike Aondoakaa, for the 2015 governorship race in Benue State, yesterday morning, flooded Makurdi, the state capital.
The posters which were placed at strategic corners across the metropolis may have brought to an end, months of speculations about the gubernatorial ambition of the former minister.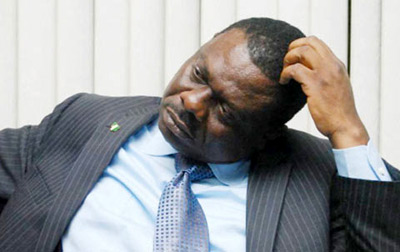 Reacting to the development, the Benue State Chairman of the Conference of Nigeria Political Parties, CNPP, Mr. Baba Agan said the people of the state would reject Aondoakaa at the poll.
"If I may ask, what was his achievements as minister, and how did he use that office to benefit the ordinary Nigerians in the streets and the people of Benue State in particular?
"Nobody should take Nigerians for a ride any more because at the appropriate time we will ask Aondoakaa some questions on the alleged inglorious roles he played during the President Yar'Adua era apart from other issues that he needs to explain to Nigerians and Benue people.
"We advise that he directs those spreading the posters to withdraw them forthwith because the governorship seat in Benue State is not for sale and anyone who thinks he can fool us all the time is deceiving himself," Agan stressed
Attempts to get Aondoakaa to speak on the posters was unsuccessful but one of his close associates who spoke on the condition of anonymity told Vanguard that the former minister had no hand in the campaign posters.
"He knows nothing about it, the man knows that it is not yet time for such; I strongly feel that somebody somewhere is playing games with the whole thing and it is quite unfortunate."