By Muyiwa Adetiba
'I have been to morgues. There is no siren there. There is no posing in the morgue. There are no celebrities there. You put people under six feet and you realise that cars and houses do not fit in. I have come to understand that when people die, nobody has jumped into the vault to say bury me along.
So it makes me see things differently. At the end of the day ,when they say everything is vanity and I am in a better position to talk about it because I have seen it all'
These were the profound words of Olatunji Okusanya jnr. in his last interview to the Punch Newspapers. Olatunji Okusanya passed on last Thursday in a fatal plane crash. He would at best be in his thirties. But this statement credited to him could easily be the words of a man in his nineties who has seen the world. Vanity upon vanity says the preacher. All is vanity (Holy Bible).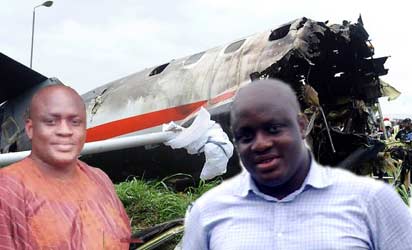 The air crash last week Thursday shook the nation. Again. The peculiar nature of it should also cause many of us to reflect. The plane was carrying the remains of a former Minister for Aviation to his final resting place. Without prejudice to the investigations as to the cause of the crash, one is wont to ask if there was something, anything, that Dr Agagu could have done as Aviation Minister, to make air travel safer for the nation that he did not do because of political expediency; or because there was no personal gain.
And this brings me to the fact that all of us, not just our political and economic leaders, have a role in making the society safer. Each time we compromise, each time we look the other way and refrain from doing what is right, we endanger the society and endanger ourselves. And those decisions can come back to haunt not only us, but our children.
We worry about the insecurity in the land for example. Yet, how many of us, by our acts of omission or commission, have not contributed to this insecurity.
How many of us in our little corners, have exhibited religious maturity? How many of us have given the other guy a fair chance in the work place irrespective of tribe and religion? How many have taught the poor how to fish and put smiles on poverty-stricken faces? How many have given a thought to the yawning gap between the rich and the poor? We forget that hunger and intolerance are two potent sources of insecurity.
Like Isaac Hayes said in that beautiful song; 'if you were hungry, what would you do?' The lesson here is that many of our actions contribute to the state of the nation today.
I was with some veteran journalists, assessing entries for a media award on that fateful Thursday. That we could all still keep a scheduled appointment barely two hours after the crash, says a lot about life and living. We were still comparing notes when a friend called to ask about someone who was Agagu's political associate. I told him I had just spoken to this person and he was fine. Besides, I explained that information coming in showed the plane did not ferry his political associates. I seized the opportunity to wish him a safe journey as he was due to leave for Saudi Arabia the following day.
For some inexplicable reason, he sent me a text the following day, stating that they had boarded. I again wished him journey mercies only to learn on Saturday that a Saudi bound plane had two burst tyres! You can imagine what went through my mind.
The lesson here again, is that the line between life and death can be very thin. One minute, you are bubbling with life; the next minute, you are dead. Yet most of us behave as if we are in full control of life. We treat life more as a right than as a gift. For if life is indeed a gift, then everything else including birth, position, attainment and wealth are gifts. Why do we act as if we are God? Why do we hustle and kill for what we might not even live to enjoy? Why can't we imbibe humility as a way of life?
The lesson of Abiola and Abacha is there for all to learn from. These were two people who badly wanted the same seat and neither lived to see the next occupant of the famous seat.
Abdulsalam who was waiting patiently for retirement was instead given the exalted position. Awolowo was eminently qualified to be Nigeria's Head of State, yet he never got there. While a poor man without shoes, without political antecedent, became President. Isn't there a lesson there?
And when you use your position as an opportunity for corrupt enrichment whether as a Vice Chancellor, Perm Sec or CEO, remember those you have deprived might still come back later in life to haunt you. More importantly, remember young Olatunji Okusanya's immortal words that death is the only certainty and no grave is big enough to accommodate a car let alone a house.
Also remember that although Awolowo never became President, his adroit use of the resources at his disposal for the greater good has out lived him far more than riches can ever be and his name, 25 years after, is still opening doors.
Let us always remember that those who touch the lives of strangers will always have strangers touching their lives and the lives of their dependants. The final message here is that our little actions in our little corners, to people we come across, may yet save lives. We do not have to be a Governor or a President to serve mankind. Think and learn. Now!