Abuja –  The Minister of Sports, Mallam Bolaji Abdullahi, on Friday said that President Goodluck Jonathan had approved funds for a large contingent of Nigerian fans to attend the qualifying match against Ethiopia.
The minister told newsmen in Abuja that the president also expressed his readiness to support efforts to ensure a successful outing.
The  Super Eagles will on Oct. 13 face Ethiopia's Walya Antelopes in a first-leg match in the Brazil 2014 final qualification round.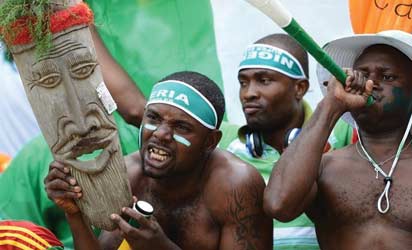 "I am delighted to say that Mr President has given us his full support.
"He has approved funds for the NFA to ensure that large contingents of Nigerian fans are taken to Ethiopia for the game.
"Everyone who witnessed AFCON 2013 knows how vociferous Ethiopian fans could be; so, we are responding appropriately to ensure that large contingents of Nigerian supporters are represented.
"As Mr President has approved financial support for this, we are doing everything possible to ensure that we come back from Ethiopia with a very good result," he said
Bolaji said that preparations for the match were ongoing and expressed the hope that it would be a great match.
"The preparation is going on very well, I speak everyday with officials of the Football Association and everything is going on well," he added. (NAN)