BY JOHNBOSCO AGBAKWURU & JOSEPH ERUNKE
ABUJA—THE Senate, yesterday, said that the Nigerian government would not fold her arms and watch neighbouring African countries that have benefitted immensely from the country's peace keeping operations and other gestures attack Nigerian nationals in their countries.
Chairman Senate Committee on Foreign Affairs, Senator Matthew Nwagwu, who stated this while reacting to attacks on some Nigerians in Guinea Bissau said that it was high time Nigeria began to bark and bite to stop the unwarranted and provocative attacks on her nationals.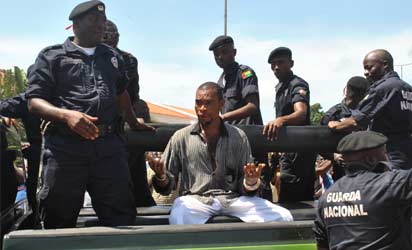 Senator Nwagwu who represents Imo North on the platform of Peoples Democratic Party, PDP, described the attack which claimed lives of some Nigerians in the embassy as unfortunate, bad and barbaric.
He said: "The latest incident in Guinea Bissau is very, very unfortunate. And saying unfortunate is a very polite way of saying something that is very bad and barbaric and unexpected of a friendly country. If you remember, Nigeria even as we speak now has her peace keeping forces in Guinea Bissau helping that country to stabilize.
"Nigeria has technical aid workers who are working in various ministries and department at no charge in that country. Nigeria has so many other aids and assistance being rendered to that country so why I said it is unfortunate is after all these things the people of that country also decided to attack Nigerians and kill some of our nationals."
"So it is a very sad development and I believe it is an attack too many, perhaps this is the time for government to really show our neighbours and Africans and others that we can bite and show our anger and disapproval of what has happened in real terms. Otherwise people will be taking us for granted and other countries will continue to slap us left and right.
"For the moment, I am aware that government has sent a delegation to that country to meet with authorities to get to all the facts on ground and then, give the government of Guinea Bissau, some of our feelings and decides how this matter can be handled".
He added that reciprocity will go a long way to discourage other hostile countries who may be nursing similar intention from embarking on similar attacks.
Nwagwu regretted that as the Nigerian government was working round the clock to render free assistance to some of its neighbours, instead of the countries to reciprocate the gesture, they were busy attacking Nigerians without reasons.
On details of the findings the delegation in Guinea has made, he said, "I am aware that the government has sent high power delegation to that country to meet with the authorities to get all the facts on ground and give the government of Guinea Bissau some of our feelings and conditions on how this matter can be resolved.
"I cannot say all the details here but our team is already in Guinea Bissau working with our Ambassador who will brief them exactly what happened and then Nigeria will present her conditionalities for an amicable resolution of this problem including restitution and other conditionalities so we are waiting for that bilateral meeting to be concluded for us to know how to proceed from there."
Nwagwu said that the outcome of bilateral meeting between the Nigerian delegation and the authorities of Guinea Bissau would determine the position the senate would take and the type of advice it would give to the federal government.
"The Nigerian team has gone there with a clear instruction and shopping list, and we have to wait and see what they will come back with. The minister might have some ideas and of course, these ideas will be conveyed to the delegation but the delegation has to also get the other party to respond then come back and report appropriately. It is after they have come back that we will know what to do", he said.