Emmanuel Emenike has said that Rashidi Yekini is a tough act to follow but he hopes he could make a bigger impact in the Eagles.
The Fenerbache striker, who has been widely labelled 'The New Yekini' said Yekini was a legend and that he still has a lot to do to match the records if the name 'Emenike' will be bigger for the Eagles.
You scored a brace to move Nigeria closer to Brazil 2014 World Cup, how was the feeling before the goals?
Emenike: The feeling was positive, I didn't feel pressure before or during the game because I know the game will only last for 90 minutes and during that time anything could happen.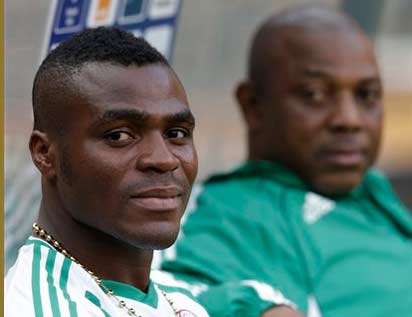 I don't play with pressure and will not start now. I know there was pressure from the Ethiopians due to their bad pitch and all sorts of tricks to beat us, but I grew up to be optimistic.
I was so sure that we couldn't lose that game and the worst that could have happen would have been a draw. I was waiting for the opportunity at goal and I was calm enough to score.   Mind you I can't take the glory for that victory it was a collective one, we all fought for the victory.
How did you feel on a personal note to score two goals in such a crucial game?
I feel good sincerely, but I think we need to work harder for the return leg and quickly forget the victory in Addis Ababa. As a striker, when you score and your team win, you will definitely get the usual applause and be happy. I am excited because we conquered our fears.
The weather was another big factor that worked against the Eagles. How was the team able to cope? 
The weather was an issue, but we put our mind off it and prepared for the battle. The victory was the reward of our hard work. We were lucky because the weather stayed in our favour to an extent.
We all knew what will happen in Ethiopia, we knew we will be facing another side of the Ethiopians and we met it the way it was planned, but as a good team, we survived all.
What can you say about Ethiopia?
They are a good side. They gave us a scare, they were everywhere and determined for revenge but we went, we saw and we conquered.
We played against a good side in the Ethiopians. We knew that right from the Nations Cup and they have improved.
You have featured at the Africa Cup of Nations and now how do you feel that you are close to playing in the biggest competition in the world, the World Cup?
I am glad to have played in the Nations Cup and won. I am dreaming of playing in my first World Cup for Nigeria. That will be the first time I will be at the World Cup and to get to play in Brazil, where they are crazy about football, would be a dream come true.
I missed the Confederations Cup due to injury.
I started nursing the dream to play in World Cup since 1994. I was a very small boy then, but could still remember how the older boys around followed the tournament and were mentioning the players' names, praising them.
Ever since then, I have wanted to also be praised for playing at the World Cup. It would be great to play in Brazil.
My mother started telling me how she wanted me to make her proud when I started playing as a professional player due to the love she has for the Super Eagles and I have held on to this. Now, I will keep working hard to see my dream comes true next year.
Were you under pressure while you could not get goals for the Eagles at the start of your international career?
There was a lot of talk here and there, but I didn't allow that to weigh me down when I was not getting the goals for Nigeria because I knew they will come. I kept working hard and resolved to give my best because I always knew I will score goals for Nigeria and it has now materialised.
You have been banging in the goals since your return to the team after the injury layoff at AFCON, what is the secret?
God is my secret because he always answers my prayers and grants my desires. He knows what I want and the best time to do it for me, so I am grateful to him.
Aside that, I see the World Cup as a big business for Nigeria, the fans are eager to see us getting the ticket which is a great one for us as footballers.
The fans have so much confidence in you and believe you will get the goals for the Eagles? 
I feel honoured, but it is a team work. I am only living my dreams and it's my pleasure that Nigeria are now closer to Brazil 2014. We will complete the job in Calabar next month.
Nigerians are celebrating the World Cup ticket already, should they be doing so even though there is still a return leg match? 
It is to be expected for the fans to celebrate such a victory because it was away from home, but we the players are not thinking that way. I am sure the ticket is within the reach now. Our fans should know that we as footballers always want to win and they should always have it in their mind that football is all about ups and downs.
Today, we make them happy,  but tomorrow  could be different but with their support, we could always right the wrong.
How did you see your combination with brown Ideye this time around again? 
I have always been confident about any player I play alongside. I try as much as possible to study their style and adapt to it. Apart from Brown, and I can play with anybody provided there is a good understanding between us up front.
I have so much confidence in my team mates because without them, there is no team and there won't be progress but when we understand ourselves better anybody can score the goals.
Brown is a top player any day, he has the skills and he knows what to do and when to do it.
You have been touted by many as the new Rashidi Yekini in the Eagles, what can you say on this? 
Rashidi Yekini's shoes are still too big for me to wear, I am only doing what I know best for my fatherland and I have not done anything yet. I still have a lot to do to get to the height reached by such a legend.
The fans have to wait before I can accept that tag but for now, I am thinking about making the name 'Emenike' bigger than the late legend Rashidi Yekini, but I won't rush my race. I will keep delivering when I am given the chance to serve my country.
Despite the defeat in Addis Ababa, the Ethiopians are still very much confident of getting Brazil 2014 ticket.
They are saying that because it is football where anything can happen, but we won't allow that to happen.
I don't believe in exchanging words on a match that has not been played. I can vouch for my team mates but I think we must see every game like war.
Ethiopia are very good and they will be coming here with other tricks. So we shouldn't see this victory as the end of road.
I can tell you that Calabar game will be tougher for us than Addis Ababa. We will be careful and get ready for another big business in Calabar.
You have played six games for Fenerbahce and yet to score a goal, are you under pressure to score goals?
No, as I said earlier, I never play under pressure. I am sure my goals will soon start rolling in for Fenerbahce. I am just doing my best for my team. I will soon make the fans happy with my goals.