By Donu Kogbara
I wept when I heard that Tunji Okusanya, the distinguished undertaker, perished in the Associated Airlines crash, alongside his son and four employees, en route to the funeral of Olusegun Agagu, the former Governor of Ondo State. I didn't know Tunji well. But I will never forget him for two reasons:
My darling cousin, Mrs Cordelia Agboti, recruited Tunji to handle the burial arrangements for her uncle – my father, Ignatius Kogbara, in 2002. And he came all the way from Lagos to Port Harcourt and was a fantastically efficient and emotionally supportive pillar of strength to my family in our darkest hour.
When my pal, Senator Ama Iwuagwu, passed away in the United States a couple of years later, I joined a small handful of mourners who went to AbujaAirport to receive his coffin. And it was an immensely traumatic experience.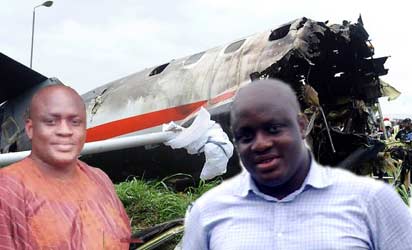 Ama, a vibrant personality, impressive intellectual and highly successful businessman, had left Nigeria on his feet. Now he was coming home in an ugly, cheap wooden box that had "human remains" crudely stamped on it.
We escorted what was left of Ama to the NationalHospital mortuary, where I saw his corpse for the first time. Confronted with this cold evidence that Ama had really left us, tears welled up in my eyes and silently spilled down my cheeks.
Tunji, out of the blue, appeared at my side and offered me a tissue. And I said something crass like: "We must stop meeting in such depressing circumstances!" And he laughed and asked me to help him make Ama look as good as possible.
"Ladies usually have powder in their handbags. Can I borrow some from you?"
I handed over my powder compact and Tunji smilingly used it to tidy Ama's frozen face up with such tender loving care that I suddenly felt much better.
Tunji's company, M.I.C., has been described as a "High Society" favourite. But he was more than a mere status symbol who attracted expensive patronage from the bereaved relatives of VIPs. He was a compassionate friend in need.
May he rest in perfect peace.  
Agagu, an enlightened gentleman 
I would also like to seize this opportunity to say a few a words about Agagu, whom I bumped into quite regularly during ex-President Obasanjo's first election campaign in the late l990s. And one incident stands out in my mind.
I was having lunch in a restaurant with Agagu and a few Yoruba, Northern and Middle Belt politicians when one of the Middle-Belters started to insult Igbos.
This anti-Igbo rant was enthusiastically endorsed by everyone on the table, except me (my mother is an Igbo from ImoState!) and Agagu, who made it clear to the tribalists that he was not willing to participate in such naked bigotry.
Agagu was an enlightened gentleman and I feel privileged to have met him.
HAPPY STORIES
A fascinating new book called Meeting The Enemy: The Human Face of the Great War has just been published in the UK. And I wish that every Nigerian politician would read it because it is full of heart-warming and inspirational stories about men who were more interested in common decency than conflict.
Written by Richard van Emden, a military historian, the book reveals the surprising warmth that British and German troops sometimes displayed towards each other during the First World War I – which commenced when Britain declared war on Germany in 1914 and dragged on for four long brutal years.
Civilians in both nations were, on the whole, uncompromisingly belligerent.
Anti-British feelings ran high in Germany; and the German Kaiser (Emperor) Wilhelm II, who was a cousin of the British King George V (both were grandsons of Queen Victoria), angrily returned the British honours he had gained via this family connection to the British Embassy in Berlin in a brown paper bag.
And when the Lusitania, a British ship, was sunk off the coast of Ireland by German forces in l915, there were riots in its home port of Liverpool. Rampaging crowds burned and looted shops belonging to immigrants of German extraction.
But, as Peter Lewis, a distinguished book reviewer, said in a recent newspaper article: "This kind of rancour was markedly absent from the front line in Flanders [Belgium], where the famous Christmas Truce took place in l914".
The famous Truce started when British and German soldiers started to sing Christmas carols and shout 'Merry Christmas' to each other, then climbed out of their death-trap trenches with "what the hell" defiance, to exchange gifts and friendly talk in No Man's Land [the space that separated the warring armies].
The British Government was appalled and threatened to severely punish soldiers who engaged in such fraternisations with The Enemy. But spontaneous outbreaks of genuine goodwill towards foreign adversaries continued to occur at intervals.
The question I want to ask is this:
If people from totally different nations who are fighting a real war can let each other off the hook from time to time, why can't Governor Amaechi, the "New PDP", Mr President and the "Old PDP" not chill out and bury the hatchet?