By Charles Kumolu
AWKA — The All Progresives Congress, APC, in Anambra State has called for the arrest and trial of the gubernatorial candidate of the All Progressive Grand Alliance, APGA, in the November 16 governorship election in the state, Chief Willie Obiano over alleged double registration in the voters register.
Spokesman for APC, Mr. Okelo Madukaife, who made this known in a statement in Awka yesterday said that it was an offence under the electoral law to register twice, adding that the issue was a sad commentary on the quality of candidate of APGA.
The statement entitled, ''Arrest, prosecute Obiano now,'' read, ''The news that the name of Chief Wilie Obiano appears twice in the voters' register of the Independent National Electoral Commission, INEC is a sad commentary on the quality of candidature that has thrown his hat into the rings in a contest involving men who should ordinarily live above board.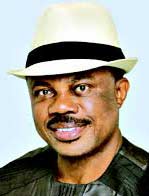 ''We hereby demand the apprehension of the candidate for this criminal offence and full-scale investigations by INEC and all security agencies, with a view to applying the full weight of the Electoral Law 2010 as spelt out in Section 12 (2)(3) of the Act, as amended.
The cited sections read as follows: (2) No person shall register in more than one registration centre or register more than once in the same registration centre.
(3) Any person who contravenes the provisions of subsection two of this section commits an offence and is liable on conviction to a fine not exceeding N100,000 or imprisonment for a term not exceeding one year or both.
''It is extremely worrisome that at a time when we thought that standards and moral standing of men and women who offer themselves to serve in public office have risen for good, the nation is faced with an embarrassing situation where a candidate who wishes to lead a state as complex and dynamic as Anambra State has turned out to.
"We are convinced that if APGA, a wing of PDP, as presently constituted had broad-based structures covering at least the entire South East Nigeria, and was properly run as a political party, instead of a closet store, the latest incident would have come to light before the primaries.
''Beyond the nature of this sad occurrence, it is also noteworthy that one of the six candidates who were disqualified before the stage-managed primaries in which Obiano was hand picked by his business partner was supposedly axed for not being in possession of an INEC voter's card.
"Once again we, demand on behalf of Anambra State voters and the nation, a thorough, professional and speedy investigation into the APGA candidate's double registration saga."